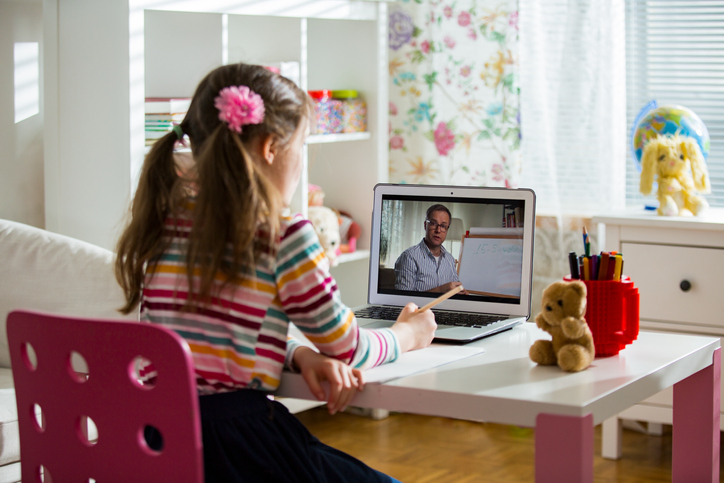 Ideas on the structuring of school post COVID-19
It goes without saying, that the "new normal" is going to be different from what we parents are used to. The thought of something even called the "new normal" makes me shutter and dread the loss of education as we used to know it. The thought of less teacher instruction and only online learning is disheartening. In the end though, maybe some good will come out of all of this calamity; I have already seen virtual meetings open up new opportunities for participation and students who typically struggled with regular school are thriving in the digital space.
What's important now is for parents to understand what options are out there and prepare for what next year's "new normal" could actually be. As school districts throughout the country engage in conversations, it is vital for parents to voice their opinion about each proposal so districts can make an informed decision about and see how these strategies impact families.
The problem? There is not much out there about the proposals. What ARE the options???
I was excited to read an article from American Enterprise Institute, hoping to gain some insight into what they were thinking. But although it did a great job of addressing areas of concern, it still left me unfilled with the main question, what will school actually look like.
So, from my perspective and hearing conversations around the educational landscape, here are a few options that could actually be possible scenarios. Each takes into account some form of social distancing and limitations on group size. And each one demonstrates a unique method of instruction while tackling the biggest question of how seat time for students. These ideas are not finalized and relate to middle school or high school settings with larger student populations. Any thoughts or ideas, please share so we can make school the best possible environment come fall.
1. AM & PM, Every day
Probably the closest thing that mimics regular school involves splitting classes in half and teaching the same period twice in one day. Half the students would show up to the morning session and report to their 1st period class. When finished with class, they pick up lunch at the cafeteria, and then head on their way home. The school staff would have time to clean the classrooms during the break, and then the next wave of students would show up after lunch, and also report to their 1st period class. The following day, students would attend 2nd period, etc...
Yay!
-Specific instruction from the actual teacher of that subject
-Easy to transition back to normal school if/when allowed
-Allows time to clean between groups of students
Nay?
-One period a day, with 6 periods, means each subject is only once a week.
-Splitting classes in half by alpha is not consistent
-Classes are now 2+ hours long
-School would need to be cleaned 2 times a day
2. Teacher rotation, Every other day
Sticking to a more period based approach, students would attend a full day of school 2-3 times a week but report to a single class. Half the school would go to school on Monday, and the other half on Tuesday. During the day, and with each passing class, subject matter teachers would rotate to a different class to provide content specific instruction. By the end of the day, students would be presented with 6 different subjects, including PE class, and receive breaks at different times.
Yay!
-Students attend a full day of school
-Content specific instruction
-One class for students minimizes student movement and lowers spreading germs
-Less cleaning duties
Nay?
-Students are tracked with only one group
-Scheduling students with different Math or Language classes
-Breaks up the autonomy of teachers having their own space
3. Advisory only, Every other week
More like a fireman's work schedule, students attend school for an entire week, and then have a week off. In this scenario, they would report directly to one classroom where they will work with only one advisory teacher. Prior to the instructional phase, teachers would collaborate to provide/share curriculum to all staff members. Then, this material would be presented by the advisory teacher to their group of students. Advisory teachers would also assign work to be completed during the following week when the students are not on campus, but working from a home via distance learning. During the online week, students would still be able to ask questions and engage with the teacher via email.
Yay!
-Consistency in a weekly A/B schedule
-Student connection and depth of relationship with advisory teacher
-Staff collaboration and appreciation
Nay?
-One class, all day, with no changes could be challenging
-Curriculum not taught by subject matter teacher
-Students are away from school for a week
4. Online with study hall, 1 day a week
It is the distance learning model with an added face to face component like Independent study. All instruction and lessons are provided online and virtually by the specific subject matter teacher. Then, on a specific day during the week, say Friday, students go to a single class with a teacher present. During this study hall day, students would ask questions and receive help with their assignments. The teacher would check in on the students well being and monitor the completion of their assignments.
Yay!
-Content provided by the actual subject teacher
-Flexibility to work from home
-An actual face to face help session
-Accountability because student have to report and turn in work
Nay?
-What if a student has a math question, but their teacher doesn't teach Math
-Minimal in class time
-No real-time, face to face instruction