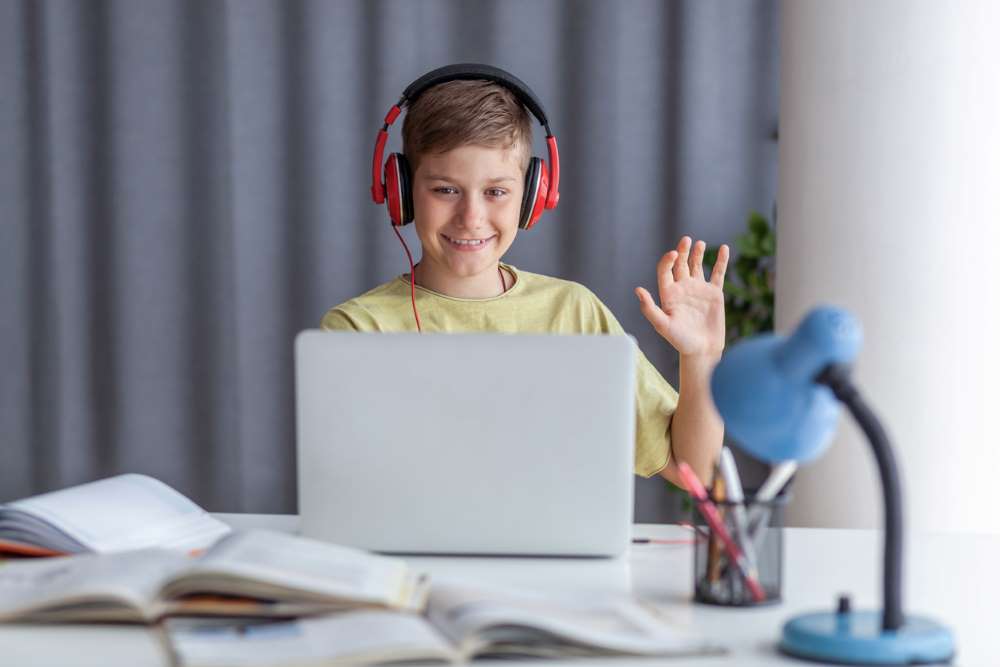 As many schools switched to distance learning due to the pandemic, parents are faced with the great challenge of keeping their children focused and engaged in the learning process. And that is not always an easy thing to do, considering the number of distractions your kid can get preoccupied with while at home.
As such, the first thing that you need to tackle is arranging a full-fledged space for your child to study in. Once you are done, it is crucial to set a learning schedule that allows for flexibility to help your child establish and stick to a routine and ensure that your kid has all the necessary equipment to study effectively. And finally, do not forget to encourage physical activity and provide positive feedback. Now, continue reading to learn more about helping your child stay focused and engaged during distance learning!
Set Up a Full-Fledged Study Area
Considering that kids are more likely to struggle with effective studying when at home, it is crucial for you to set up a full-fledged study area for your child. Doing so will create a positive environment for your kid, making it easier for them to concentrate and absorb information. In addition, a lovely study area is a great place to encourage your child to have regular study sessions, as well as give them a space for them to complete homework assignments.
Aside from that, when choosing a study area, it is important that you ensure that it is quiet, conducive to effective learning, and equipped with an ergonomic and comfortable chair. Studying in such an area minimizes distractions and increases the amount of time your kid spends on their lessons.
Provide Your Child with All The Necessary Equipment
There is no denying the fact that effective studying relies on the use of appropriate equipment. For that reason, it is critical for you to provide your child with all the necessary tools to help them learn effectively. With that being said, you should consider investing in the best laptop for distance learning or a tablet, as well as a stable internet connection. Doing so will allow for online interaction with teachers and fellow students, as well as make it possible to gain quick access to important resources.
Apart from that, investing in a printer with a scanner can be an excellent idea. This will enable your kid to print out and complete assignments on paper, as well as upload handwritten assignments. On top of that, it is also an excellent idea to invest in headphones so that your child can work in silence without being disturbed.
Set a Learning Schedule That Allows for Flexibility
One of the reasons why many students struggle to engage in their studies is due to the absence of a well-defined schedule. So, your child needs to come up with a set of rules that will allow them to enjoy some flexibility while still sticking to a routine.
For instance, you should consider setting up a daily study schedule that includes a specific time for your child to begin and end a study session, as well as a specific time for eating and sleeping. One way of making this schedule flexible is by allowing your child to have at least one day off a week when they can do whatever they want.
Encourage Physical Activity
Another thing that you need to do is encourage physical activity between study sessions, as physical activity helps keep your kid to be focused and engaged during remote learning. For example, if your kid has been spending long hours studying, encourage them to take a break by going for a walk or playing soccer. Doing so will allow your kid to be able to continue studying effectively and stay healthy and fit.
Provide Positive Feedback
Last but not least, when helping your kid stay focused and engaged during distance learning, it is also important for you to provide them with positive feedback. With positive feedback, it will be easier for your child to view studying as something fun rather than something boring and tedious that they have to endure. Ideally, you should avoid nagging them about doing their work and just offer positive reinforcement instead. Offer praise whenever they do something right and be supportive whenever they struggle with their tasks.
Final Thoughts
All in all, it is important to help your kid stay focused and engaged during distance learning. Obviously, it is not an easy thing to do. However, this does not mean that you should leave things as they are. In fact, you need to take as many proactive measures as possible to ensure that your child can focus on their studies.
For starters, it is important to create a positive environment that will motivate your kid to study effectively. It can be done by setting up a full-fledged study area, establishing a flexible study schedule, and providing them with all the necessary tools for effective studying. On top of that, you also need to encourage physical activity and provide your child with positive feedback. Doing all that might take time and effort, but is guaranteed to make it easier for your child to stay focused and engaged during distance learning.