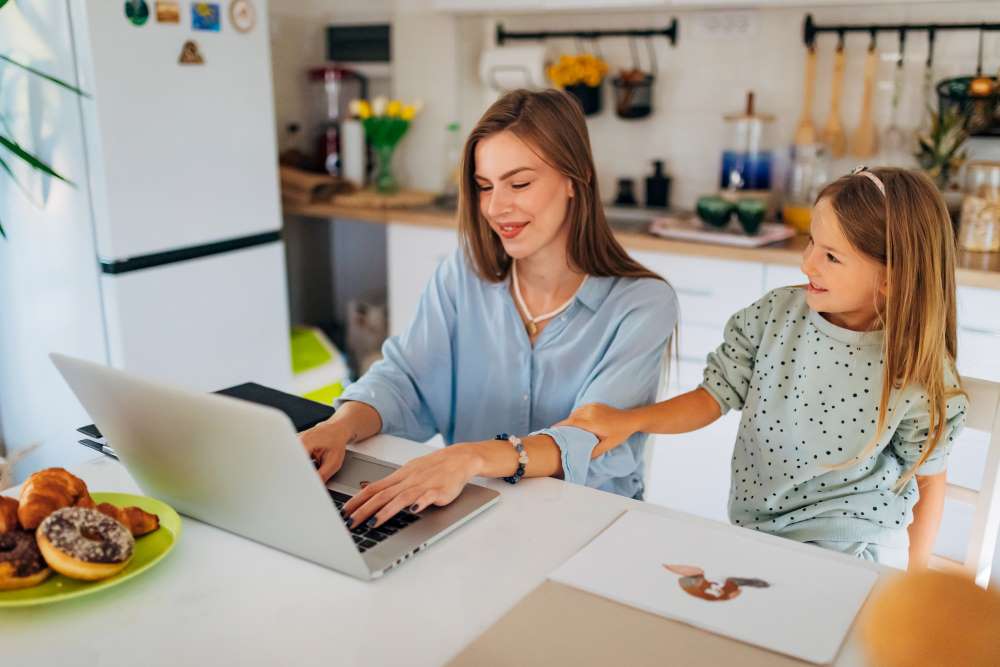 A mompreneur is a woman who is both a mother and an entrepreneur. Mompreneurs often have to juggle their business and family responsibilities, which can be challenging. However, you can be successful if you have the drive and determination. It would help if you also had a bit of know-how when it comes to running an online business. This is especially true if you live in Maryland, where the laws governing online businesses can be different than in other states. From how to start an LLC in Maryland to day-to-day actions, this article will tell you more information about how to kickstart your own business.
Ideas for an Online Business in Maryland
Do you post videos on YouTube? Maybe you could make tutorials or do reviews of products. You could also sell products on your own website or on Etsy or create a blog and post your collages or about anything else that comes to your mind! Another great new business that can make you money more quickly, is getting people interested in joining your affiliate program if you create content on your website (like sharing recipes) related to the products they're buying. You could also think of things like prepping children's birthday parties and making party invitations as an additional income source.
How to start an LLC in Maryland? 
Starting an online business can be a great way to achieve financial independence and be your own boss.
To start an LLC in Maryland, you must have a purpose for the LLC. You can form an LLC for any lawful business or law, such as a professional service, retail establishment, manufacturing company, construction company, or any other lawful business or profession.

You must then file a certificate of organization. If you already have a business, you can form an LLC by filing a certificate of formation with the appropriate Maryland office.

The members are responsible for electing one person to serve as the managing member of the LLC. There is no default management structure, so you will need to appoint someone to manage your business or law firm if there is not already a manager in place.

You must also elect whether or not your LLC will have a single member or multiple members.
Important Things to Consider When Starting Your Online LLC
There are a few things that all moms should know about when starting an online business in Maryland. This is not an exhaustive list but this will be helpful for you to know what you need for your company and some of the factors that may impact your startup.
What is my main business activity? This is a critical question, as it will impact other decisions that need to be made.

What is my desired growth potential? This question will help you determine the type of entity that needs to be formed. For example, an LLC with limited liability protection may not be necessary if your business does not have many assets and liabilities because you are doing a one-time transaction. However, it would make sense to form an LLC with limited liability protection if your business is going to grow significantly in the future or if there are significant assets and liabilities associated with your business.

What is the size of my business? This question will help you determine how much liability protection you want. For example, if your business has a significant number of assets but limited liabilities, it would make sense to form an LLC with both general and limited liability protection.

What type of tax benefits do I want to qualify for? Depending on the type of activity being conducted, there are different types of entities that may offer certain benefits like lower or no taxes at all. For example, a Maryland LLC which elects to be taxed as a "pass-through entity" may offer a large tax exemption. If you want to qualify for the Maryland LLC alternative, you will need to create a new LLC in Maryland and set up your company with the proper paperwork and rules. A traditional LLC would not work in this case since they are taxed as an entity separate from its owners.

What type of business do I want to conduct? If you intend on conducting a traditional business, different entities may offer tax benefits. For example, an LLC can be taxed as a "pass-through entity" meaning that no corporate level income is taxed at the corporate level and instead all income is passed through and would be taxed as individual income. Other types of businesses that may have fewer or no taxes include sole proprietorships or partnerships.

What is the estimated cost of starting a new business? One factor that can impact your startup costs is your location. Costs vary based on factors such as space, labor costs, and utilities close to your business location.
Conclusion
A successful business owner sets a goal and has a plan to achieve it. Most businesses start out with a business plan before investing in any kind of product or service. It's worth knowing that many different factors can impact the startup cost and overall operation of your new business, such as location, type of business you want to launch, and unique features of your products or services. Being a mompreneur is no easy task but trust me it's worth it!