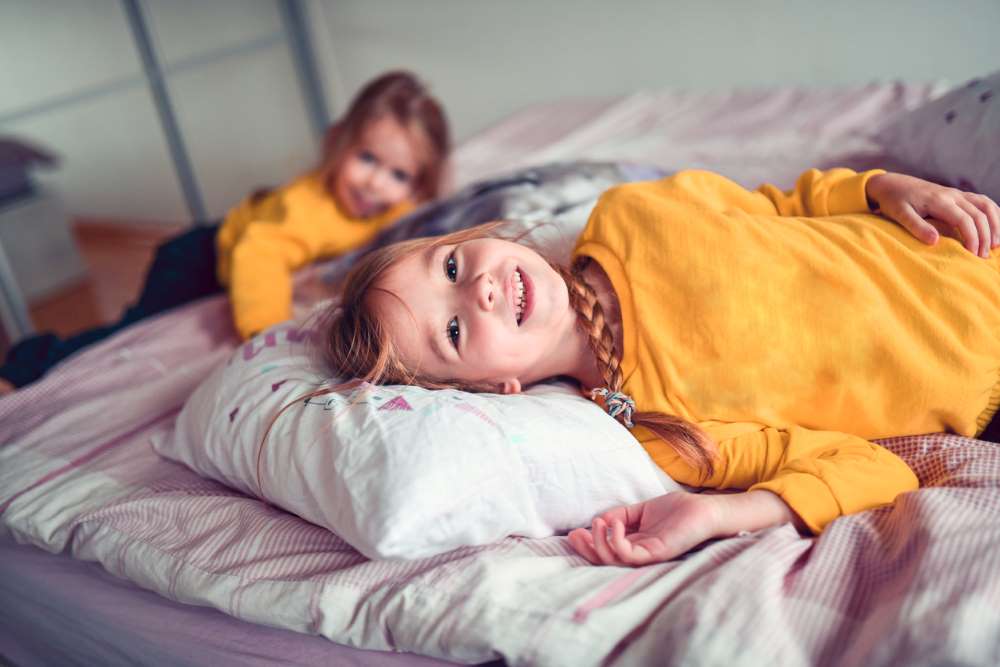 From the moment you first hear their heartbeat, an unbreakable bond is made with your little one. From their first breath to their first time rolling over, you monitor their milestones like a hawk. Watching your child grow and develop is one of the most rewarding things this world has to offer. It is a very exciting time for any parent.
One of the biggest early milestones, perhaps, is when they move from your bed, or a cot, to their first-ever bed. However, this comes with a whole new set of responsibilities that some parents aren't even aware of. You might think you can simply put a bed and mattress in a room, however, for your child's young, developing, and fragile body, finding the right mattress and bed set up is crucial.
You should always make sure that you are meeting your child's needs when it comes to getting them their first bed and mattress. Children and adults spend a large majority of our lives sleeping, that is why you need to provide your child with the right mattress to fulfil their needs. In essence, your child will be spending anywhere from 7-10 hours in bed per night, that is why there are so many variables to consider when choosing their first mattress. Here are some things you need to consider when finding the right mattress for your child.
Comfort
Obviously, comfort is of the utmost importance when it comes to your child's first bed. After all, kids need a relaxing space to recharge their body after a full day of running around. Children need sufficient rest so that they can be fully energised for the next day. The best mattress will not only be a supportive one, but also one that cushions their delicate little bodies to ensure maximum comfort and relaxation.
Another thing to keep in mind is the material of the mattress. For your child's comfort, it should have maximum breathability to keep your little one's body regulated.
Quality
Some mattresses only have a short life span, whereas other mattresses will have a longer one. It is always good to know how long your mattress will last to ensure you're not only getting bang for your buck but also that your child will be sleeping on a quality mattress. It is incredibly easy to find mattresses within your budget that are high quality, it doesn't always need to be an expensive endeavour.
Firmness
One of the most important variables when comparing mattresses is looking at the firmness of the mattress your child will be sleeping on. You need to ensure that they will be getting a great night's sleep as well as being supported at the same time. A mattress of ideal firmness will ensure that your little one's spine and bones are kept aligned while they grow so that their body can remain comfortable.
A mattress with less-than-ideal support could end with back pain or body pain in general.
Waterproofing
With little bodies, accidents are prone to happen. Your child may have a too-small diaper, be learning to potty train, or even just spill a bit of milk in their bed and having a mattress that is waterproof and easy to clean can save time. Some mattresses may even be washable to allow for deep cleanings on occasion. Decide if you want to purchase a waterproof mattress, or even just a topper that will keep the mattress clean and dry.
Eco-friendlyAndGreen Materials
Finally, consider if it is important to you and your family if your mattress has eco-friendly and green materials inside it. These mattresses may have fewer harmful chemicals such as polyurethane, phthalates, or heavy metals. Additionally, most eco-friendly beds are better on the environment and lessen the impact on our world.
The Right Mattress For Your Child
With a bit of research, you will be able to find the right mattress for your child. Do your homework to understand what is important to your family and then find a mattress that supports their body while providing a calming, restful sleep. Finally, pick the right size they need depending on the bed size and how tall they are to finish the perfect bedroom for your kid.