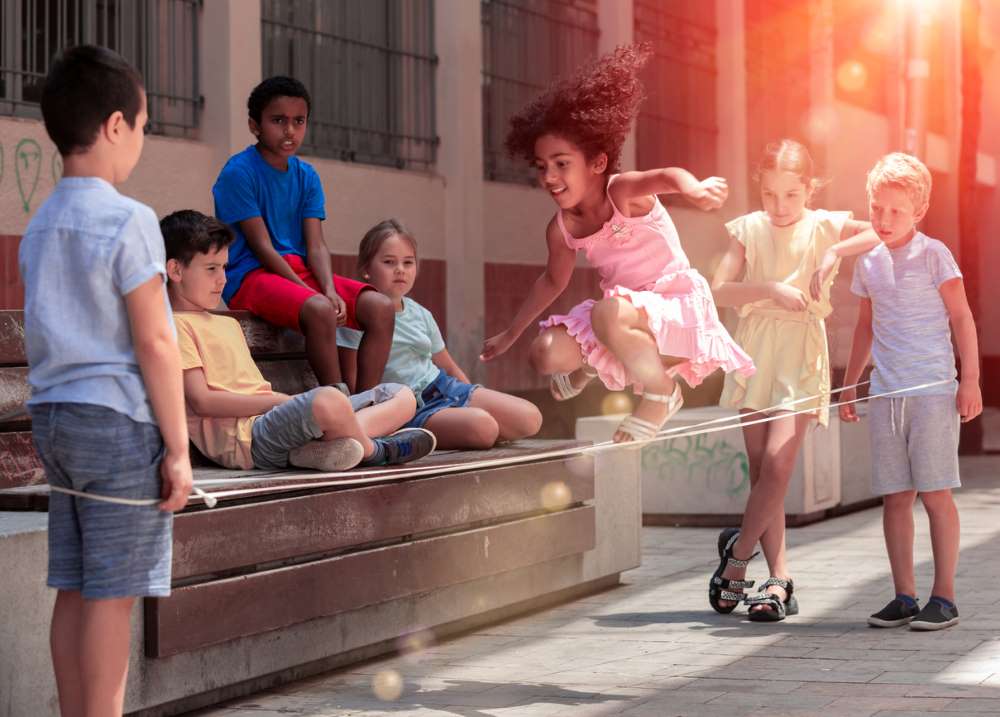 So, you're at home with the kids this summer, and you're just about out of ideas for keeping them occupied?
You're not alone!
Millions of mothers nationwide are, like you, racking their brains to come up with games, toys, and activities to keep their little ones out of trouble and having fun this summer. Fortunately, we've got some tips for making this happen at your house.
Let's get started!
1. Teach them the ability to play on their own as soon as possible.
As soon as your child is around six months of age, try to leave them in their own safe space for several minutes at a time. Naturally, you need to be directly nearby so that you can see them at all times and make sure they're safe. But the goal is to get them hooked on playing by themselves instead of needing you to occupy them.
Start slow with little ones. Don't constantly be there to show them how to play with their toys or have fun. Allow this to happen for about five minutes at a time. Ratchet it up to 10 minutes after a while, then 15 minutes, etc. over the following days and weeks. Soon, your toddlers and children will be able to occupy themselves for longer periods of time, and you'll be able to safely watch them from a distance while also getting your own work or chores done.
2. Get them outside.
Every child should spend as long as possible outside having fun. This is easier said than done, however. Many children will tell you that they don't want to be outside, and if you're a softy, you'll probably let them come in even when the weather is nice and they have plenty of toys to occupy them in the yard. 
Be strict with their time outside. Tell them that they need to be outdoors for at least half an hour before they can come in. While this may seem severe, it's for their own benefit. Fresh air and nature are essential for young children (and adults too!).
It gets their creative juices flowing, gives them vitamin D from the sun, and ensures overall good health. 
3. Don't rely on technology (in fact, ditch it altogether).
If your child is used to playing with an iPad, video games, laptop computers, or smartphones, strongly think about adjusting the way you oversee the use of these appliances. Studies are showing that kids who regularly use screens and other forms of technology often lack the creativity and concentration of children who rely more on books and manipulative toys to occupy their time. 
4. Provide them with many open-ended toys.
Open-ended toys are those that children can get creative with — like blocks, Legos, sand pails and shovels, make-believe costumes and items, etc. 
Open-ended toys don't talk, say things, or move on their own. Rather, children need to manipulate them in order to have fun with them. When you give open-ended toys to kids, they can have more creative fun for longer periods of time, and this benefits both their cognitive abilities and their ability to focus. 
5. Get them involved with household chores and cooking.
Many moms find that getting household chores done while trying to look after the kids is the hardest part of parenting. The answer? Get your kids involved! 
Not only should you be teaching them how to make their own snacks and meals, clean up after themselves, and organize their personal spaces, but their assistance can also help you get your to-do list done faster and more efficiently too. 
One thing that kids especially like to help with is cooking and baking. Have them make their own breakfast or lunch or give them one part of a larger task — like cutting up vegetables for a salad or mixing up a sauce to go with dinner. 
As an additional note, if you find you need help with groceries and breakfasts or lunches for your kids, don't forget to look into free summer meals — available to children of all ages and backgrounds. 
6. Teach them the value of reading.
Lastly, for those rainy days when going outside is not possible, get your kids hooked on reading. This may obviously have to start with you reading aloud to them. Do this every day for at least 10 to 20 minutes. Also, let your children see you reading your own books. They'll want to do the same. 
Reading is a lifelong pastime that everyone should learn to enjoy. It's the perfect way to occupy yourself anytime, anywhere. It scratches the curiosity itch and always leads to a bigger vocabulary, a vast wealth of knowledge, and never-ending learning. 
Try these activities with your kids and see the amazing results of a summer well-planned!