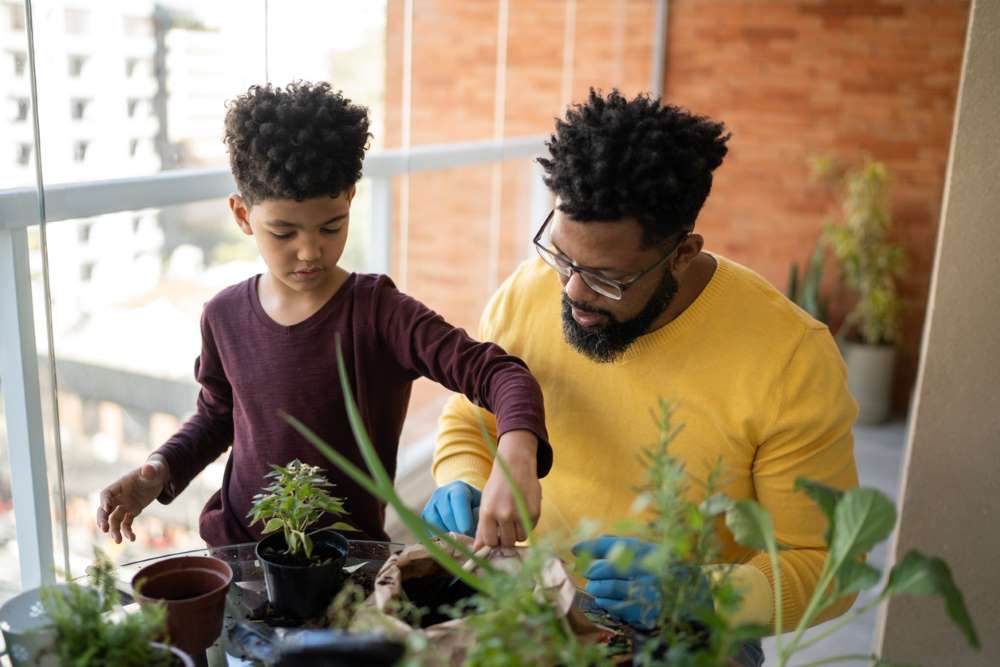 As we head further into the 21st Century, sustainability has become the new trend of the emerging generation of future leaders. From dominating Upcycled TikTok hauls to a greater representation within the global media, being environmentally friendly has become the new cool.
As our little ones continue to grow up in a post-pandemic landscape, new figures suggest that they are statistically more inclined to care about the environment.
                                                                                                                                         
(Source: Statista)
Whether it's an increase in sustainability-based education or a greater representation of environmental issues through the voices of Gen Z's opinion leaders, it's obvious that the young generation cares about the future of the planet. 
In fact, a recent study by Triodos, revealed that 49% of under 24s think eco-consciously about the services and products they are buying into and would actively avoid unsustainable brands. While this number is quickly rising as the world continues to learn more about the dangers of climate change and fast fashion, there's still a long way to go in order for our planet to enjoy a green future.
Read on to find out just how important sustainable development is for the future of the globe and how you can teach your little ones to become environmentally conscious from day one.
The Importance Of Learning About Sustainable Development 
Learning about the future of sustainable development has never been more important. As the world continues to fall back into the new 'normal' post-pandemic, it's safe to say that the environment has taken a hit as a result of the Covid-19 pandemic.
From an increase in fast fashion as more of us shop online, to new peaks in CO2 emissions post-Covid as holidaymakers jet back off into the air. In fact, a new report by IEA suggests that global Carbon Dioxide emissions are set to soar in 2021, surging by 1.5 billion tonnes, the second biggest surge in emissions since the 2010 peak. After a heavy decline in 2020, experts predict that returning back to freedom could see sustainability fly out of the window.
In order to combat this, Eco-conscious education is the only way forward. As the effects of climate change continue to become more apparent and wasteful industries continue to expand, our hope lies within our future generation of leaders. 
Instating sustainable attitudes from a young age has the ability to change the future of the planet. As we educate our children, we lay the groundwork for change. From greener business practices to reduce plastic waste and smaller carbon footprints. Each small step contributes to reducing climate change and the impacts of an unsustainable past.
Experts predict that the population must reduce carbon emissions by 40% by 2060 in order to reduce the impacts of global warming. Raising eco-friendly business leaders and a younger generation who are passionate about sustainability is the first step towards achieving this.
(Source: Statista)
As each decade proves to be hotter than the last, here are our top tips for improving the future of our planet's once silent emergency.
How To Encourage Children To Fall In Love With Sustainability
Raising environmentally conscious children has never been easier thanks to advancements in education, representation within the media and access to sustainable sources. As we head into the summer season, here are some fun family activities to help boost your household sustainability and encourage your children to enjoy an eco-friendly future.
Grow Your Own Food 
One of the most rewarding ways to teach your children about the importance of sustainability is to start growing your own produce. Not only can this be turned into a fun summer project for keen green fingers, but this small garden based step drastically reduces plastic waste and general food waste that is often generated by supermarket shoppers.
It's time to get out in the sunshine and start planting your favourite vegetables for an educational summer holiday activity.
According to the Environmental Investigation Agency and Greenpeace UK, "leading supermarkets are responsible for producing more than 1.2 billion plastic bags for fruits and vegetables, 1.1 billion single-use bags, and 958 million bags for life."
Therefore, by planting your own vegetables and watching them grow into organic perfection, you're not only contributing to reducing your plastic footprint but encouraging your children to enjoy the wonders of nature while actually looking forward to eating their veggies! We'll call that a win, win.
DIY Day 
If you're looking to turn a dull weather day into something productive, introducing a DIY or Fix-It day into your household can be a great sustainable activity for all the family. From fixing household items to upcycling packaging and clothes into new storage containers, fashion styles and toys for a second life, the list is endless when it comes to finding new uses for durable materials. For example, if your child is wearing eyewear, it's very common to go through a number of pairs in a few months as they seem to break pretty often. Instead of shopping for a new pair, try to encourage your child to fix their glasses (if it's possible to do, of course). 
Teaching your children about the importance of upcycling their favourite products instates a great eco-friendly mindset for the future. Not only do they gain practical skills that will aid their future endeavours, but it also encourages them to be less wasteful as they grow up.
Reward Recycling 
When products can't be upcycled and used again, reward your children for disposing of waste sustainably. Introduce different coloured bins into the household for keen little eco-warriors. One for general waste, one for recyclables such as cardboard and plastics and one for composting (a great addition if you're beginning to grow your own produce).
Each time your child recycles sustainably, reward them with a special sticker or a fun activity that they enjoy to get them hyped up about being eco-friendly. Turning sustainable tasks into rewarding games will encourage them to keep recycling in the future and decrease the household plastic footprint as a whole.