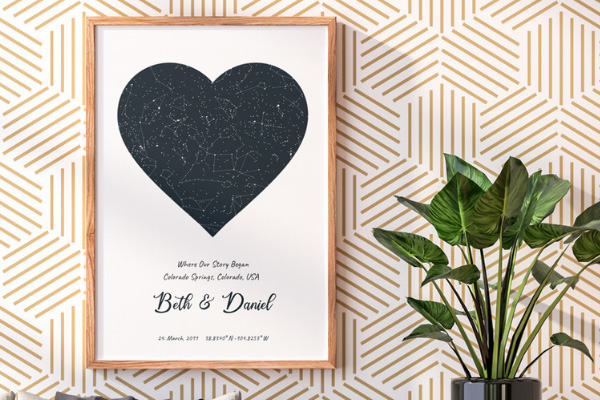 Finding that perfect gift is often tricky, especially if you're looking for something extra special for an important event or a milestone birthday. That's where Printed Memories come in. They make unique, personalized gifts for every single occasion, including beautiful art prints, so you'll never get stuck on what to get someone again.
Printed Memories Star Maps
Don't let these beautiful pieces of artwork fool you; these star maps aren't just regular prints of the night sky. Each is unique to the individual it's made for. How, you ask? Using satellite technology, these star maps will show you the exact position of the stars on a special day or night you want to remember. Imagine seeing how the stars aligned on your wedding day or the day your first baby was born.
Perfect For All Occasions, Big or Small 
A Printed Memories star map will help you celebrate the moments that matter. Big or small, if it's important to you, then it's the perfect choice for our star maps. But if you're not sure what type of memories to save with a star map, the list is endless:
The birth of a baby

That night you became engaged

The day you brought your favorite pet home

That unforgettable day you graduated

The fateful evening you met your partner

Your child's birthday
Star maps are perfect for celebrating memories that are completely unique to you. Have you ever won an award or reached an achievement you're proud of? Turn it into a map of the night sky; then, every time you see it, you'll remember how much you've accomplished.
Create a Beautiful Keepsake in Seconds
Printed Memories pride themselves on helping you turn your special memories into unique keepsakes with ease. It shouldn't be a headache. That's why they're 100% dedicated to ensuring you can make your custom map fuss-free. Their website is simple to navigate and easy to use, taking all the pressure out of personalization. The only thing you need is the date of your special memory, and Printed Memories will do the rest.
Custom Options
Printed Memories offers a range of different options for you to customize your map with. You can choose from a number of sizes to find the right-sized print for your decor. You can also choose which frame you want your map to come in, including a stylish black option or pine-colored wood for a more natural look. If you want to purchase the frame yourself or already have one in mind, you can opt for a map without a frame.
Experiment with different designs and color options to create your perfect vision of the starry sky. Add text and say everything you need to in just a few words. These simple design options are easy to use and will help you create a beautiful custom map that's completely unique in seconds.
Beautiful Gifts
Custom star maps make a thoughtful gift, no matter the occasion. Because you can customize them so easily, you can create a beautiful map for any event or date. They're perfect if you're looking for an unforgettable anniversary present for your partner or something special to celebrate a milestone birthday. They make great gifts for Christmas, Mother's Day, Father's Day, and more.
And They're Sustainable, Too!
Printed Memories give back more than they take away. That's why they plant one tree for every single star map they print. Not only that - they print locally too, using the printer in their network that's closest to you. This is loads better for the environment and means you can print completely guilt-free!
Check out their Instagram to keep up-to-date with all their news.