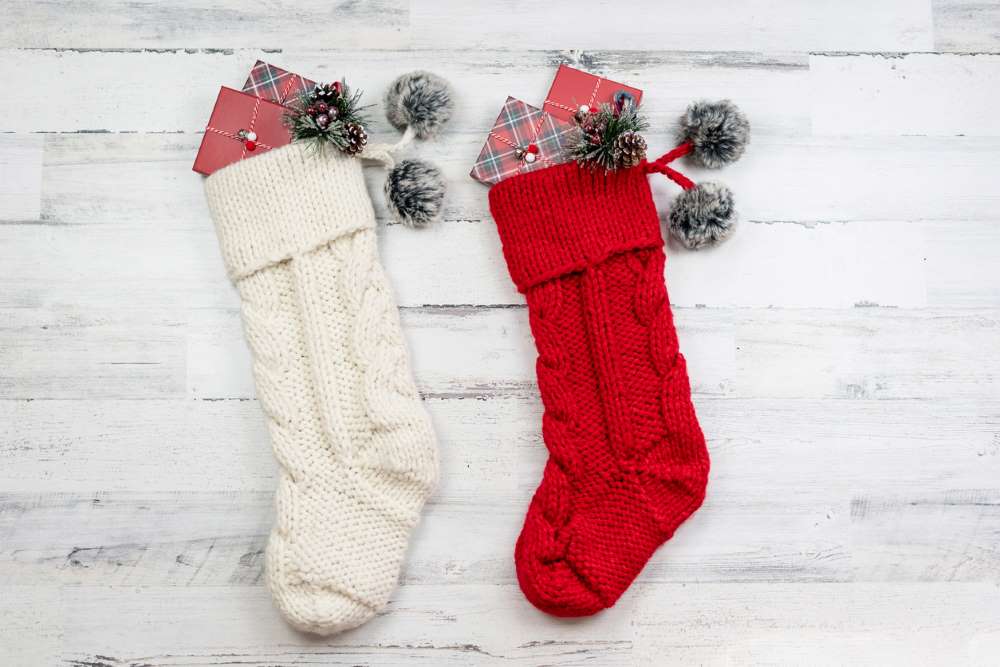 "The stockings were hung by the chimney with care, in hopes that St. Nicholas soon would be there." 
You know how the story reads, but more importantly, do you remember the joy of finding treasures tucked away in your stocking? Tiny presents, neatly inside, just waiting for you to discover them. 
The tradition of filling holiday stockings with gifts is something the entire family enjoys. As the holidays approach, let's look at stocking stuffer ideas for the whole family. 
Stocking Stuffers for Dad
You've heard the saying, "The way to a man's heart is through his stomach!" Sticking to that concept, fill his stocking with small, individual-sized portions of his favorite treats. Jerky, candy bars, and trail mix make great little gifts. Add a wallet or key chain for a more usable stocking stuffer for Dad. Tools make great stocking stuffers as well. Include a mini-flashlight, measuring tape, or screwdrivers to add to his toolbox. Items like Gorilla Tape, golf tees, or even a new, fancy tie, are great to top it off. 
Stocking Stuffers for Mom
While stuffing Mom's stocking, take a moment to pamper her with beauty care products. Include her favorite oil free moisturizer, body spray, or face mask. The lady of the house might also love to find gourmet teas and bath bombs tucked away in her stocking. Gift cards for her favorite coffee shop or boutique are the perfect size to fit inside. The idea is to put a smile on her face when she looks inside. 
Stocking Stuffers for Teens
Teenagers are simple. Gift certificates to their favorite hangout spot are always appreciated. Headphones, or a new phone case, make practical gifts. For those in school, highlighters, mechanical pencils, and flash drives are the perfect size to stuff in a stocking. Personalized items are always a big hit. Jewelry with a teen girl's initials on it will surely put a big smile on her face. Video games and DVDs fit nicely inside too. Teen boys will appreciate batteries for their electronics, especially gaming remote controls. Deodorant, body spray, and sunscreen are a few self-care items you can include as well. 
Stocking Stuffers for Younger Children
When shopping for stocking stuffers for the little ones, the dollar store will be your best place to go. Personal hygiene items, like toothbrushes, combs, and dental floss, all make great gifts and serve a purpose in the home. Band-aids are fun, too, and often come in many designs. Pick up ones with their favorite characters on them, to help ease the pain of their next fall. Small toys that fit in their hands make great stocking stuffers. Crayons and markers encourage creativity and fit nicely into a child's stocking. Add additional excitement with bubbles, yo-yos, and matchbox cars. 
Stocking Stuffers for Baby
Finding the right gift to put in an infant's stocking can be tricky. Be sure to pay close attention to the age requirements for the items you purchase. Small items tend to be a choking hazard for both babies and toddlers. Baby bottles, bibs, and eating utensils make great gifts that double as a gift for Mom and Dad. Add a package of baby wipes or a travel pack of diapers to make the gifts practical. Chunky picture books and age-appropriate snacks will usually top off a baby's stocking. 
The smallest of gifts fit neatly inside the holiday stocking. Whether you stick to a gift theme or individually wrap each tiny object, the joy is amazing the moment your family peeks inside. Keep in the holiday spirit by hanging a candy cane on each family member's stocking. They go great with a cup of hot chocolate! 
The holiday stocking is also a great place to put any monetary gifts you may be giving your family. Tuck away cash to surprise all ages! Family adventure gifts are great too. Purchase a season pass to your local amusement park or museum. This is guaranteed fun for the entire family, and just the right size to fit inside their stockings. The winter holiday season truly is the best time for families!