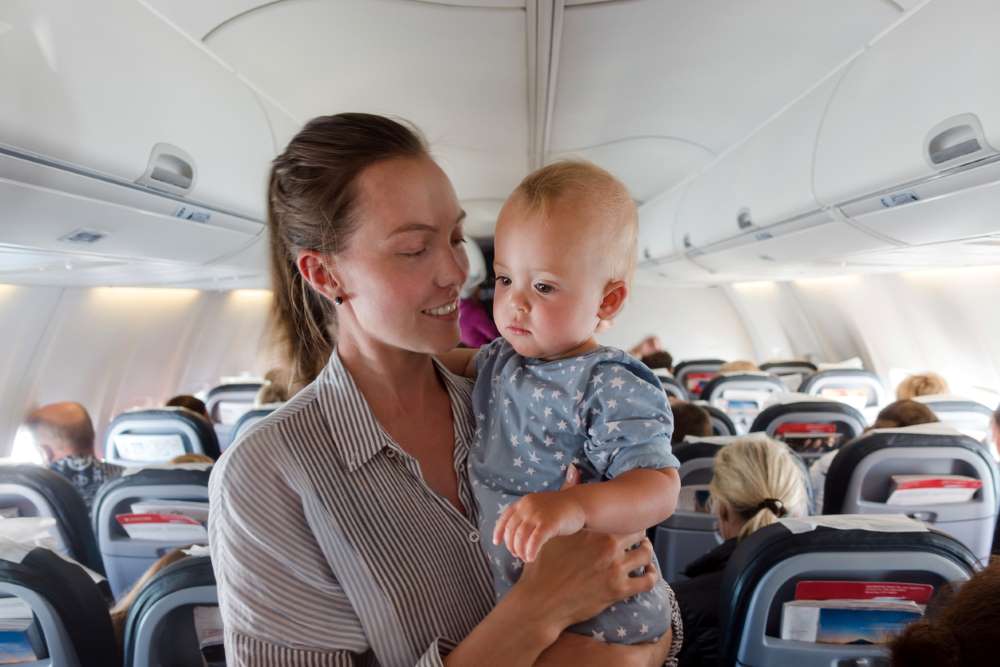 If you are like most travel bugs, you cannot wait to share your globe-trotting adventures with your child. Luckily, you don't have to wait long before taking your newborn out into the world. Most pediatricians agree that babies between 3 and 6 months old are ready to travel, provided that they are screened and cleared by their doctor. 
If your infant is declared fit to fly, nothing is stopping you from booking that next ticket and enjoying your next vacation as a family. Of course, there will be some adjustments you will need to make to ensure a smooth trip. Consider the five tips below when you are traveling with your infant. 
Check the Requirements
Rules regarding travel documents and immunizations are often different for infants than adults. Read your airline's policy on young flyers very closely and reach out to an agent if anything is unclear. If you are taking an international flight, your baby will need a passport. 
Since processing times can take weeks or even months, apply for your child's passport as soon as possible. Also gather important documents like your child's birth certificate and immunization records. 
While many airlines allow children under 2 to fly for free on their parent's lap, for safety and comfort sake, consider buying an additional seat. Your child's car seat will fit perfectly and ensure that your baby is secure during turbulence. Double-check that the car seat model is approved by the Federal Aviation Administration.
If those pesky limits for onboard liquids have you worried about your ability to feed your child on a 14-hour flight, worry not! Baby food, breastmilk, and formula are exempt from the 100 ml maximum. 
However, Transportation Security Administration agents may want to take a closer look at your items before clearing you through security. While there is no evidence that x-raying food items causes any harm, you can request alternative screening methods. 
Many airlines also allow passengers traveling with children to check items like strollers and car seats for free. Again, check in with your airline before departure so you know exactly what to expect. 
Maintain a Routine 
The calm, quiet environments that allow most babies to drift off to dreamland will probably be few and far between as you travel to your destination.  With some strategic planning, you can still keep some components of your infant's sleep routine intact. 
You can prepare your child for long-haul travel by doing practice runs in the car. Place the child in the car seat or baby sling that you will take with you on the flight. Then, take a long drive. (If you're wearing the sling, you will obviously need someone else to take the wheel!) Over time, your child will associate the seat, sling, and slightly bumpy travel with sleeping. 
Like us, babies can experience jet lag. You can mitigate its effects by choosing a later flight. However, if your trip is for less than a week, it may be better to keep your child on their normal schedule. If you're able to, try to coordinate your flight schedule with your child's normal nap or bedtimes. 
Anticipate and Thinking Ahead
Babies need a lot of stuff.  Figuring out how to transport all of this stuff is a major challenge for traveling parents. Putting the baby's essential items in a separate diaper bag or suitcase is one way to reduce the confusion and cutter. 
Packing cubes can also help you keep related items together. Everything you'll need for the inevitable diaper change can be put in one easy-to-grab cube at the top of your luggage. 
Run through the most likely scenarios in your head and bring what you can with you. If your child comes down with sniffles or a fever, you'll want to have baby aspirin on hand. Packing a change of clothes for you and your infant in your carry-on will also give you peace of mind.  Better to have it and not need it, than to need it and not have it. 
Plan with Your Child in Mind
Sharing your love for travel with your child also means adjusting your style and expectations. You may have envisioned a long tour of the Louvre for your first trip to Paris, but with an infant in tow, this simply wouldn't be feasible. 
Instead, keep your plans loose and relaxed. No one says you can't fit in a sight-seeing tour or two during your stay, but trying to force a packed itinerary will just leave everyone cranky. 
If it's in your budget, go for accommodations with extra convenience. While a divey hostel may have been sufficient in your solo traveling days, you will be exceptionally thankful for a 24-hour concierge and a bathtub when you are traveling with your infant.