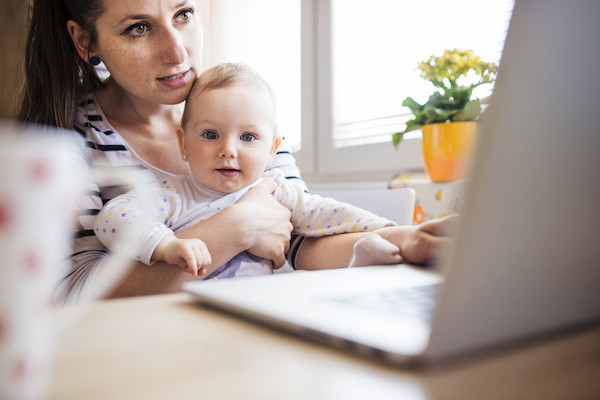 Many of us are used to working from home this far into the COVID-19 pandemic. In fact, many of us prefer it. Up to 68% of job seekers say working remotely would increase their interest in a job opportunity. However, whether you think working remotely is great or not, it can still be difficult to be productive when you're a parent, especially when it feels like work and family are pulling you in opposite directions. Here are a few ways you can stay productive while working from home with the kids.
Designate your home office space
Set up a designated office space in your home with strong cast routing technology for a fast work connection. A work area gives you the ability to work with minimal distractions, and you can keep electronics like 3D printers and other supplies away from your kids. Ensure everything you need to be productive is within arm's reach. Each time you get up to retrieve supplies decreases your productivity level.  Invest in some good headphones, too, which will cut out excess noise while still giving you the ability to hear your kids in case of an emergency.
Wake up early
Get in the habit of waking up early. It can be tempting to sleep in, especially since you don't have to hurry into the office. Set your alarm an hour before the rest of the house waking up. Make some coffee and start working on a project while it's quiet. You will be surprised how much you can get done in just that one hour of quiet time.
Remember to take breaks
Working from home can make it hard to remember to take your breaks. Breaks are important, whether at home or the office, and an excellent way to let the brain rest and recharge. You should plan on taking a 20-minute break about two hours after starting in the morning.  Use your break time to talk to your spouse or play with the kids.  Take a brisk walk through the neighborhood, or call a family member who you haven't talked to in a while. Any of these brief activities can give your mind a short break and rest from work. Just the recharge you need to come back to your work with renewed energy and productivity.
Avoid social media
This is not difficult to do when at the office. But at home on your personal computer, staying away from Instagram and Facebook can be a little more challenging.  Just one quick peek at a friend's social media page and before you know it, an hour's gone by.
Get rid of all urges to go on social media by logging out of your social platform accounts and even dismiss the bookmarks you have set up. If you have notifications and alerts set up on your cell phone, ensure to disable those too. Digital distractions can be the worst thing as far as wasting time lowering productivity levels.
Be diligent and work together
Unless you have very little ones, it's a good idea to talk to your kids to let them know you need some quiet time while you work. Give them options for activities they can work on that are quiet enough while you work on your own projects. Together, the whole family can learn to work with your home employment.