Although less common for adults, binge drinking happens more commonly during the teenage years and for a number of reasons. This pattern of drinking comes into play in the late high school to college years. For those of you who are unfamiliar with the term, binge drinking basically just means over consuming alcohol.
When talking to your child about binge drinking, it is important to foster an environment for open communication. Do not coerce the "right" answer on them with leading questions or forceful tones. Rather, ask your child to explain to you what they already know. Assess their knowledge and if they are missing something, help them better understand.
It is important to start the conversation about binge drinking early (before your child goes to college). Use a local story as an example and ask your teen to understand why that behavior is risky and potentially very dangerous, suggests parenting professional, Deborah Gilboa.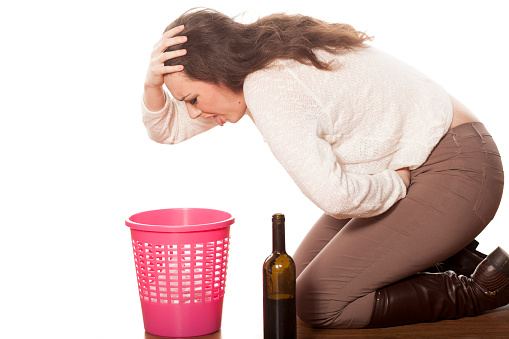 The current President of FAAR (Foundation for Advancing Alcohol Responsibility), Ralph Blackman, posits that binge drinking is a coping mechanism for teens' under preparedness for the real world.
In explaining to your child why this behavior is unhealthy, try to show that the dangers associated with binge drinking far outweigh the potential benefits of one evening of "fun."
Ultimately, parents are the leading influencers when kids are deciding whether or not to drink so it is important to be an exemplary figure for your teen. Also remember that men are more likely to drink to excess than women are so you may need to approach the same conversation with your son differently than you would with a daughter.
If you notice continual struggles with your child and binge drinking, we recommend that you consult a physician or a drug and alcohol expert. Sometimes, despite your best intentions, you may need more influence in order to best aide your teen. Excessive drinking is extremely dangerous and should be treated so.
Related Articles You May Like
About Ralph S. Blackman
Mr. Ralph S. Blackman is currently the President and CEO of the Foundation for Advancing Alcohol Responsibility. The Foundation for Advancing Alcohol Responsibility, founded in 1991, has received nearly $250 million dollars from the distilled spirits industry to fight drunk driving and underage drinking. Mr. Blackman began his tenure at the Foundation for Advancing Alcohol Responsibility in 1996 as Vice President for Public Affairs. Currently, Mr. Blackman is responsible for strategic planning, operations, and management of 15 staff members.
In 1992, Mr. Blackman was appointed by President George Bush as the Assistant Administrator for Private Enterprise within the U.S. Agency for International Development. Mr. Blackman oversaw a staff of 100 professionals, a program budget of nearly $40 million, and a $220 million portfolio of U.S. government loans designed to stimulate growth in developing countries around the world. Mr. Blackman represented the agency on the President's Trade Promotion Coordinating Committee and at meetings of the Overseas Private Investment Corporation.
Prior to joining the Bush Administration, Mr. Blackman founded Public Access Inc., a corporate relations firm headquartered in Washington, DC. As President of the firm, Mr. Blackman and his staff provided public affairs and international trade-related assistance to clients interested in business ventures abroad. Blackman and the firm were responsible for facilitating the creation of the first nationwide chain of franchised computer outlets in Hungary.
In 1986, Mr. Blackman was appointed by President Ronald Reagan as the Associate Director of the White House Conference on Small Business. In addition to organizing conferences held in all 50 states and the District of Columbia, Mr. Blackman was responsible for liaison with congressional leaders and federal agencies, and supervised the preparation of the Final Report to the President.
In 1981, Mr. Blackman joined the Republican National Committee where he held the positions of Local Elections Field Representative, Regional Political Director and Director of Business Programs.
From 1976 to 1980, Mr. Blackman served the Governor of Illinois as a Legislative Assistant and the Speaker of the Illinois House of Representatives with the responsibility for economic and business development issues.
Mr. Blackman is an alumnus of Leadership Washington. He also sat on the Faberge Arts Foundation Advisory Board, was a member of the Dept. of Commerce's Industry Sector Advisory Committee for Small Business and Trade Policy, and served on the "Competing in the Global Marketplace" council of the National Policy Forum. Mr. Blackman was recognized by the University of Illinois Alumni Association with the 2014 Alumni Achievement Award.
An Illinois native, Mr. Blackman graduated in 1975 with a Bachelor of Arts degree in political science from Western Illinois University. In 1976, he completed his Master of Arts degree in public administration from the University of Illinois-Springfield. Mr. Blackman recently received his Mixologist Diploma from the Professional Bartending School in Arlington, VA.