There are not many doctors who can explain colic to worried parents trying to ease their baby's pain. Kids in the House expert, Dr. Lawrence Kagan, attempts to do just that. While some doctors might not agree with him, Dr. Kagan provides one perspective in an area where there seems to be a lot of mystery.
Dr. Kagan suggests that the "early morning and evening crying is caused by an immature intestinal system's inability to manage gas." Some babies that are experiencing discomfort can scream for up to five hours a day, which is taxing on parents and the baby.
Traditional remedies include grip water and Mylicon. Gripe water is a combination of sugar, water, and fennel root and ginger. Dr. Kagan warns that this is not an effective combination and continues saying that a lot of doctors just tell their patients this remedy as a means of soothing the parent.
Mylicon is basically GasX for babies. Most people do not say that it works, but some do so this could be a good remedy to try for parents who have tried everything else.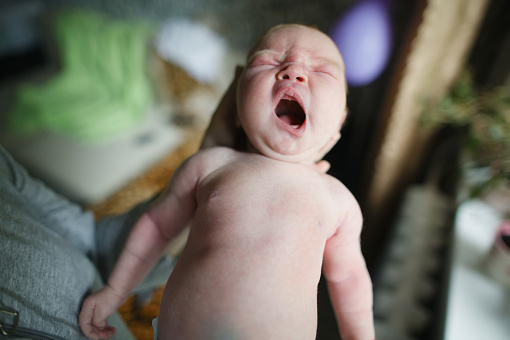 Dr. Kagan suggests that the most effective treatment for Colic is priobiotics. For those of you wondering what a probiotic is, it is live bacteria and yeasts that are good for one's health, especially the digestive system.
If given in the proper form and consistently, probiotics can decrease total crying time in children by up to 50%.
While there are possible ways to relieve the baby, the parents also need relief. Kids in the House expert, Wendy Walsh, provides some ways for parents to calm down when their baby will not. She recommends that parents focus on what it takes to be tolerant and patient before they try to consider how to make the baby stop crying.
Walsh also recommends that parents who are feeling sleep deprived find time to rest when their children are sleeping—that is not the time to catch up on work! Parents need sleep as much as their children do.
Another tip from Walsh is for parents to reach out to other people so that they do not lose their patience. It is okay for parents to turn to friends and family for help when they need it! People understand more than parents think. Parents just need to remember that nobody is meant to handle three hours of a baby crying.
Related Articles You May Like
About Lawrence Kagan, MD
Lawrence Kagan, MD, FAAP, is a UCLA honors graduate, with a Bachelor of Science in Biochemistry. He received medical training at USC Keck School of Medicine, and completed his internship and residency in Pediatrics at Children's Hospital Los Angeles. In addition to passionately studying neonatal, general pediatric and adolescent medicine at CHLA, he had the opportunity to train under some of the greatest minds in subspecialty pediatrics, diagnosing and managing the rarest and most complicated childhood ailments. Prior to opening Westside Pediatrics, he worked as an attending physician at the CHLA Emergency Department as well as at Cedars Sinai Urgent Care. Dr. Kagan is a native of Los Angeles and is happily married with two children.