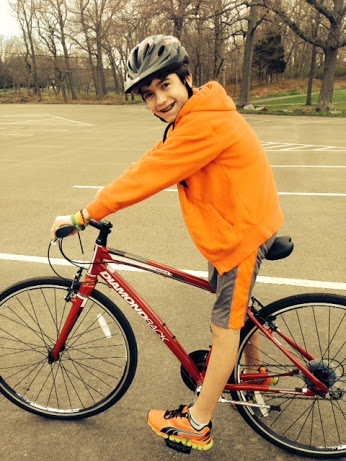 Now that Spring is finally here and the weather is warming up, kids are going to be back outside on their bikes.  Before they do however, it's important to consider some safety tips.  Nationally, nearly 300,000 children 14 and under are treated in hospital emergency rooms every year for bicycle-related injuries.
Here are a few tips to keep your kids safe while they ride:
Never ride without a helmet! - When worn properly, bicycle helmets have been shown to reduce the risk of head and brain injury by as much as 85 percent.  Be sure that the helmet fits properly.  It should be worn level, cover the forehead and be snug enough that it can't move around on your child's head.
Check the Ride - When your child is straddling the bicycle, his feet should touch the ground and there should be 1 - 3 inches of space between him and the bar.  Always be sure to check the brakes and tire pressure.  Also, oil the chain regularly.
Wear the Right Gear - Dress your child in bright clothing so that they are easy to see.  Check for loose clothing, shoelaces and backpack straps that could get caught in the wheel.  Be sure that they wear sneakers rather than flip flops or cleats which won't grip the pedal.
Look for Obstacles - Teach your child to be aware of the area in which he is riding.  Always be on the lookout for road obstacles such as wet leaves, sand, gravel, storm, grates, curbs and puddles.  When riding at night, be sure they are riding in a well lit area.
Understand the Rules of the Road - If they will be riding in the street, be sure your children understand basic road rules:
Learn and use appropriate hand signals
Step and check for traffic both ways before leaving a driveway or entering an intersection
Never ride against traffic
Use bike lanes or designated bike routes whenever possible
Ride single file when riding in the road
Stop at all stop signs and obey traffic lights just as a car would do
Don't ride too close to parked cars - someone can open their car door suddenly