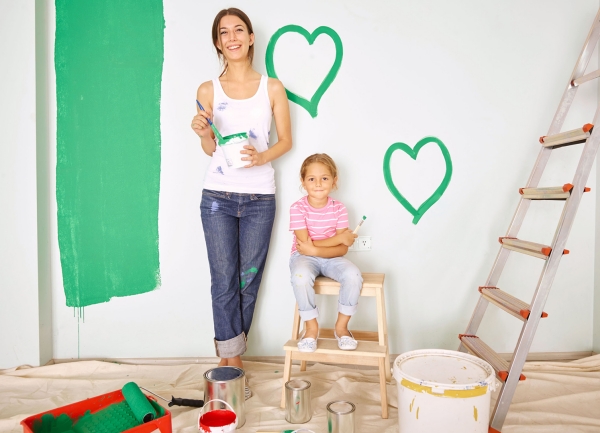 Remodeling your home with a large family, especially when you have young kids, can be a real nightmare. You have to worry about safety, comfort, cost-effectiveness and many other things all at the same time. But, just because most people have a hard time renovating with kids, no one says you have to as well!
Don't catch your kids by surprise
Don't let your kids wake up to the sound of contractors, delivery trucks and loud tools without even telling them about your renovations. Let them know that you're improving your home and making some changes to have a fun new house in the end. However, what kids don't need to know about is your arguments about budget and wall colors, so keep it civil. Be sure to also engage professionals for your project, and check out amazing loft conversion ideas to consider here if you want to maximise your home space.
Let them participate
In order to make parting with the rooms a bit easier, why not organize a "goodbye party" for your home? You can have a fun day of writing on the walls, conducting a family photo shoot in areas scheduled for renovation or you can even let your older kids pick up a hammer and pronounce the renovation open. Another thing you can do is let your kids help with interior design. You'd be surprised how many great ideas your little ones can have!
Consider partial renovations
A whole-house renovation can be a true nightmare when you have young kids. If you let them run wild in the living room, bedrooms and playrooms, your newly-renovated space will not look so new after a few weeks. So, it's always better to sacrifice some rooms to make the other ones look amazing, especially if you're planning to sell or rent. For instance, tackle your kitchen and master bathroom, because they bring the best ROI and are not easily worn out by kids. Once your children get older, it will be much easier and cost-effective to renovate your entire house.
Have help at hand
Doing renovations yourself is a great way to save up some money, have fun with your design and create a completely personal space. However, you must always have experts at hand in case of an emergency, just like the Aussies do. For instance, if you're constantly tripping your breaker while kids are at home, you'll all have a pretty un-fun time! How will you prepare dinner, have showers and read a bed-time story without any light? So, in case your DIY projects don't work out as planned, an emergency electrician from Sydney with plenty of experience will fix all your electricity issues no matter when they occur. Once pros take care of your wiring, you can continue with your renovation without any delays and disturbance to your family.
Always provide surveillance
If you're hiring contractors, parenting will be a bit easier. But, if you're conducting DIY renovations, make sure to have one of you always looking after the kids. While the other parent is busy with the reno, you can stay at home for some light help and design advice or head out with the kids. However, if you two try to do DIY and parent at the same time, don't get too surprised if everyone ends up in tears.
Make a safe haven
Moving out during the renovation is an ideal setup, but it's not affordable for all. So, if you're staying home, make sure to designate a zone that will be your safe haven. Consider putting a lock on the doors for added safety and privacy.
Have a family day
No matter if you're having a DIY reno or hiring contractors, make sure to have at least one free day a week to spend in peace with your family. On family day, unplug all tools and head out with your loved ones. You shouldn't feel too guilty if you dedicate a lot of time to your renovation (after all, you're creating a beautiful home for your family or flipping a house to put food on the table), but don't completely neglect your loved ones. If you plan well, all of you will watch your improved house come to life and anticipate your new life there. If will be more than fun and rewarding for everyone involved!