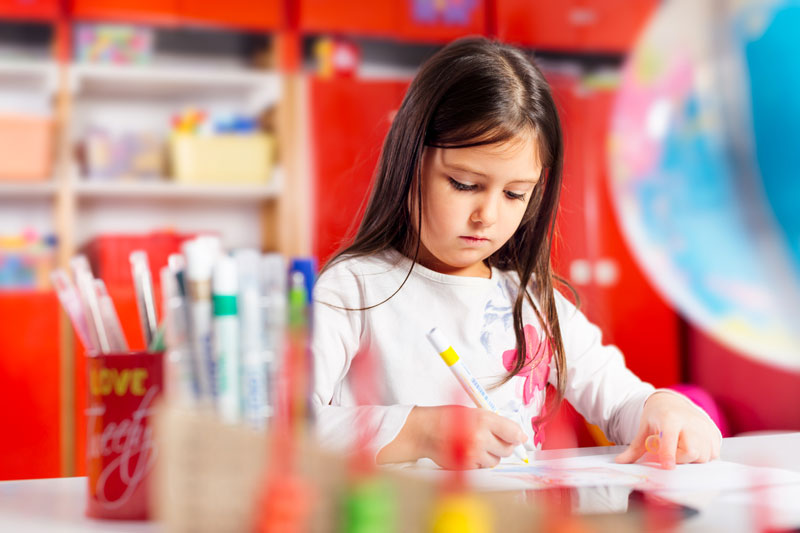 Designing your kids' playroom is a fun and rewarding project, especially when you see your kids enjoying the final product. As it is a place where they'll be spending a lot of their time, you have a unique opportunity to design it according to their preferences. Bring them in on the project, see what they would like and let your imagination run freely.
However, picking the theme is only half the battle. In addition to its aesthetics, this room has to be functional and practical as well. Sufficient storage is a must and the organisation such that it holds your kids' interest, and this doesn't always come easy.
Here are several of the most popular design ideas to get you started on your project of creating a space your kids will love and enjoy.
Organize the space
Due to their short attention span, kids usually jump from one activity to another within minutes, which means they also get easily bored. Luckily, if you set up their playroom cleverly, these problems will be reduced to a minimum.
In order to do this, it's best if you divide the room into designated areas for various activities where each section is aimed at a specific purpose. For instance, a reading nook can be set up in a corner on the floor. Just throw in a few big fluffy pillows or lazy bags and a bookshelf. The same goes for a bay window with a seating bench, a few cosy cushions and a string of lights.
Another section can be organised as an arts and crafts area with a table, chairs and boxes of crayons. And, when the kids get tired of playing and want to relax, set up a media centre with a TV mounted on the wall and comfortable cushions and bean bags for watching cartoons and videos.
Mounting a TV on the wall is a very practical hack as it leaves storage room underneath it and elevates the TV itself to a safer height where it's less likely to be damaged or overturned. To be on the safe side, make sure you find strong, good quality TV wall mounts that will keep the TV securely in its place.
Ensure plenty of storage
It's common knowledge that kids come with a lot of stuff and that they're quite reluctant to throw anything away easily. Therefore, the best playrooms are those that provide ample storage so that everything can be kept neatly away but still fit into the overall design scheme.
When considering the best type of storage for your kids' playroom, think about their preferences: if they're voracious readers, you'll need plenty of bookshelves; for video games fans, you'll need a cool entertainment centre, or you'll need lots of shelves and boxes to store all the stuffed animals, dolls, figures and their knick-knacks. It's quite likely you'll opt for a combination of different types to accommodate for your kids' various interests.
One thing is for sure, you'll need plenty of storage in general, but you might not have a lot of room for it. So it's best to consider those pieces that can serve multiple purposes, such as a table with a top that opens and closes for storing board games, and chairs and benches that also hide storage space underneath their seats. Try to find such pieces that have the ability to grow with your children and change their function when necessary.
Let the walls be your empty canvas
Utilizing the clear space of the walls is the best way to add visual interest to the room and have it stand out from the other areas in your home. Anything goes in kids' playrooms, as long as it's fun and carefree! The walls can be your focal point so use them as an empty canvas and decorate them with murals if you can paint well, or wallpaper, posters, wall stickers or decals. This will surely liven up the space and give it a pop.
Accessorize in colours
In addition to being functional and practical, playrooms need to be fun and imaginative, and inspire your kids to be creative. You can achieve that with bringing in lots of colourful accessories that can easily be replaced when your children's tastes change. This will save you not only loads of cash, but headaches as well!
Accessories can include anything from rugs, pillows, floor cushions and blankets to lamps, string lights, storage caddies, wall stickers and wall art. To create more interest, mix and match different textures and colours and let your kids choose their favourite items.
When designing your kids' playroom, consider what will best capture their attention and inspire their creativity and imagination. Combine this with plenty of storage and multi-purpose items, and you'll have a game room your kids won't want to leave!