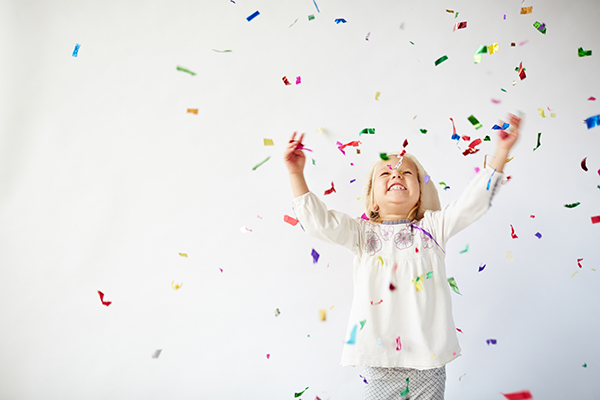 "Cheers to a new year and another chance for us to get it right." - Oprah Winfrey
It's time again for us to say goodbye to one year and embrace another. This year we resolve to become better parents, and here are the top 10 resolutions we're focusing on:
1. Less screen time
Technology is built into every little bit of our lives now. It is feasibly possible to spend most to all of your day with a blue screen in front of you or nearby. There is still a lot to learn, but researchers have found language delays in children who watch more television. How can we, as parents, find a balance between a changing world and the developmental needs of our children? Start with advice from leading experts in technology or mindful parenting:
Finding balance + harmony with technology - Pyschologist + therapist, Dr. Shefali Tsabary
How to limit TV + technology in your home - Educationalist specialist, Carolyn McWilliams, MA
Technology's effect on your child's communication skills - Clinical pyschologist, Dr. Chris Fulton
When parents are outsmarted by their teen's technology - Regional Director of Common Sense Media, Dr. Yalda T. Uhls
How to stay on top of what technology your kids are using - National Cyber Security Expert, Theresa M. Payton
2. More listening
Listening to others is the backbone of every relationship. As a parent, we must teach our children how to effectively listen to others, but we must also continually practice listening ourselves. Learn how to become a better listener and pass empathy skills down to your kids with leading psychologists and neurologists:
Getting kids to open up with active listening - Neurologist, Dr. Judy Willis
How to listen effectively - Clinical psychologist + author, Dr. Lee Hausner
Keeping communication open by listening to your children - Psychologist + author, Dr. Edwin A. Locke
Importance of listening to children without judgment - Family therapist, Gila Brown
How to practice empathic listening with kids - Author, Dr. Roman Krznaric
3. Create new experiences
Every parent knows that a solid routine can make family life so much easier, but it's important to shake things up every once in a while. Children need exposure to new foods, people, and places. This is easier said than done—especially when it comes to food! Here is some of our favorite advice for getting a picky eater to try new foods:
How to get a picky eater to try new food - Parent educator, Elizabeth Pantley
How to deal with your child's picky eating - RIE parenting expert, Janet Lansbury
The biological necessity of picky eater syndrome - Dr. Alan Greene
4. Take more photos of your kids
They are only this age once. Life moves quickly, and it's so important to stay in the moment, but don't forget to grab a few photographs every now and then. You'll appreciate them later.
How to get the best photos of your kids - TV host + journalist, Mark Steines
Benefit of annual family photo shoots - Writer + editor at People magazing, Ulrica Wihlborg
5. Read more
The benefits of reading aloud to kids are innumerable. Establishing the foundation of reading skills for your children will positively affect them for the rest of their lives. Listen to these great tips from pyschologists and teachers on how to instill the love of reading in your child:
The importance of reading aloud to kids - Teacher + author, Steve Reifman
How to choose a reading program - Neuropsychologist, Dr. Karen Schiltz
Teaching babies to read through natural interactions - Educational psychologist, Dr. Jane Healy
Tips for teaching a child to read - Educational therapist, Sasha Borenstein 
Why books + audio books are great before bed - Parent educator, Elizabeth Pantley
6. Make time for self-care
The parenting life is a stressful one! Don't forget to care for yourself. It's when we make sure to recharge and center ourselves that we can be the best parents for our children.
Advice for self-care + date night - Lifestyle expert, Samantha Ettus
Finding space in the day to connect with oneself - Clinical psychologist, Dr. Shefali Tsabary 
Getting time off from being a stay-at-home parent - Stay-at-home dad, Scott Lenz
7. Get outside
We are our children's primary role model. Show your kids the value of an active lifestyle by getting outdoors and exploring! Family hikes, trips to the park, or simple walks around the neighborhood help the body, mind, and spirit.
Making nature art with your children - Blogger, Shiva Rose
Benefits + recommended use of Vitamin D - Dr. Alan Greene
Top tips for camping with kids - CEO of Red Tricycle, Jacqui Boland 
How much exercise should kids get a week? - Psychiatrist, Dr. John Ratey 
8. Build community of parents
Parenting can be an isolating experience, especially if you don't have friends with kids. Build friendships with other parents through playdates, online communities, or gatherings through social platforms like Meetup.com.
Playdates + interactions with your child's friend's parents - Pyschologist, Dr. David Palmiter
The importance of friends in the early days of motherhood - Blogger, Heather Gibbs Flett
Importance of friends for children and adults - Psychiatrist Dr. Edward Hallowell
9. Play more
Unstructured play or "free play" is one of the most invaluable tools to our children's social, cognitive, and emotional development. Check out these get tips for understanding why play is important and how to encourage your child to play:
Benefits of unstructured play - Educational psychologist, Dr. Jane Healy
What parents need to know about developmental play - Psychologist, Julie Wright
Getting kids to play by themselves - Behaviorist, Nicole Hill, MA
Encouraging good behavior on play dates - Psychologist, Dr. Joel Haber
10. Continue learning
Parenting is an experience like no other. It requires us to learn new things constantly - from pregnancy to college. The life of a parent is unexpected and challenging, so remember to turn to experts when confronted with a difficult question. Our video library is a great place to start, with over 9,000 videos from 500 doctors and parenting experts. 
Learning from other moms - Blogger, Heather Gibbs Flett
Admitting your mistakes to improve your child's choices - Educator, Sondra Santos Drahos
How busy working parents can stay involved - Head of School, Reveta Bowers