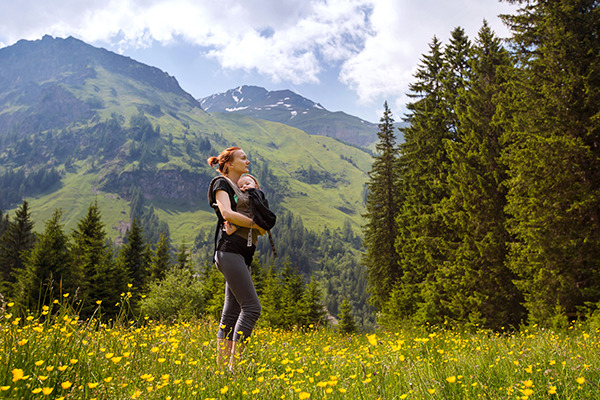 Kangaroo Mother Care is a method of care for premature infants that focuses on skin-to-skin contact between mother and infant. Similar to a mother kangaroo carrying their baby in their pouch, KMC directs mothers to keep their babies close to their bodies as much as possible. Outside of care for premies, KMC is know simply as skin-to-skin contact, which is one of the tenants of attachment parenting. Here are 4 reasons why you should embrace skin-to-skin contact with your baby, even if they were born full developed or you are not interested in attachment parenting:
1. The first months of your baby's life is the most critical period of development. Their brains are still forming, so the care they receive during this time is crucial for optimal brain development. This is especially true for the amygdala, located deep in the center of the brain and responsible for emotional learning, memory, and the nervous system. Skin-to-skin contact activates the amygdala and helps contributes to the development of this important brain structure.
2. Holding your baby has significant impact for several weeks after birth. A study from Pediatrics shows that cuddling babies has a big effects on their contentment and ability to feed. Carrying your baby for extended periods of the day reduces symptoms of colic and fussiness that peaks around 6 weeks old. 
3. The immediate and long-term effects of skin-to-skin contact on premature infants. The preemies who experienced skin-to-skin had larger areas of gray matter in the brain and higher IQs. They also showed less propensity towards hyperactivity and aggression in school. This study indicates that Kangaroo Mother Care had significant, long-lasting social and behavioral protective effects 20 years after the intervention.
4. Studies on full-term babies and skin-to-skin contact have found similar results. One study showed full-term babies who experienced skin-to-skin had better cardio-respiratory stability, breastfed more, and cried less.
More resources on skin-to-skin contact:
The benefits and recommendations for preemies and skin-to-skin - Pediatrician,  Alan Greene, MD
What to expect right after the baby is born - Doula, Ana Paula Markel
3 Ways to form healthy attachment to your baby - Relationship + parenting expert, Wendy Walsh, PhD