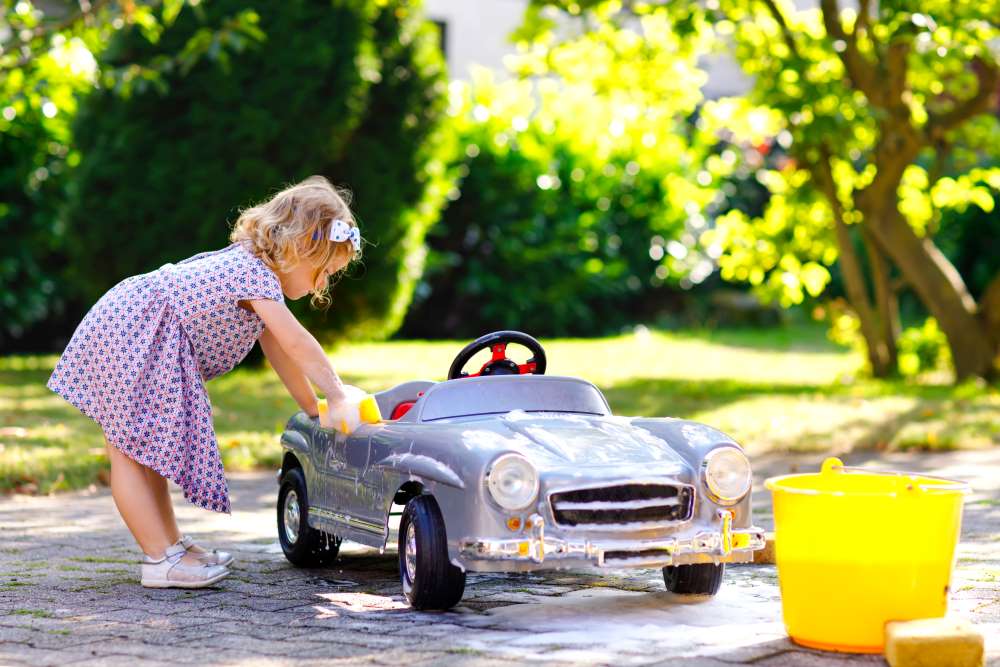 Is your child persistent in asking you to buy them a kid's car? Kiddie cars are popular child-friendly electronic-powered vehicles. Because children are naturally curious about their environment, your little one might request a kid's car on their birthday or any special occasion to try and emulate what they see around them. 
While kids feel nothing but excitement when they see these cool kiddie cars, parents, on the other hand, may have some safety concerns. Hence, it's crucial for parents to know the important things to consider when buying a kid's car. 
Learn more about these important kiddie car shopping considerations below:
Manufacturer Or Seller's Reputation 
First and foremost, you should only buy from a reputable manufacturer or seller of kiddie cars. Almost all kiddie cars may look like toys with cool features, but not all manufacturers or sellers sell high-quality kiddie cars. Make sure that you only buy a kid car from a trusted seller by checking the company's website and customer reviews.
Safety Features 
More than anything else, you want to buy a kiddie car with the right safety features for your child's safety. Here are some of the safety features you need to look for in a kid's car:
Seat Belt: Check the seat belt to ensure it's not too loose or too tight for your little one. Most seat belts are adjustable for proper fit. Also inspect the material and how the seat belt is designed to ensure high quality and that it won't break easily if ever your child drives fast or shifts to the highest gear accidentally. You want to make sure that the seat belt can support your child's body properly in case of sudden stops or other driving mishaps. 

Parental Remote Control: While kiddie cars allow children to control the speed of the moving vehicle, you also need to make sure that it comes with a parental remote control. This way, you can guide your child and control the car if your child suddenly loses control.
Your Child's Comfort
You want to guarantee your little one's comfort when driving a kid's car to avoid complaints and even tantrums. Boost your child's kiddie car riding experience by shopping for one with comfort in mind.
Take a look at these important comfort features of a kiddie car:
Adjustable Seats: You may want to consider buying a kiddie car with an adjustable seat for your child's comfort and safety while driving. By doing so, you'll have peace of mind that your little one's feet, legs, and arms won't be pressing against the front of their kiddie car.

Proper Size: You need to shop for a kiddie car suitable for the weight and height of your child. Don't go for something too big or too small. Find one that's just right for your son or daughter. This way, your little one can position their feet comfortably on the pedals and maneuver the kiddie car properly.
Cool Features 
Ask your child about their kiddie car feature preferences. Include them in the decision-making and buying process. Does your child have a special preference for a kid's car? You can both browse the kiddie cars for sale online and discuss the best features to have.
Children love cool features in their kiddie car, so you need to consider the following:
Color: Kiddie cars come in various popular colors like red, black, silver, blue, green, and a combination of many colors. Keep your child's favorite color in mind to add to the big surprise when shopping for cars for kids. 

Model: Kiddie cars are derived from the models of actual cars, so choose the best model that suits your child's preference.

Music: With built-in USB and SD card slots, your child can play their favorite music while driving, thus promoting their riding enjoyment.

Lighting: Kids' cars have cool lights and light effects. Children will be mesmerized by the cool light features that glow even more in darker areas. 
Operations Features 
You need to also check the battery features and lifespan, motor (number of gears), and charging instructions of the kiddie car. Choose one with a battery level indicator for convenient monitoring and charging of the electric car's battery. Don't miss checking the user's manual as well to guide you in proper kiddie car operations. 
Conclusion
As you try to raise happy children, always ensure proper supervision of children riding in kiddie cars. While these cars were designed with children's safety in mind, it's best to be attentive at all times. Children may get rough and overly excited driving their new kiddie cars, so parents must be there to guide them on how to use the cars properly. Besides, this driving lesson activity is a great bonding experience for parents and children.