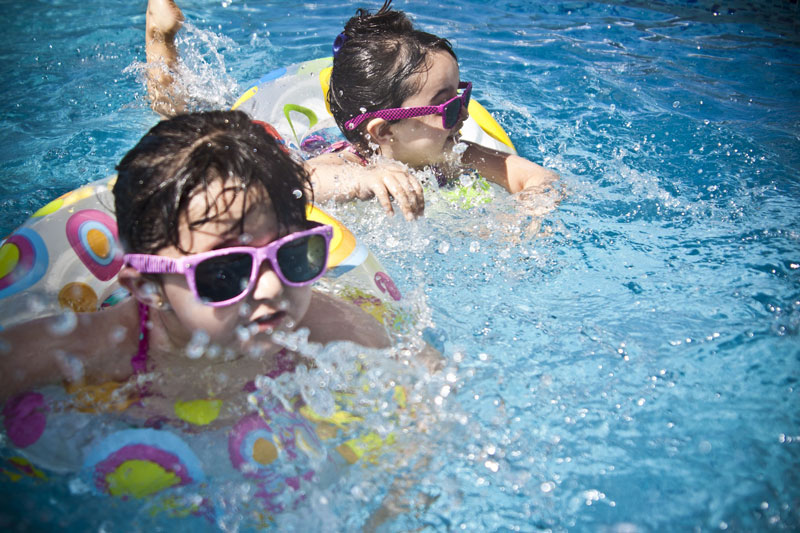 Being a parent is a wonderful thing, but it also makes you more responsible for their well-being. Making sure they stay active and have a schedule filled with fun and rewarding activities should be something you preoccupy yourself with. The time your children spend at home should never be boring or unproductive, so perhaps it's time to consider adding an element to your property that the entire family can enjoy - a swimming pool.
During summer vacation, having a spot to have fun with your little ones can be highly advantageous. If you're currently wondering whether getting a pool is actually worth it, and if it will benefit your children, you might need a bit of clarity on the subject. Here are some of the most important reasons why installing a splash pool for the kids will be a decision you won't regret making:
Gets the kids to become more active
Let's start with the most important aspect here and that is staying active. Swimming is a great form of exercise, and one that children actually enjoy, and engage in naturally. It's important for your kids to incorporate in their schedule physical activity from an early age - this will prevent them from developing a sedentary lifestyle later in the future.
Staying active is highly important for their health and general level of wellness, and with a pool in your yard, you won't have to constantly think about a well-balanced itinerary that includes sports, nor will you have to go out of your way to arrange different activities.
It's safer and cleaner than a public pool
During summer season, your kids are probably constantly telling you to take them to a public pool. This can be inconvenient for you in various cases, but also worrying, if you start thinking about safely and cleanness. When it comes to public pools, many thoughts arise in regards to how sanitary the said pace actually is. Well, with your own pool, you won't longer have to take your kids to public pools, where lots of people share a small body of water. Children are at higher risk to develop certain health issues just by swimming in an unsanitary pool. With your own above-ground pool in your yard, you will have entertainment spot perfect for the kids to play in, and fewer safety concerns will exist.
It keeps them preoccupied
Everybody knows that kids have a lot of energy, and they also tend to get easily bored, meaning they might often nag you to constantly play with them or find them something to do. If you want to keep them preoccupied this summer, and just supervise them instead of constantly having to keep up with their energy levels, installing a pool can be a great solution.
When your kids have the perfect attraction right on your property, you'll also find yourself less frequently driving them around to different playgrounds across town. You can enjoy a relaxing afternoon, while your little ones are actually doing something they like – it's a win win situation.
It gets them to spend more time outdoors
Today's generation of children is more drawn to indoor activities. Spending time with a smartphone or tablet in their hands, watching TV, or playing video games have become the preferred choices for kids, outdoor play being often neglected. If you're worried that your kids aren't spending that much time outside as they should, installing a swimming pool can change that.
When there's a great entertainment spot right in the back yard, your kids will inevitably be tempted to go out and actually enjoy it. You'll determine them to play out in the sunshine without you constantly nagging them to do so. It lures them away from technology, which has become quite addictive for children nowadays.
Spend quality time together
Getting closer to your kids and managing to spend more time together as a family isn't always easy. Finding something to do that everyone likes can often be more challenging than expected, but luckily, swimming is probably the type of activity both adults and children love. A swimming pool offers something for anyone, regardless of age. Being able to spend an entire weekend together, without anyone complaining can strengthen your bond. So if you were having troubles getting your kids to spend more time with you and your spouse, this could do the trick.
They won't longer miss their bedtime
If you're always arguing with your kids when it's time for them to go to bed, your problems can be solved easily with a splash pool. Swimming or even just playing around in the water will have a tiring effect on the kids. After a long day by the pool, none of your children will have any energy left and missing their bedtime won't be something you'll conform yourself with.
Contributes to creating wonderful summer memories
There aren't many other summer activities that are actually more exciting and fun that lounging by the pool, swimming or playing some water volleyball. If you aim to provide your little ones with a summer they will actually remember, this type of yard addition could help you reach your goal here. This will provide a happy, positive environment that will foster the creation of long-lasting, positive memories, and not just for them, but for you as well.
These are the main reasons why installing a swimming pool can be a great decision for your family. During summer season, kids can easily get bored, so providing them with fun activities to engage in right at home can make their vacation more enjoyable. There are many aspects that make it worth it to invest money in a pool, and if any of the details mentioned above appeal to you, start looking for options. Nowadays, pools are affordable and easy to install, and finding an option that suits your needs won't be at all difficult, so give this possibility some thought.