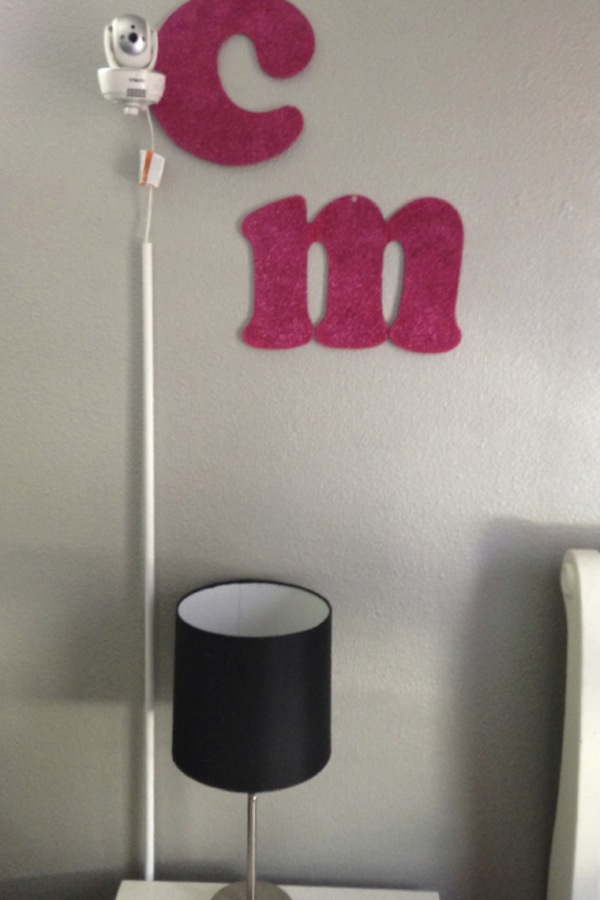 Tips to Guarantee the Utmost in Safety for Baby & Peace of Mind for Parents
By Kimberlee Mitchell, Child Safety Expert & Founder of Boo Boo Busters
Parents equate the beloved baby monitor with peace-of-mind because seeing is believing and baby monitors provide us that luxury. It's also that genius device that allows for easier sleep training. Thankfully, gone are the days of having to gingerly creak open the nursery door for a covert peek while risking being seen by your wide-eyed baby looking for a way out of a nap! The latest high-tech baby monitors are now priced for the masses resulting in millions of families buying one, two or even three baby monitors to help parents add another level of protection for their little ones. However, some parents are missing important information to use the baby monitor in a safe manner.  I've put together some tips to help educate you about proper use and installation of your baby monitor so you can enjoy precious peace of mind. 
READ UP: 
Creating a safe sleep environment is the goal of every parent.  To achieve that goal, it's important for you to read the manufacturer's instructions on your new baby monitor before you use it. I know this is not NYT Bestseller material but it's an important read. Additionally, please note the safety tag on the electrical cord of the baby monitor and read that as well. This info will help ensure the utmost in safety while using your monitor. 
LOCATION: 
When installing your baby monitor, be sure to choose a location in the nursery that is at least 3 feet away from the crib (pack and play, bassinet, etc.) where baby sleeps. More times than I can count, I've seen baby monitors placed inside the crib or bassinet or hanging on the crib rail. I know that newborns cannot grab much, let alone a monitor but it's still advisable to keep the monitor at least 3 feet away from the crib. If you are mounting the monitor onto the wall it makes sense to do so 3 feet away now so you won't have to move it later as baby grows and his or her reach elongates. 
ANGLE: 
Choose a location for the baby monitor that gives you the best view of the crib. Wall mounting up high and out-of-reach allows for a better viewing vantage. Some newer monitors come with easy wall mount features, like VTech's Safe&Sound® Pan & Tilt Full Color Video Monitor making a DIY installation a snap. The latest developments in technology provide consumers the option to see in the dark as well. Heck, you can see better with VTech's infrared LED night vision in the dark than you can see with the naked eye. VTech's latest monitor also has cameras that will move up and down and left to right via remote control to give you a better look at junior who might have rolled to the end of the crib out of a static camera's view. All the technology makes supervision day and night easier, resulting in a relaxed and more confident parent! 
CORD CONTROL: 
Even if the baby monitor is out of reach, often the dangling cord can still be accessible. Baby monitor power cord management is made easy with VTech's Video Monitors because they included a genius cord management system within the mounting bracket for storing any excess electrical cord. Another option for cord management, which is a trick of the trade used by professional childproofers, is cord control or concealment kits that cover and mount electrical cords in the nursery. Cord covers enclose wires and mount with double-sided adhesive onto baseboards, walls or ceilings. It can be cut to customize it to fit any length and the white plastic surface can be painted to match your home decor. Be sure to train the cord away from the crib by at least 3 feet. Check ALL electrical devices in the nursery (lamps, iPods, sleep sound machines, clocks, etc.) and make sure those power cords are also at least 3 feet from the crib. Please childproof all outlets in the nursery with sliding outlet covers to prevent electrical shock.
NEVER: 
Do not use baby monitors in the bathroom or around water, as it's an electrical shock hazard. Babies and children should never be left unattended in the bath. 
INTALLATION QUICK TIPS:
Install baby monitor 3 feet away from crib

NEVER place/attach baby monitor in/on crib with baby

Make sure baby monitor's electrical cord is 3 feet away from crib

Conceal baby monitor's power cord with cover or use wind up feature

Never use baby monitor in bathroom or plug in near water

Plug baby monitor into a childproofed electrical socket
As parents we have the ongoing responsibility of educating ourselves to help us better do our job of raising our kids and keeping them safe as possible in the process. The uber information age offers us easy access to new studies, technology and revealing stats every day. This safety education combined with many new, high-tech innovations, made available to consumers from safety savvy products manufacturers, help to make our all important jobs as parents easier and less stressful as we can cover so many more bases than ever before. So please continue being a practitioner parent by reading up as much as you can AND being vigilant with supervision and I'll work hard to bring safety issues like this into the light.  Be well and be safe! 
GIVEAWAY: