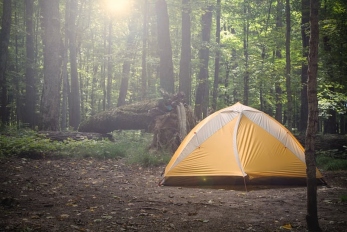 On average, children spend around seven hours a day in front of a screen. 
Do you know how much time they spend outside? Four to seven minutes. 
The numbers are clear – American children have all but replaced time in nature with smartphones and computers. And here's an even more disturbing statistic: kids spend twice as much time on their smartphones than talking to parents. 
If we're being honest with ourselves, most of us rarely go outdoors unless we have to, and our children are just following suit. According to MarineApproved.com, that's why a family camping trip could be the perfect fix. You get to bond with your kids, teach them to have fun without any technology, and enjoy the health benefits of being surrounded by greenery. If you have yet to find the perfect tent for such a trip, be sure to check out some of the Best family tents for camping.
Here's how to plan a great trip.
Choosing the time and place
Sometimes, it is really hard to determine which season is the best for setting your camp up. Summer is the most popular season for a family camping, but since the campsites are overly crowded and noisy then, you won't be able to relax. As for the spring, it provides us with an unforgettable opportunity to watch nature waking up, but frequent temperature changes could spoil the entire experience. The fall is probably the best season for camping, during which you can enjoy mild and pleasant temperatures, clean air and observe leaves changing color and fall off. Although, it does rain quite a bit in the fall, so make sure you think about waterproofing your tent.
When it comes to choosing the spot, pay attention to your family's needs. A camping ground can be anything from a patch of dirt up in the mountains to a more commercial place with access to sewage, electricity, and even WiFi. 
The bare basics: tents and RVs
Taking your RV (or renting one) can be a great way to experience camping if you have very small children and don't think they could handle tents right now. However, if you want to do it in a traditional manner and fully experience nature, then we recommend tents. Shop for a tent that suits the weather conditions on the days you'll be camping, and make sure you pick the one that's big enough for your whole family (or pick two tents if you want to give the kids some privacy). 
Besides the tents, you'll also need sturdy sleeping bags, sleeping pads, and pillows. Sleeping bags are generally very warm, but if you like, you could bring an extra blanket. 
Tools to make your trip easier
A camping trip is an adventure, and every adventurer needs their tools. In addition to tents and sleeping bags, you'll also need camping chairs, folding tables, and headlights. One tool you mustn't forget is a proper knife. You should consider steel OTF knives or something similar that will serve you well when cutting branches or ropes. Since these knives have a collapsible blade, you can easily pocket them and keep them away from young children. 
A good knife is important, but you might also want to bring a good multitool. The tool should have a hammer, pliers, and small hatchet incorporated so you could set up your tents. Besides tools, make sure to have a fully-stocked first-aid kit, water bottles and jugs, and water purification tablets just in case. 
To avoid harming the environment, bring a biodegradable soap to wash your hands and plenty of trash bags or regular plastic bags where you can store your garbage. This is a pretty great opportunity to teach your kids not to litter and to pick up after themselves. 
Entertainment for both you and the kids
While you can certainly choose a camping site that offers access to WiFi, we urge you to leave most of your electronics at home and simply teach your kids how to enjoy nature. There's nothing like a good old-fashioned Frisbee or a football to get them to move around, but you could also bring a family board game to play in the evening. Games like Ticket to Ride, Sushi Go, Love Letter, Dobble, Azul, or simple chess are great choices.
You can also roast s'mores over the campfire, tell spooky stories, sing camp songs, observe animals in their natural habitats, or simply go on a long hike. If your kids enjoy the sight of blooming nature, we recommend picking leaves and flowers for a herbarium that you can make when you come home. 
You can also teach your children some survival skills because a) it's useful, and b) they'll think it's the coolest thing in the world. Tasks like gathering firewood, reading a compass, building a shelter, finding clean water, or insulating against the cold are good things to start with. If your child is a teen, you can also teach them how to make a campfire. 
Camping is a perfect vacation for both you and your children. It is an idyllic getaway from hectic urban life, which will help you meditate and recharge your batteries, surrounded by the vibrant nature. Mysterious landscapes, riddled with extraordinary sights, are perfect starting points for your family expedition that will make your children adore spending time in nature! Don't be surprised if your kids tell you that they would like to go camping again next year.