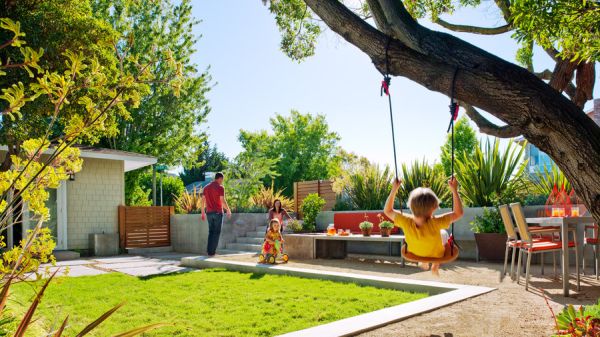 If you happen to have a big family and a big backyard that feels unused, there are ways in which it can be transformed to fit all your needs. All it takes is some effort and creativity. So, if you'd like your backyard to reach its full potential so you can truly enjoy every minute spent in it, here are a few suggestions you should consider.
Use the lights
Lighting can make a huge difference regardless of whether we are talking about indoor living spaces or outdoor ones. In this case, though, you can use solar lamps to light up your pathways and make your backyard safer when the sun sets, or you can use lanterns for a subtler light that would help you create a soothing atmosphere. You can also use task lights for your outdoor kitchen, and you can opt for string lights, for example, above your spa. The choices are endless, so think about the kind of effect you want to achieve, and choose the type of lighting that would work best for it. And for the summertime, be sure to get an Outdoor Ceiling Fan to keep you and your guests cool. 
Create a secret getaway spot
Every backyard needs a getaway spot where you can unwind after a long day at work or where your kids can read their favorite books in peace. You can build that spot in the corner of your backyard and surround it with some colorful bushes, or it can be under your kids' favorite tree where you'd also have a pleasant shade. Moreover, it doesn't necessarily have to include a bench – it can have a hammock or an outdoor swing sofa instead. Just keep in mind that it should be as far away from the noise of your gathering area as possible.
Have a nice gathering spot
As mentioned, besides the getaway spot where you can rest, your backyard also needs a gathering spot where you can entertain your guests or drink your morning coffee with the neighbor. This area should be closer to your house. For instance, you can transform your patio to suit this purpose by adding a few comfy chairs and a coffee table. If you don't have a patio, you can use quick set concrete to create a nice seating area near your outdoor kitchen. You can also add a pergola to protect this area from the sun. In this case, concrete is a great choice, and not just because it offers a firm surface for outdoor furniture but also because it's easy to clean and maintain.
Build a garage
Assuming that you own a car, you should have a garage for it complete with custom steel work benches. Besides this, you'll be able to safely put away your and your kids' bikes without worrying about anybody stealing them. It can also serve as a storage space for your gardening tools and your kids' outdoor toys. All in all, it's an essential part of every family's backyard due to its functionality.
Add a playground for your kids
Unfortunately, kids today spend more time indoors than ever before, as playing on the computer often seems more fun to them than playing outdoors. However, that can also be the case simply because there aren't many things keeping them entertained outside. This is why you should designate a part of your backyard to your kids' needs. For example, you can build a swing set or a small basketball court. Or, if your kids are still very young, you can add a sandbox near your gathering spot. These kinds of areas would give your kids a reason to spend more time in the backyard when the weather is nice, and they would also give you peace of mind knowing that your kids are nearby and safe.
Pursue your hobbies
If you have a green thumb and you love flowers, you can use a part of your backyard to create a small personal garden. Or, you can strategically place different flowers around your backyard and do some landscaping on your own. On the other hand, if you happen to be into parrots, you can build a small aviary for your pets. Moreover, if your kids have a hobby that can be done outdoors, like painting or swimming, you can build an area that would allow them to practice their skills. In other words, whatever it is that you love, if you can do it outdoors and you have a big backyard, use a small area of it for pursuing your interests. Your backyard is as important as any other part of your home, so don't neglect it. Make full use of it by adjusting it to the needs of your family and decorating it to make it not just functional but also visually pleasing. By doing so, you and your family are guaranteed to enjoy spending time in your backyard.