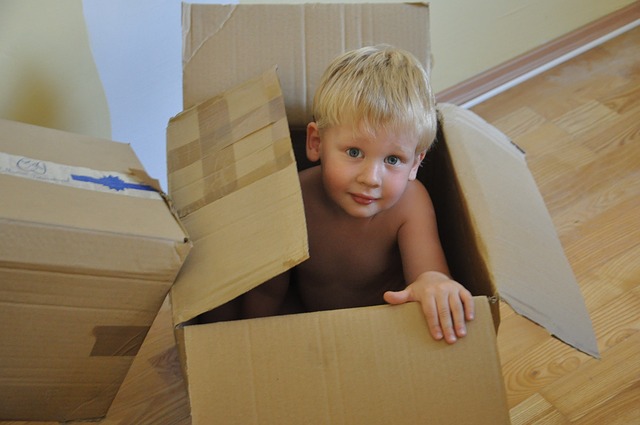 I think it's safe to say that just about all of us have moved at least once in our lives. Moving isn't anybody's favorite task, and that's putting it lightly. Moving as a single adult, or an adult without children, is tedious enough. If you've never moved with a family, you're in for a much more atrocious treat.
Whether it's your first time buying a home or not, you'll need all the help you can get for that process. To tack on the final momentous feat of moving an entire family's household is just icing on the cake. Here's a little bit of advice to help you make it through this alive:
Plan Ahead
The first step to making this process go smoothly is to start early, and make a plan for each week before the move. If you break it down into smaller tasks over a six to eight week period of time, all of the work you have ahead of you will be much easier to swallow. The first thing you'll want to do is print up a moving checklist that is time-organized. Having something like that on hand will help keep you on track so there are no surprises come moving day.
De-clutter
Packing up all of your things is the perfect time to declutter your home. You're already sorting through everything, so it won't take any extra time to get rid of unused, unwanted, or space-hogging items you don't really need. It's not easy for everyone to give things up, but it's a good idea to go through and get rid of the things you don't use or need every few years. The last thing you want is to get to the new house and end up with a garage or shed full of boxes that won't be touched for years to come.
A fun way to declutter is to challenge everyone in the family, yourself included, to fill up one box with things that they can live without. Then, take a little family field trip to a local homeless shelter, church, or thrift store and donate everything. It might be extra fun to have each family member pick a charity or organization they want to donate their specific things to, and then they can keep that in mind when packing. It might even inspire everyone to get rid of a few things they normally wouldn't if they know those things are needed more elsewhere.
Delegate
Those kids of yours are a handful at times, but that's perfectly normal. In instances like this, it's important to remember that they can definitely come in handy. You're might be delegating out age-appropriate chores already, but what things can kids of different ages assist with when moving? Here's some guidelines:
Preschoolers can pack their own toys, and might be able to pack their own clothes as well.
Ages 6-8 can pack their own clothes and toys, but will need assistance with any expensive electronics or fragile items that may belong to them.
Ages 8-10 can pack their own clothes, toys, and bedding. They can also help with household items like books and games, but will still need some guidance with fragile or costly items.
Pre-teens can pack all of their own things as well as most household items, minus dangerous machinery, tools, and kitchen utensils.
Teenagers can pack all of their own things, as well as all household, garage, outdoor, and fragile items. However, if something is overly expensive or dangerous, it's best to leave it to the adults.
A Few Packing Tips
Start as early as possible on the things you don't use regularly. Being a parent has taught all of us that no matter how on-schedule we think we are, there is always the potential to get completely off track. Getting things out of the way early can't hurt anything, so even if it's just ten minutes here and another five there, take advantage of it.
When it comes to clothes, blankets, and linens, there is no reason to use boxes. Trash bags are cheaper, and they have a hidden bonus: they can easily be crammed on top of boxes or into awkward spaces left in the moving truck, which means you can spend less money on a smaller trailer.
Color-coding is key. Instead of labeling every box with that one black marker that is sure to go missing about a thousand times throughout the packing process, buy some large, color-coded labels, and assign a different color to each family member and each separate room. When you're unloading everything, all it will take is a quick glance and you'll know exactly what room to leave it in.
A Few Moving Day Tips
When the day comes to actually load and unload, only keep the kids that will be old enough to help for at least most of the process. Trying to keep a little one or two wrangled up is going to slow you down significantly, so find a sitter for the day. Slightly sleazy pro tip: ask your intended sitter to help you move first, then switch it up and say, "Actually, could you just watch the kids instead?" They'll be so relieved that they got out of moving, they're sure to oblige.
Have a plan, or even make a map, of how you're going to empty out the house. It works best if you start with the rooms closest to the front door and then work your way back/up. Assign a couple of the strongest people to move all the furniture and heavy items, and have everyone else work on boxes. Having one or two people stay in the back of the truck helps as well. That way, the movers drop stuff off on the ledge, and the person on truck duty stacks and organizes everything. This relay method is proven to save a ton of time.
As stressful as moving is with a family, it can go smoothly with some teamwork and camaraderie. Tensions might be running high, so try to keep a positive attitude and cheerful demeanor, and it will rub off on the whole household.
When you get to the new house, whether or not you have everything unloaded, consider having a family sleepover on the living room floor. Order some takeout, grab some board games and sleeping bags, and relax and bond. You've all worked very hard, and you will have plenty of time to enjoy all the space in your new home. You made it through a very trying process, and you made it through as a family. Celebrate as a family, as well.