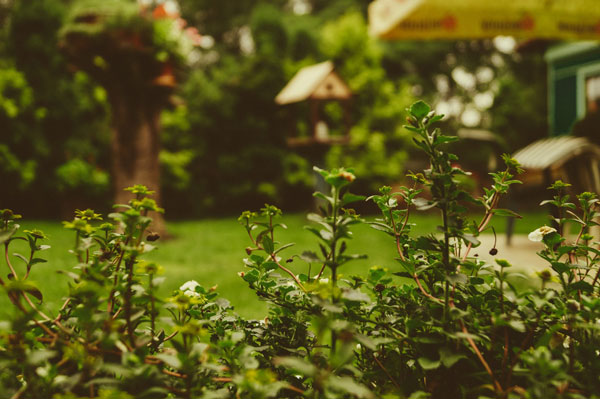 Like any other part of your home, your backyard needs some updates from time to time. Otherwise, it will lose on its charm. There are many elements that can become outdated over time. Your job is to decide whether you want to introduce big or small improvements. Either way, you'll end up with a fresh look of your backyard.
1. Replace old lighting
An easy change to the backyard porch would be simply switching the lighting fixtures. Go for the downward glow – it's much gentler than the upward one. You can install a gooseneck light for this trick. The style can vary from modern to vintage, depending on the look of the porch.
2. Spice up the yard
What's better than refreshing the outdoor space with living things? Herbs are always a great choice because you can choose either to plant them in the yard or to use them as potted plants arranged on the porch or the patio. Not only do they smell extraordinary but they are also useful if you cook outside. You will be more prone to adding herbs to your meals if they are just a few steps away. If you don't have a cooking space in your backyard yet, you can build an outdoor kitchen with metal studs, which is a much cheaper alternative than having a professional do the construction.
3. Set up a campfire
If you want summer to be really special, then add a campfire to warm summer nights. You can use simple wooden stakes to frame the fire pit. Fill it with sand so that the surface absorbs charcoal and sparks. The fire pit will instantly become the focal point of the backyard. People will enjoy gathering around it.
4. Add new or change the existing paths
Paths quickly change the look of the space, especially if they take you through the greenery of your yard. Meandering paths are a lovely choice but don't go for pavers. Rather, use quarter-inch crushed rock which comes in various colors. First, use stakes to mark the edges, then wrap bender board around the stakes. Lastly, add 5 inches of rock to it and flatten it.
5. Add an outdoor living space
Raise the bar with luxurious outdoor living space so that you can breathe fresh air experience ultimate comfort at the same time. Start with adding a large deck as an addition to the back part of the house. It will serve as a seating area and a dining room. To hide from direct sun but also to protect yourself from precipitation, install an adequate pergola. This is a moment where you should consult pergola builders for the right materials and size to ensure privacy and comfort. You can even add a solid wall on one side if you want even more privacy from the neighbors and install lighting fixtures on it.
6. Build concrete patio
A concrete patio won't become slippery on rainy days and it's quite easy to maintain. And there are ways to give it a more modern look. It's important to coat the surface with masonry stain in any color you want. Deep brown or honey may be the safest choices. On the other hand, when building the patio, you can opt for a checkerboard pattern, too. Optionally, you could lay slate tiles over it, which would add a touch of elegance. If your preference is for minimalism to fit into your small garden then there is no need for a concrete patio, perhaps head over to gardenfurnitureclearance.com and find a design that suits your garden style.
7. Paint the back side of the house
Who says that your house should have the same paint color on all four sides? The back side of your house can differ from the rest of them. Choose a color that will complement the backyard colors, whether it's the greenery you've focused on or the color of the deck and outdoor furniture. Grey hues of the paths or brown hues of the furnishings will go great with beige or taupe paint on the house wall.
8. Mulch is the new carpet
Mulch is very beneficial to plants, as it's full of nutrients and it prevents weeds from appearing. You can apply it around your flowerbeds and exposed soil. It will unify the look of the whole backyard and make everything look neat and well-maintained.
Final comment
hat you need to realize is that refreshing your backyard and making it more modern can be as big of a project as you want it to. From adding a couple of herbs to building a huge deck – your backyard is your playground. Enjoy the game!