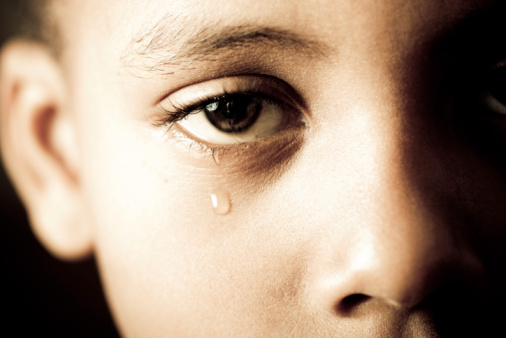 Imagine, if you will, being taken away from your mother and your father, without any warning at all.  Imagine being taken away from your siblings, your pets, your stuffed animals and toys.  Imagine being taken away from your bedroom, house, yard, and neighborhood.  Imagine, too, being taken from all of your relatives, friends, classmates, and everything you knew.   In addition, after all of this, imagine if you were suddenly thrust into a strange house, with strangers, and informed that this was your new home and new family for the time being. It is a very frightening time; one filled with fear, uncertainty, and anxiety.
When a child is placed into your home, it can be a time of anxiety for not just the child, but for your family, as well. The first impression you create with your foster child is often vitally important to how the next few days and weeks will transpire.  This will probably not be the sweet little child who rushes into your waiting arms, laughing delightfully, as you might imagine. It is highly likely that your foster child will be scared and frightened, full of anxiety. He may have left his family moments ago, and is now told that you are his family, for the time being.  Without a doubt, he is full of questions, as emotions swirl within him.
Although it is impossible to predict how he will react when he first meets you, it is important that you approach this time with caution and care.
That first moment is so very important.  
When the caseworker pulls into your driveway, go out to the car and welcome the caseworker and child, introducing yourself immediately, with a warm smile and soft voice.  Inform your foster child who you are and the role you will now play in his life.  He may very well not understand the foster care system, or what foster parents do. 
Do not insist that your new child call you mom or dad.  Allow your foster child to call you by your first names, if you feel comfortable with this, or by whatever name he feels comfortable in calling you.  As the child may be scared, do not insist that he react to you right away.  This is a time of extreme difficulty, and your foster child may be in a state of shock.  
As you help him inside with his possessions, take him by the hand, if he is a little one, or place a soft hand upon his shoulder, if he is a teenager.  Actions like these can be reassuring that all will be okay, that he is in a safe and caring home. 
Do not insist upon hugging, as he may be too embarrassed or hurt to do so.  
Show him where he will sleep, and where his clothes will be kept.  Have a nightlight already on in the room, if the room is dark. Ask if he is hungry, and offer him some food.  If he doesn't want any food, do not insist upon it.  He will eat when he is ready and hungry.
It is a scary time, have no doubt!  Your foster child will likely be overwhelmed with the situation, so it is important that you make sure your home is as peaceful and quiet as possible.  Allow your foster child to have some personal space and alone time.  If it is late at night, do not insist that he go to bed immediately.  After all, he is probably not only needing some time to reflect on the day's events, sleep may be difficult to come by, as he is in a strange bed, in a strange home.  Sadly, it is not uncommon for newly placed foster children to cry themselves to sleep during the first few nights.  Do not be surprised if this happens.  He may be scared and lonely.  Let him know that you understand how difficult it is for him, and that his tears are normal and all right.  Read to him a bedtime story each night; place a nightlight not only in his room, but in the nearby bathroom, as well.  Let him know that he can get up in the night and use the bathroom whenever he needs to.
Most importantly, reassure him in the next few days and weeks that he is important, that you are glad he is living with you, and that he is loved.