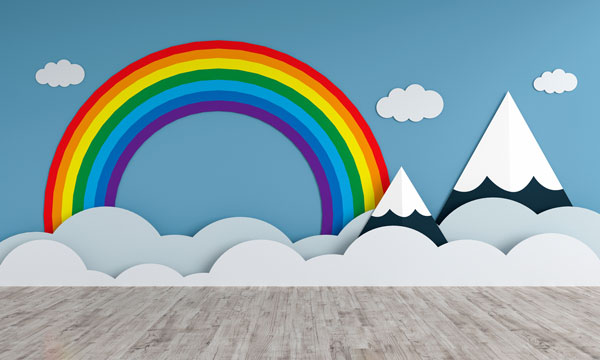 Interior designers have a reason to rejoice. The 3D décor is making a major comeback. Nowadays, people are turning to wallpapers to make their homes more exciting and welcoming. Homeowners can now decorate their homes with 3D design technology. This interior design trend is now taking the design industry by storm. With that in mind, here is all you need to know about 3D décor for your home—including the cons and pros. Master the art of incorporating 3D lights into your spaces--including your bedroom with Vision Bedding and stay happy always.
Wallpapers in Homes
Wallpapers bring headway with bolder—creating vibrant prints and injecting newer textures to homes. Plus, technology has advanced—making it possible to innovate materials that give different wallpaper surface textures (like cork, faux suede, as well as metallic).
However, 3D printing still attracts many doubts. So, before making your decision, know the pros and cons of 3D Décor for your home.
Pros of 3D Décor for Your Home include:
Versatility
With 3D decors, you have a versatile way of complementing any theme. So, if you are looking to inject that wow factor into your living space, think 3D décors. They can effectively achieve tremendous results. Wallpapers offer an array of options. From vinyl, text, go embossed finishes, wallpapers are an interior design staple. Plus, you can use bold colors to accent the walls.
Pro tip: To achieve a luxurious look, go for flocked paper. Also, get refined as well as a bold suede finish—they are ideal when it comes to evoking a classical, retro appeal. However, if there are kids or pets in your home—investing in vinyl varieties which are easy to clean can be a good option.
2. Quick Installation
Wallpapers are easy and straightforward when it comes to installation. Unlike painting the walls, installing 3D design elements takes a few minutes. Plus, you don't have to spend a few weeks outside your house.
3. Easy to Clean
Wallpapers are easy to clean. With only a vacuum or wipes, you are able to effectively clean them. Also, you can consider purchasing wallpaper dough. Using a dough is easy. Simply roll it across your walls and it will accumulate the surface dust. Alternatively, you can go for a regular cloth for cleaning your wallpapers.
Learn the DIY methods out there—including using white bread to remove fingerprints or stains.
4. Long-Lasting
Wallpapers can serve you for long periods of time—typically 10-15 years. Unlike repainting of walls—which is usually done in every 3-5 years—wallpapers are a long-term interior design investment. This makes their ROA (Return on Investment) higher when compared to repainting the walls. Their durability makes them an ideal solution to those looking for something with longevity.
5. Suitable Cover-Ups
Are your walls thin? Are they in a bad condition that necessitates re-plastering? Then wallpapers can be your ideal solution. Get thin wallpapers—they'll help cover the defect areas and create a spectacular art effect.
6. Visual Effect
With 3D décor for homes, you are able to create a stunning visual effect. From creating gorgeous appearance to unique aesthetic appearance—3D flooring is a modern interior design solution that's sure to revolutionize the industry. Plus, if you choose the right design, color, as well as pattern, you'll be able to increase the overall visual appearance of your interior spaces. Even more, it's more attractive and classy.
The Cons Of 3D Home Décor
To inject more life into your home, you can't just stop at remodeling it or creating a 3D floor plan. What makes it unique are the little details you incorporate into your 3D house. And there's a lot more to achieving a stylish interior design and giving your home an instant uplift than just adding 3D elements here and there.
With 3D home decor, it has become extremely quick and intuitive designing and remodeling your home. Accessible to home décor enthusiasts and professional architects, three-dimensional wallpapers are the perfect solution for all your interior design needs.
With this technology, you can easily create detailed floor plans as well as 3D renderings. You'll be surprised how quickly you can layout or furnish an entire room.
Home Design 3D, for instance, features some of the latest technologies and allows you to leverage the most out of its operating systems. Regardless of the platform utilized for project creation (iOS, Windows 10, or macOS), you can readily share and edit your document on other supported devices.
With a highly interactive interface, you can utilize the software's 3D library to effectively furnish your home. Whether you want to preview the floor plans in 3D or 2D and arrange the furniture plus equipment, it's all possible with this design feature. The library is organized by both room and category, making it simpler for you to find the furniture you'd like to incorporate into your home's design.
The Cons
1. Can Overkill A Room's Appearance
Don't get carried away by the many beautiful textures as well as prints available on today's market. Always think about the final outcome you'd like to achieve. Also, think of the subtle elements that'll offset shouting prints. If not chosen well, your entire room's design can be dominated by one wallpaper scheme, so be keen when using 3D home décor as it may end up overkilling it.
2. Demands Expertise
Whether you're applying the wallpaper yourself or planning to hire a professional, 3D home design demands the use of proper tools and the right expertise. You'll need specific tools for preparation, application, and smoothing.
To apply the wallpaper flawlessly, experience and proficiency are a must-have. It's more than just a paint job. Therefore, ensure that you have got the right skills. Wallpapers do release VOC compound, which could be harmful to your health.  So consider investing in an environment-friendly wallpaper that doesn't produce any VOC compounds or malodor.
3. Prone to Water Damage
Scrubbing and utilizing wet pipes can allow moisture to permeate through and weaken the adhesive holding your 3D wallpaper. Though most wallpapers have the capacity to hide water patches, they end up peeling off if the seepage is extensive.
That's why most manufacturers can't guarantee 100% protection against water damage. You'll always find a clause that reads, "Provided the leakage is kept within the absorbent limit". It's also important to note that certain detergents might compromise the wallpaper's surface sheen, so be sure to keep them at bay.
4. Expensive to Install
The cost of setting up 3D wallpapers is relatively higher than that of painting. The current market is now filled with countless options- from a standard wallpaper, vinyl, foils, flocked paper and mylar to cloth-on-paper. So, you can always find something to suit your budget and personal style. The range can vary between $1 and $7 per square foot.
However, it's imperative to keep in mind that nothing classy ever comes cheap. Buying cheaper varieties can end up becoming costlier in the long run. These wallpapers won't just fade-out sooner, but re-installing matching sheets against the worn-off ones can be another big challenge. And you don't want this, right?
Today's wall-papers (designed using non-woven technology) tend to strip off easily, but some conventional wallpapers can be very difficult to remove.
5. Designed For Specific Spaces
For quite some time now, wallpapers are known to peel off and leave unattractive residue on the wall. That's why most people don't use them in high traffic areas as well as moisture-prone areas, like the kitchen and bathroom. Nonetheless, things have changed slightly- there are numerous surface treated options available on today's market that are commonly well-suited for wet places and whose moisture tolerance is relatively higher than the older versions.
3D Flooring
The 3D flooring is quickly becoming an interior design trend—offering homeowners the long-term solution and the flexibility they need. When they were first invented, 3D flooring was viewed as an outdoor or industrial flooring solution. However, their flexibility has seen then find their ways into different interior design projects—including homes.
Understanding the 3D Flooring
3D flooring is an interior design solution that comes with a monolith cover, featuring beautiful synthetic materials. They are available in different shapes and textures. So, irrespective of your needs you are sure to find a solution the suits your tastes and preferences. Remember, most 3D flooring are designed for industrial purposes. Thus, be sure to consult a specialist before walking them into your interiors.
Caution: It's important to note that 3D flooring materials are cold. This means that you'll have to weigh your options before investing your money. Plus, 3D flooring cannot be mounted on a floor heating.
Pros of 3D Flooring
Never give up—3D flooring comes with lots of pros. They include:
With 3D flooring, you have a solution that is sure to last for long. The colors don't easily fade and the rate of wear and tear is relatively low. Even if you drop a heavy object on them, they don't easily break. Still more, they don't have the joints—making the process of cleaning super easy and straightforward. They don't keep things like dust since they are antistatic.
3D flooring materials are original and beautiful—making them an ideal solution for your flooring needs. You can place your image under its polymer cover to create a stunning effect.
Give your project more life. Create a 3D floor plan and remodel your house using the latest technology. With 3D home décor, you have a powerful solution you can use to uplift your home and make it more classic. 3D home décor makes your home improvement project more quality. It helps you focus on those little things—because that is where you can make or break things. From 3D flooring to wallpapers, 3D home décor is a powerful interior design solution that's sure to transform any space.
3D interior rendering involves authentically making your interiors balance using 3D interior décor solutions. It makes interior design an easy process and can help uplift any living space. It takes into account balancing, perspective, as well as the composition of light.
Flooring and Wall Covering
Add a unique feel to your home's interior décor by incorporating artistic 3D walls and floors. Purchase high-quality flooring designs and make your interior space stand out. Complement those paints of yours with wallpaper and give your home an instant uplift.
Decorate Your Home Interior
To complete your project, consider adding plants, vases, pillows, as well as picture frames. They'll definitely add the necessary final touches to your home's interior design. Remember to magnify your decor style with some stylish lamps.
Applying 3D wallpaper in different rooms can create a unique interior, filled with comfort, coziness, and a romantic atmosphere. Three-dimensional images provide remarkable elegance in any room- from the living room, bedroom, and bathroom to the kitchen. These wallpapers are designed to match your home's finished floor, furniture, ceiling, as well as curtains.
With the rise of technology, interior design has now taken a new dimension. Creating 3D visuals is no longer a complex endeavor. You can readily create unique floors, furniture layouts, as well as stylish walls.
The lighting scheme featured in a three-dimensional design should bright enough to avoid disrupting the entire room's balance. It can either be natural or artificial, but in most cases, 3D representations utilize artificial lights.
Under any circumstances, all objects located within the design will be impacted on by the light, that's why it's very important to make the right choices. The depth, brightness, plus shadows produced by the light should be adjusted appropriately so that your home's interior décor looks natural.  When done correctly, the entire space will look elegant, realistic, and more captivating.
The Bottom-Line
3D home décor is a great interior design solution—both for your walls and floors. So, if you are looking to express your style—this home décor solution can be an ideal solution. However, before walking them into your interiors, know their pros and cons. So, consider the above cons and pros of 3D home décor carefully before making your decision.