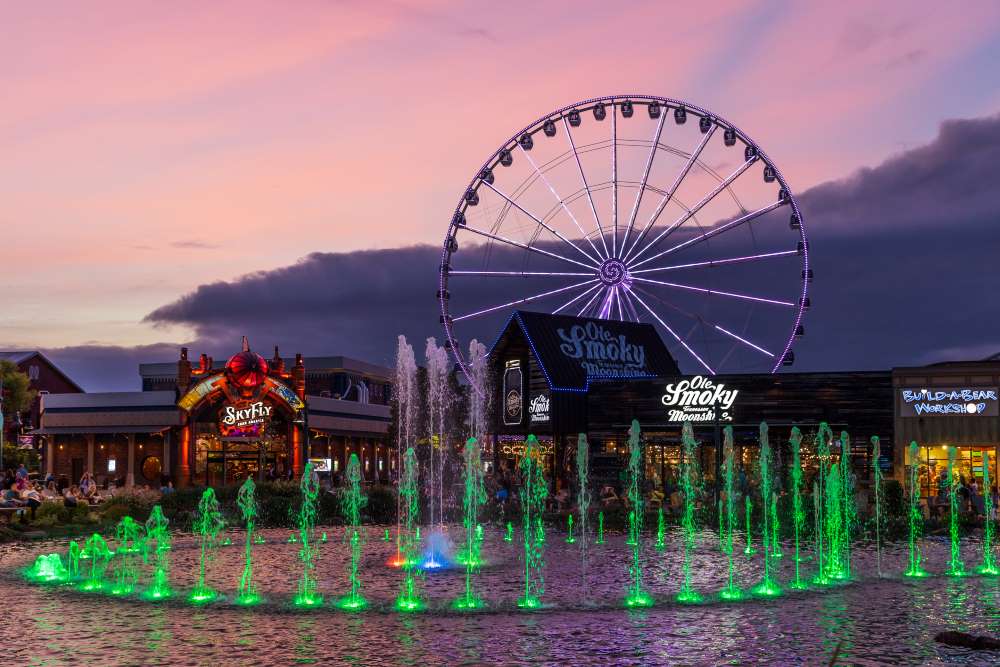 If you visit Pigeon Forge, Tennessee, you should find much that you'll appreciate. This vacation spot doesn't have the most high-profile activities, like Disneyland, but it's still family-friendly and welcomes tourists every year. 
The attractions have started up again following lockdowns a couple of years ago. The proprietors have even made some improvements that you should quickly notice if you've been there before.
You'll find so many Pigeon Forge events and activities that you can't easily choose just one, but we'll run down some of the best options right now. You should consider these if you're headed this way during the upcoming spring or summer months.
Rowdy Bear Amusement Park
The Rowdy Bear amusement park opens for summer hours in a couple of months. If you have some kids with you, or if you're young at heart, you should check out this popular Pigeon Forge attraction.
You can get a two-hour unlimited pass, and you can even find deals online where you can get two for a bargain price. For two hours, you can enjoy the park's many rides as much as you like.
You will find several roller coasters and other rides. The coasters aren't the biggest or the most frightening, so if you have kids who wouldn't brave something too huge and scary-looking, this pick might work well for your group.
Rocky Top Alpine Mountain Coaster Pigeon Forge
The Rocky Top Alpine Mountain Coaster Pigeon Forge has many admirers. It's just a single coaster, but it's one of the biggest and most intimidating you'll find in the entire state. It features several dizzying hills and some rapid turns and twists. You probably shouldn't eat too many hot dogs before trying it.
If you have some older kids or some exceptionally daring ones, you can give this coaster a try. You can also sometimes find two-for-one specials online that gets you entry.
The Hatfield and McCoy Dinner Show
The real Hatfield and McCoy feud killed off several family members. Who knows what the two families would think if they saw the wacky antics that their famous conflict inspired?
In any event, this show has many pratfalls and zaniness. Although the theme borrows from real-life events, there's no bloodshed. Instead, you can expect wild and wacky characters who flop and fly about the stage in a carefully coordinated display.
The acrobatics might impress you, and if you have young kids, they should laugh uproariously. You also get dinner with your ticket.
It's pretty standard Southern fare, so don't expect a five-star dining experience. Still, all in all, this show should take up an enjoyable couple of hours if you're not feeling like checking out any roller coasters at the moment.
Elvis & The Superstars Pigeon Forge
Elvis had Southern roots, and they still call him the King in Tennessee, just like in many other places. The country crooner with the swinging hips captivated an entire nation, and you'll find an impersonator here who would feel right at home on a Las Vegas stage.
Lucky for you, he calls Pigeon Forge home, and you can see him sing a few of the King's greatest hits. He surrounds himself with some other popular musical icons as well, so you get some additional nostalgia if you remember the King and his contemporaries from your earlier life.
If your kids don't know Elvis, you can introduce him through this show. It features Dolly Parton as well, which some visitors love even more.
SkyLand Ranch and Horizon SkyRide SkyLift
This is a sky lift that carries you through the air and lets you have a bird's eye view as you float effortlessly above the trees. SkyLand Ranch has many attractions, and you can get there the easy way with one of these lift tickets.
You can ride serenely up the mountain, saving yourself the uphill trek. When you touch down at the top, you can go shopping at the many stores, have a lavish dinner at one of the restaurants, and see some live musical acts. You can also find some fun, interactive animal attractions that your kids will like.
You will need multiple lifts if you have several individuals in your party. Make sure that no one has any fears or negative feelings about heights. It's perfectly safe, but once you start moving, the lift can't stop till it touches down on the mountaintop.
Dolly Parton's Stampede Dinner Show
Dolly Parton means Americana, and many people still love her. She has put her indelible stamp all across Pigeon Forge and all across the American South, including Tennessee.
The Stampede Dinner Show to which she lends her name features singing, music, and several live animal acts with horses and skilled, daring riders. It's kitschy fun, and it's always a best seller. If you want tickets, make sure that you get them in advance since this show usually sells out.
You do get dinner along with the show. It's once again standard Southern fare. You can get a pork loin, but the whole rotisserie chicken attracts many more customers. It's succulent and surprisingly flavorful, considering the surroundings in which you find yourself.
You can enjoy several side dishes, including hot, buttered corn on the cob, a biscuit, herb-basted potato, and vegetable soup. You won't leave hungry, though your ears might ring a little. The voice piped in over the loudspeaker can get a little overenthusiastic.
You should find much all around Pigeon Forge that you will enjoy. Make sure you book your hotel or motel room well in advance. In the summer months, many people come from miles around, and some from other countries.
They like the attractions and the welcoming attitude. The performers and ride operators love seeing you since you support their livelihood.
You can also walk in the woods if you need some downtime. It costs nothing, and you can see some plant life, animals, and birds while enjoying some quiet contemplation.