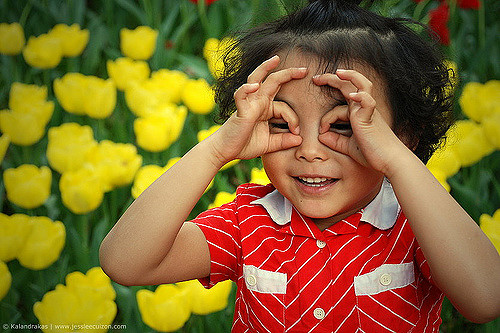 "Be nice to your sister."
"Use kind words."
"What you did wasn't very considerate."
As parents, we're always preaching to our children about kindness and being nice, but it's usually an after-affect of some not-so-kind words or impulsive acts they haven't thought through. We parents exhort kindness once it's too late, usually only after our kids have been unkind.
For our children to really master kindness it needs to be taught on its own, an island by itself, and not a reaction to sass or bitterness.
But, that can be hard for us. How do we carve out time to teach kindness amidst homework help, reminders about chores, getting their teeth brushed and having them stop picking their noses? There always seems to be something else more pressing to tell or teach or show our children. We remember kindness when unkindness rears its ugly head, and by that time, it's too late. Kids don't learn kindness when we are scolding them about it.
But, then along comes April… Random Acts of Kindness (RAOK) Month. RAOK Month is thirty days where people across the country take the RAOK Challenge: to do one RAOK a day for the month.
It's happening is schools, businesses, on the Internet, at sororities, and yes, even in homes. People are discovering that kindness is contagious, and our little ones are never too young to spread kindness.
It was late morning on a rainy Easter in 2013, and I was entering my local drug store. Sitting out of the rain, under the store's awning sat three young people (late teens, early 20's) with multiple tattoos and piercings. They were keeping to themselves as were the people who were walking passed them. As I shopped I couldn't stop wondering what their story was. Why were they out in the rain? Were they in trouble, homeless, or runaways? Why weren't they home with their families on Easter?
When I exited the store I stopped in front of the threesome and held out Easter candies that I'd purchased for each of them. "The Easter Bunny couldn't find you this morning," I began. "So, he asked me to deliver these to you if I had the chance."
Their eyes lit up. Their faces softened. And each smiled at me. Accepting my small gifts I heard them say, "Thank you," and "God bless you." Then, I walked away never to see them again.
It was on my drive home that RAOK Month took root. I liked the feeling that small act created in me. And, I liked the way it affected the recipients. Although I didn't change their circumstances, I made a positive impact for a small moment in their lives. So, I challenged myself to do one RAOK a day for the month of April
That challenge eventually extended to my wife, then my daughters (9 and 13 at the time), my friends and my social media circles. Soon, I brought the challenge into my third grade classroom. Then, I got my students' parents onboard, and we began to notice changes in our children (my students as well as my own daughters)… kindness breeds kindness.
During research for my latest book, Secrets of Safety-Net Parenting, the children I studied and interviewed that were both happy and successful, also gave back to their communities in some fashion. What they did may not have always been RAOK, but like RAOK, these young people's displays of kindness were done for others, often strangers, and produced similar affects in young people to those of RAOK. That's no accident.
Studies have shown that when our children give back to others they experience increased self-esteem and confidence, decreased stress, as well as a sense of calm. They are strengthening their soft skills, allowing them to feel a connection with their communities, which leads to confidence. Confidence leads to effort, and effort leads to improvement in whatever it is they are working on.
We all want these for our children. So, here are some ways to smoothly incorporate kindness at home this April.
1. RAOK Lists
There are scores of kid-friendly RAOK lists on the Internet. Just Google "Kid-Friendly Random Acts of Kindness List", find one you like, and print it out. You'll find ideas for preschoolers to teens, acts like: bake cookies for your local fire department, have your family secretly wash a neighbor's car, create handmade bookmarks with kind messages and leave them in books at your local library.
2. RAOK Videos
I have found that my third grade students respond much better to their peers doing RAOK than me telling my students about them. By Googling "Kid Random Acts of Kindness" under "Videos" I have located some wonderful vignettes online. I have seen ones with children as young as three, children the age of my eight-year old students, as well as tweens and teens. Some of the best video RAOK can be found on EllenTube and on EllenTV.com.
3. Ripil
Children are so savvy when it comes to technology. What about kindness, though? Well, there's an app for that. It's called Ripil. It's a kindness app where you can create a group for your family and post daily your RAOK. As your child posts more acts, she can earn badges and see how your family group moves up the International Kindness Leaderboard.
4. Kindness Board
Another way to stay on the kindness track this April is by creating a Kindness Board in your home. It could be a corkboard, an empty wall or even your refrigerator door. The idea is that everyone in the house writes down the RAOK they did that day and posts it on your Kindness Board. It's a wonderful catalyst for sharing with the family everyone's kindness acts. It also gives the family common ground that everyone can share, while inspiring one another for future RAOK. Not to mention, a Kindness Board is the perfect reminder to continue spreading kindness.
When families share kindness, families grow closer. As parents we want to raise compassionate, kind, perseverant, confident children because these are the qualities we desire in the future adults (our kids) who will one day be running the world. So, why not start making that world kinder…one RAOK at a time?
If you want to have access to more RAOK ideas, videos, and inspiration, while sharing your own experiences and reading those of others, join us on our "April Random Acts of Kindness" FaceBook page.