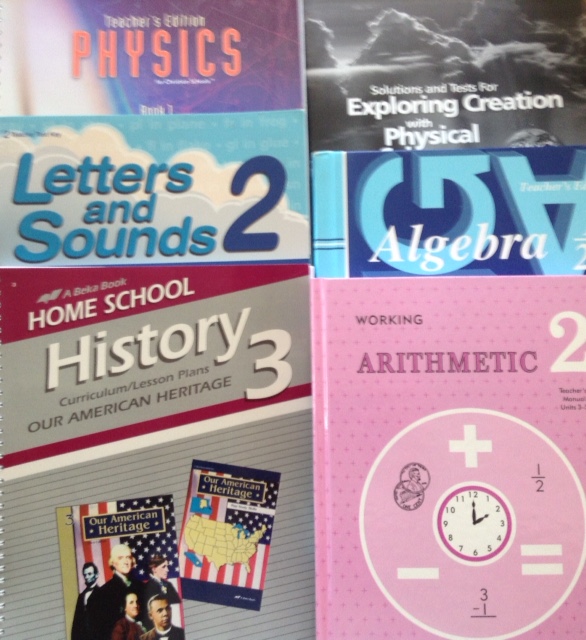 Yes, this time of year is the time of year we sell a lot of teacher editions.  It always makes me smile.  Moms are finding out that it "IS" the worth the money to purchase a Teacher Key. 
Some parents think that they should automatically know the answers and if they don't something is wrong with them.  That is so not true.  Teacher editions are a great resource for the parents.  This does not have much to do with knowledge, it has everything to do with using the tools that the publishers have provided for the homeschool families convenience. Sometimes the focus is so much on the student and their needs that parents forget about their own.
Please take advantage of what Abeka, Bob Jones, Rod & Staff, Apologia, Math U See and the other curriculums on our list have to offer for Teacher editions and Keys.
On Second Harvest Curriculum's website, click on the title of the book you are looking into and there will be a description with a photo and edition of the book.
Used Abeka Textbooks & Curriculum Terminology this is a basic list, as each Publisher sometimes calls the same book something different. If you have further questions please contact us at 308-350-0335 or email us at shc@usedhomeschoolboos.com
Teacher keys come to us in all conditions, some are in very nice clean condition and others have lots of teacher type notes.  Post it notes, neon highlighting and red ink writing to name a few.  The teacher keys that have coffee or tea stains on them have a story.  I always wonder what that day was like.
For me all used homeschool books have a story.  I often wonder about the family who used the books and then remembering our own joys & struggles of homeschooling. 
Teacher Keys, Manuals or Guides are just what they say they are, for the teacher and Mom & Dad, that is you!