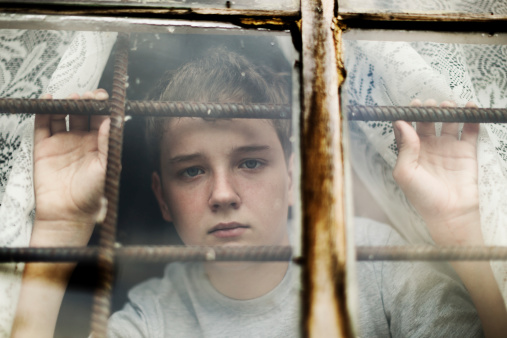 The story of CARE is a story of our times. For our nation's teenagers and emerging adults, they may be the worst of times or the best of times. That determination will be made by youth themselves and by all who love and serve them.
Lawrence Steinberg, Ph.D., author Age of Opportunity – Lessons From the New Science of Adolescence (Steinberg, 2014), warns us that "When a country's adolescents trail much of the world on school achievement, but are among the world leaders in violence, unwanted pregnancy, STDs, abortion, binge drinking, marijuana use, obesity, and unhappiness, it is time to admit there is something wrong with the way that country is raising its young people."
That country, he says, is the United States.
To make matters worse, 13-20 percent of children suffer from mental illness and there has been a sharp rise – 24 percent between 2007 and 2010 – of inpatient admissions, according to Stephen E. Brock, Ph.D., President of the National Association of School Psychologists (Brock, 2015).
Why is this significant?
Both because of a long-running shortage of mental health professionals providing treatment (Thomas and Holzer, 2006) and because, according to the National Alliance on Mental Illness, mental health issues typically strike early in life, with half of all long-term mental illness emerging by age 14 and three-quarters by age 24 (Diehl, Douglas, Hart and Honberg, 2014).
Perhaps nowhere are these burdens more salient than among those transitioning from high school to college. 
For example, an April 3, 2015, article from Yahoo News, "Tulane's Mental Health Meltdown," noted three suicides at that school in the last academic year alone. The article also cited an overwhelmed counseling center and a pressure-packed environment one student called "a very expensive death trap" (Goodwin, 2015).
Of course, Tulane is not alone. The article cites the National Survey of College Counseling Centers in stating that 94 percent of counseling directors say they've seen an increase of students with severe psychological disturbances (Gallagher, 2014).
This alarming trend is fueled, in part, by rising rates of stress, anxiety and depression in this age group.
The result? An epidemic of young people ending their own lives.
According to the Centers for Disease Control (CDC), suicide is the second leading cause of death for those between the ages of 10 and 24 (Sullivan, Annest, Simon, Luo and Dahlberg, 2015), resulting in more than 4,600 lives lost each year (CDC, 2015). Also, the Suicide Prevention Resource Center ranks suicide as a leading cause of death among college students (SPRC, 2015).
On the other hand, Paul Greenberg, CEO of Nylon Media, notes that 60 percent of Generation Z (mid-to-late 2000s to present) wants to make a difference in the world, compared to just 39 percent of the Millennial Generation that preceded it (Greenberg, 2015). In 2013 Youth Service America (YSA) proclaimed that year's Global Youth Service Day the largest such event worldwide, and United States volunteers participated in 1,623 of the 2,692 registered projects (Wallace, 2013).
In fact, as far back as 2005, more than half of young people (55 percent) volunteered in such activities each year, according to a report by the Corporation for National and Community Service (CNCS). The report called the state of youth volunteering "robust" and the data revealed a link between the level of these volunteers and their connections to the social institutions they serve (CNCS, 2005).
How to make sense of this juxtaposition of bad versus good?
There is a critical tipping point between negative and positive risk-taking. And those most influential in adolescents' lives are best positioned to guide their decision-making and keep them healthy, safe and alive … and poised to create positive change in their schools and communities, and in the world.
Who are those influencers? They are peers, parents, teachers, coaches, camp counselors, physicians, mental health professionals, faith-based mentors, and likely many more.
With them in mind, the Center for Adolescent Research and Education (CARE) was established to amass these key cohorts in a national campaign to promote positive outcomes and reduce negative risk behaviors. After all, the data say that the keys to moving the needle on decision-making are the relationships in an adolescent's life and the conversations that support and nurture those relationships.
Thus, CARE stands today as a national collaborative of institutions and organizations committed to fundamentally changing the way peers, parents and other caring adults talk with young people about personal choices. Our goal is to inspire and catalogue one million such meaningful conversations by the year 2020.
Whom do we work with?
A+ Advice for Parents
American Academy of Family Physicians
American Camp Association
Brenner Children's Hospital
Camping Magazine
Childress Institute for Pediatric Trauma
Clemson University
Connecticut Children's Medical Center
The Huffington Post
Institute for Behavior and Health
Kidsinthehouse.com
LUMOS
National Association of School Psychologists
National Federation of State High School Associations
NBCUniversal
Pennsylvania State University
Psychology Today
RANE (Risk Assistance Network & Exchange)
Redwood Recovery Solutions
SADD (Students Against Destructive Decisions)
SLAP'D (Surviving Life After a Parent Dies)
Susquehanna University
TeenLife Media
The University of Chicago
Uniformed Services University of the Health Sciences
Wake Forest University School of Medicine
To date, CARE has completed research projects ranging from negative risk behaviors by high school and college students on college campuses to character development, leadership and social entrepreneurship.
What's next?
CARE plans to take a deeper dive into the critical transition from high school to college. By doing so, we hope to build a curriculum-based bridge from twelfth grade, over the "summer melt" of indecision (and sometimes indiscretion) and on through to the all-important first year of college, when so many lasting behavioral patterns are formed.
We also want to take a close look at out-of-school programming (including athletics, the arts, summer camp and more) and explore its relationship to the development of the much ballyhooed noncognitive skills, workforce preparedness and engagement in society.
By bringing together thought leaders from diverse professions all across the country, CARE is breaking down silos of those most vested in the well-being of young people and building up a national library of best practices and meaningful, effective conversations.
That is why CARE … and we invite you to join the conversation! www.eCAREforkids.org
© Summit Communications Management Corporation 2015 All Rights Reserved
REFERENCES
Brock, S. (2015). Student success: mental health matters. Presented at the National Association of School Psychologists 2015 Annual Convention. Orlando, Florida. February 17-20, 2015.
CDC. (2015). Youth suicide. Injury Prevention & Control: Division of Violence Prevention. Centers for Disease Control and Prevention. March 10, 2015. www.cdc.gov/ViolencePrevention/suicide/youth_suicide.html (11 Nov. 2015).
Corporation for National and Community Service. (2015). Youth helping America. Building active citizens: the role of social institutions in teen volunteering. http://www.nationalservice.gov/pdf/05_1130_LSA_YHA_study.pdf (11 Nov. 2015).
Diehl, S., Douglas, D., Hart, J. and R. Honberg. (2014). State mental health legislation 2014. Trends, themes & effective practices. National Alliance on Mental Illness. December 2014.
http://www2.nami.org/Template.cfm?Section=Policy_Reports&Template=/ContentManagement/ContentDisplay.cfm&ContentID=172851 (11 Nov. 2015).
Gallagher, R. (2014). National survey of college counseling centers. University of Pittsburgh and American College Counseling Association. 2014. http://www.collegecounseling.org/wp-content/uploads/NCCCS2014_v2.pdf (11 Nov. 2015).
Goodwin, L. (2015). Tulane's mental health meltdown. Yahoo News. April 3, 2015. http://news.yahoo.com/tulane-s-mental-health-meltdown-144028239.html (11 Nov. 2015).
Greenberg, P. (2015). Millenials are important, but watch out for gen z. Paul Greenberg – musings on media, technology and management. 2015. http://paulgreenberg.com/2014/09/millennials-are-important-but-watch-out-for-gen-z/ (11 Nov. 2015).
Steinberg, L. (2014). Age of opportunity – lessons from the new science of adolescence. New York: Eamon Dolan/Houghton Mifflin Harcourt.
Suicide Prevention Resource Center. (2014). Suicide among college and university students in the United States. sprc.org. Waltham, MA: Education Development Center, Inc. http://www.sprc.org/sites/sprc.org/files/library/SuicideAmongCollegeStudentsInUS.pdf?utm_source=Weekly+Spark+04%2F10%2F2015&utm_campaign=Weekly+Spark+April+10%2C+2015&utm_medium=email (11 Nov. 2015).
Sullivan, E., Annest, J., Simon, T., Luo, F. and L. Dahlberg. Suicide trends among persons aged 10-24 years – United States, 1994-2012. Morbidity and Mortality Weekly Report. March 6, 2015. Centers for Disease Control and Prevention. http://www.cdc.gov/mmwr/pdf/wk/mm6408.pdf (11 Nov. 2015).
Thomas, C. and C. Holzer III. (2006). The continuing shortage of child and adolescent psychiatrists. Journal of American Academy of Child and Adolescent Psychiatry. September 2006. American Academy of Child and Adolescent Psychiatry. http://www.aacap.org/App_Themes/AACAP/docs/Advocacy/federal_and_state_initiatives/workforce/continuing_shortage_of_cap.pdf (11 Nov. 2015).
Wallace, S. (2013). Quietly making noise. Psychology Today. June 2013. http://www.psychologytoday.com/blog/decisions-teens-make/201306/quietly-making-noise (11 Nov. 2015).
Youth Service America. (2015). Global youth service day. Youth changing the world. http://www.ysa.org/global_youth_service_day (11 Nov. 2015).