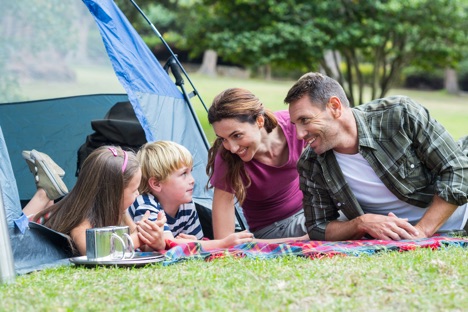 Many of us went camping as kids and have many fond memories of fishing with Dad, roasting marshmallows around the campfire with Mom and swimming in the lake with our siblings. With all of today's modern technology, communing with nature is more important than ever and there are plenty of families out there still enjoying the great outdoors.
Statistics say over 40 million of us are still heading out on these expeditions across America and over 10 million of those campers are kids. We're also still spending over $1.5 billion on camping equipment in the United States every year. But in our digitally saturated society, how can we get our kids closer to nature without losing our minds in the process?
Here are some tips to keeping sane while ensuring the children are having a great time out in the wilderness.
Technology Trap
Decide whether you're going completely tech-free on your adventure or allow some kind of handheld device on your journey. Perhaps you could compromise, tell your kids to lose their cell phone for the trip, but maybe they could bring along a low-tech battery operated radio.  It would allow you some time to monitor what they listen to while giving them a small creature comfort.  Who knows, it may be harmonious enough for the whole family to sing along.
Spice Up the Adventure
If your kids are giving you grief about going into the great outdoors, maybe you could up the ante, literally, with a different type of adventure, like spending the weekend in a tree house. Perhaps another compromise is in order, like hitting a theme park before or after the outing.
Must-Haves
It probably goes without saying that you'll need to pack some basic necessities like insect repellent, sunblock, a good working flashlight with extra batteries and a first aid kit, but don't forget other vital must-haves that could turn your camping trip into a catastrophe. Maybe your child can't sleep without their favorite blanket or cuddly little teddy bear by their side.
Pacify the Purists
There are plenty of camping purists out there that believe this excursion requires that we "live off the land," eating only what we catch from the lake, forage from the forest or kill in the woods, but obviously this isn't going to fly with little kids who want little orange fish that come in a package from the grocery store. For older teenage males, this might be an option, but toddlers won't be happy with trout every night for dinner.
Distance Makes The Heart Grow Fonder
While this may be true for some lovers, it might not be a good idea for small children. Consider finding a site closer to home and avoid the long, patience-testing drive to a far off location. In the event the outing is a complete disaster, the comforts of home are not far away. 
Activities and Games
Children are naturally restless so don't forget to bring along plenty of games and plan a number of different activities to ward off boredom. Small children can color in books, older kids can play board games and teenagers can listen to some music while still connecting with Mother Nature.
Don't Trust The Forecast
Speaking of Mother Nature, don't trust the forecast when packing clothes and blankets. Even if it's the middle of a hot summer, an unexpected cold night without a warm sweater and blanket will ruin even the best laid plans.
Ease Into The Experience
Finally, for novice campers, try sleeping out in the backyard first to see how they'll react to the experience before taking the big plunge. This will give you the opportunity to see how they'll exist "in the wild" before you go too far away from home.