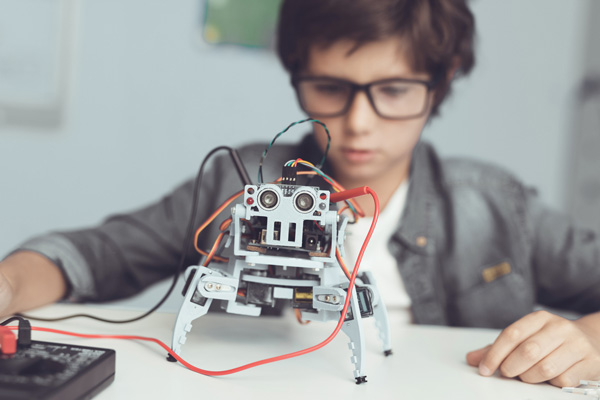 Nowadays, more and more kids are playing with tech toys, which isn't anything unusual, considering the amount of time adults spend with their phones and other gadgets. Yet, many parents make the mistake and give their children their own phones and tablets in order to keep them entertained and pacified. Kids do need to get acquainted with technology, but instead of adult gadgets, there are so many tech toys that are more appropriate for their age and psychomotor skills. So, if you're planning to buy your child a new tech toy, here are some suggestions that will help you make the right choice:
1. LittleBits Avengers Hero Inventor Kit
If you're kid is into superheroes, then this clever coding toy will help your kid learn to code by creating a gauntlet that can produce Avenger's sound effects and will also let your child create their own unique battlecry. Also, this game offers a wide array of STEM activities such as math, engineering and science, so you can be sure that your kid will be able to learn while keeping themselves entertained. This kit requires smart IOS or Android device in order to make and control the Avengers gear.
2. Spin Master Boxer
This game is specially designed for kids who are not really into DIY activities, because it has this cute little blue robot named Boxer that is available for play and fun. There are 10 activity cards that need to be scanned in order to start the game. Boxer has a very adorable personality and likes to play games such as Go Kart and Paddle Bot. Also, there are many ways to interact with Boxer: through remote control or you can download a free app on your phone. But maybe the best way to play with this quirky bot is with bare hands as Boxer is equipped with IR sensor and other great features, which means that it responds to hand movements which only allows for more fun and entertainment.
3. Orange Micro Crush Fix
If your kid is into music, specifically guitar-playing, then this amazing mini guitar amplifier with built-in chromatic tuner and full bass response will turn any boring guitar practice into a fun and creative music session. Due to its size, it's great for home practice, and it also has a 9V battery so it's easy to plug in and just play. Also, if you're worried about your neighbors complaining, then you should be relieved by the fact that it also has a headphone jack, so you can just get them a pair of Shure SE846 earphones and be done with worrying about the noise because these earphones are made for music fans who are focused about improving their musicianship or simply enjoying the sound of music.
4. VTech Kidizoom DUO Camera
Your child is probably already taking photos using a smartphone, but this camera toy will definitely help your child improve their photography skills and unleash their creativity. This cute gadget boasts two cameras that switch between front and end lens, a built-in flash and some games, and of course, parental control settings that can limit your child's playtime. Unfortunately, there's only 256 MB of memory, but that can be solved through purchasing a separate microSD memory card.
Conclusion
Choosing tech toys for your kids will definitely help them learn more about technology and expand their knowledge and skills. Of course, that doesn't mean you should give up on conventional toys, but if you feel like your kid needs some extra stimulation and focus, a tech toy will certainly make them more interested in learning and improving their STEM and soft skills alike.