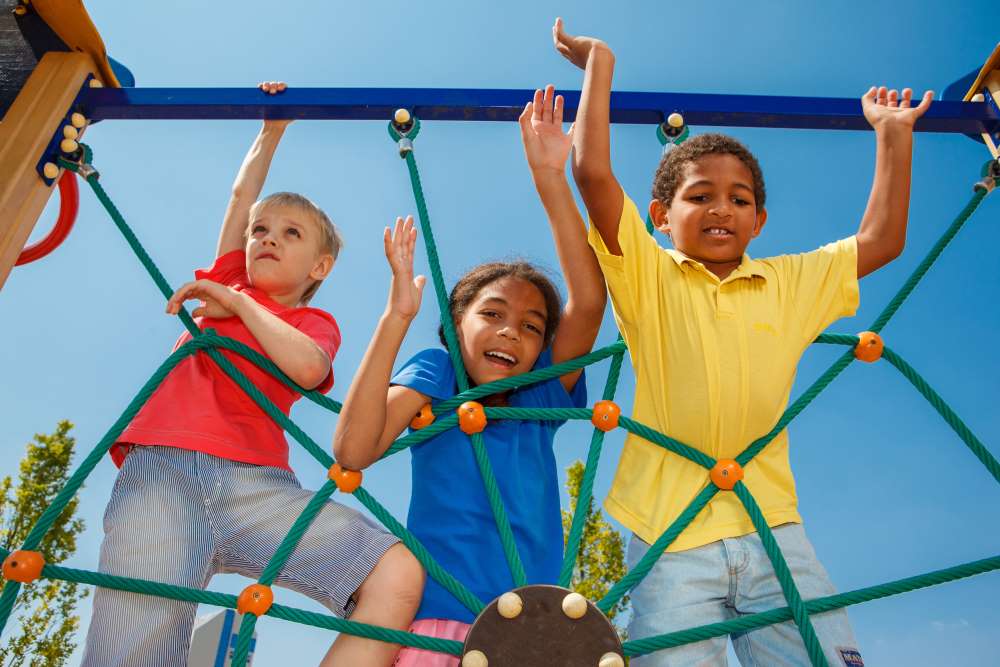 Spring is here, which means there's more time for your kids to be playing outside and on the playground. Whether that playground is at a school, a park or someone's backyard, it offers a perfect environment for almost limitless hours of fun and imaginative play. Like all play opportunities for children, however, playground play comes with some risk factors. When they're chasing one another around the swing set or climbing up ladders, kids can get injured. In fact, the Centers for Disease Control and Prevention reports that United States emergency rooms see more than 200,000 children up to age 14 each year for playground-related issues. That's why it's good to be aware of the most common playground injuries and how you can prevent them from happening to your kids. Here's what you need to keep in mind:
1. Falls.
Whether it's accidentally slipping off the top of the monkey bars or boldly jumping off a ladder, anytime height is involved, kids can take a serious tumble. That's why it only makes sense that about 79 percent of equipment-related injuries are caused by falls, according to the American Academy of Orthopaedic Surgeons. Be sure to keep an eye on kids while they're playing to discourage risky behavior. Likewise, minimize the potential damage of a fall by picking a protective surface area for your playground's floor. Shredded rubber, padded floors and other options will offer some cushion to kids who hit the ground.
2. Fractures.
Taking your child on a ride down a slide seems innocent enough, but, if your child's leg accidentally gets stuck while your body keeps moving downward, it could inadvertently cause a fracture. Always be careful about letting your kids use slides or ride with you down them.
3. Choking.
t's as true on a playground as it is off it: cords of any kind can wrap around a child's neck and strangle him or her. This includes cords on the playground as well as cords on a child's jacket, shirt or other clothes. When sending your little ones outside to play, remember to remove any potentially hazardous strings or ties beforehand.
4. Bullying.
When kids play together, there's always the potential for meanness directed at one or more kids. To prevent any kids from being victimized, make sure there are no parts of the play area that are secluded or out of sight of adults who are nearby. Pay close attention to the ways that children are interacting and step in if anything seems inappropriate.
5. Burns.
When playground equipment sits in the hot sun, it gets hotter and hotter — even to the point of being able to burn a child's skin. On hot days, always check the temperature of equipment before letting your kids sit and play on it. Likewise, dress them in long pants and shoes so less of their skin is exposed to the materials. As a parent, of course you want to protect your children from danger, and that includes on their playground. Use the info above to know what especially you're guarding against. To ensure your playground is as safe as possible, be sure to conduct a thorough playground inspection, as well, and you'll have peace of mind knowing your kids are safe while playing.
Extra reading:
- Vital first aid skills every parent should know 
- Advice from JJS on recovering medical costs if your child is injured 
- Don't underestimate the benefits of risky play