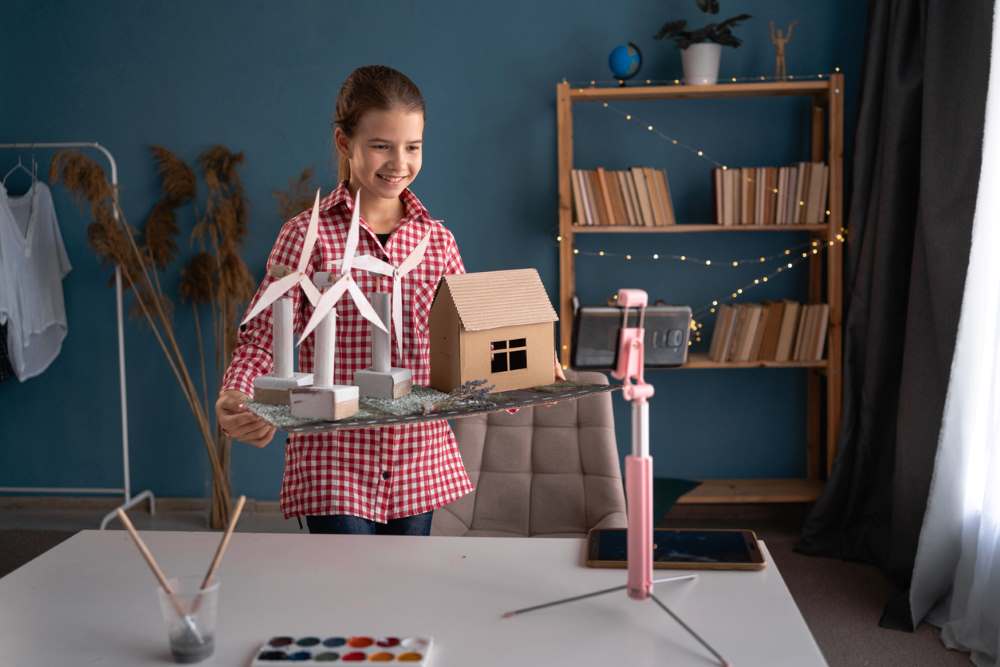 1. Comfort  
2. Personalization
3. Room for creativity
4. Organization
5. Decor geared towards focus
Designing for comfort
When looking to create the ultimate at home learning environment that is both conducive to learning and inspiration, it's imperative to first consider the basics. Good lighting, a spacious work area, and comfortable furniture are all important factors — after all, your child won't be able to get inspired if they're uncomfortable or unable to sit in their learning space for extended periods of time. Comfortable furniture is just one asset of any at-home learning environment, with ergonomics being a key element when choosing pieces like the right chair. Ergonomics is defined as "the study of people's interaction with their working environment." 
By successfully implementing ergonomics into a home learning environment, you can ensure that your student is comfortable, thus leading to enhanced focus and less distractions while learning. In fact, proper workplace ergonomics had a statistically significant effect on production, according to one study by W.E. Upjohn Institute for Employment Research. The results of the study confirmed that effective ergonomic workplaces can lead to increased productivity, in addition to lower levels of pain associated with long-term sitting.  
Choosing an ergonomic chair might sound like a challenging task, though it really comes down to how comfortable (and adjustable) the seating is. One way to ensure you're getting an ergonomic option that's comfortable for your child is by taking them shopping with you. Adjustable chair seat height, armrests, and lower back support are all important factors to keep in mind — especially if you're looking for an option that will stick around for years to come.
The value in a designated, personalized space
Minimizing distractions is key in creating a learning environment at home that promotes engagement and leads to inspiration, with the location of the study space having the potential to play a major role. Rather than choosing a corner of a noisy living room, opting for a quiet location like a spare bedroom or a little-used dining room can allow for a more serene setup. "Having a separate space helps kids get into a different mindset so they can show up ready to focus," says Julie Morgenstern, a professional organizer and author of "Time to Parent." 
Personalization can go a long way in making a space both more inviting and inspirational. "I think many parents feel the need to create a classroom like they would see in a typical school in their home, but this is not at all what a homeschool room should look like," said Erin Rhyne, a former in-home preschool owner and director. "Homeschooling is a personalized experience and your homeschool room should be as well." With that in mind, it's imperative to create a space in which your student can differentiate from work and play, by cultivating a learning environment that caters to your child's interest without creating additional distractions. 
There are plenty of ways to integrate personalization in your child's learning space. A few include:
Favorite colors
Your child's interests
Changing themes or decor based on the topics they're learning about
For example, designing a study space with your child's favorite colors in mind can allow for a great range of personalization, from the furniture to their school supplies. Not only will this help to create a space that is uniquely theirs, but can help to create an environment that they want to learn in. Integrating themes or decor based on your child's studies or interests can also lead to a fun and exciting learning environment. For instance, if you're learning about dinosaurs, installing posters, diagrams, and integrating such decor (in a non-distracting way, of course) can be a great way to get your child in the mindset to learn.
Making room for creativity
Making room for creativity in an at-home learning environment is imperative, and holds several benefits. 
Creativity in the form of arts and crafts can serve as an outlet for inspiration, as well as stress and other feelings. 
Artistic endeavors can supplement learning via other subjects (for instance, drawing out a historical event can promote creativity while helping the lesson stick).
There are no limitations — if your child isn't into the idea of an arts and crafts station, setting up a space that allows them to explore other creative outlets (like writing) can be a great way to promote inspiration, too.  
Displaying your child's creative endeavors is a great way to decorate their learning environment, and can help promote further inspiration and motivation. Framing their artwork, poems, or pictures can further integrate them into a cohesive design within the space — with plenty of frame options to fit A4 pictures, choosing what works best for your child's study space can be a simple and straightforward process. Whether you want to keep things simple with a black or white frame, wooden oak frames can work to bring a sense of warmth to the space.
Organization for a focused mind
When aiming to create a positive work environment for your student, the organization has the potential to play an integral role, particularly when it comes to reducing clutter. In fact, clutter can have a number of impacts on mental health due to the following: 
Clutter can impact the ability to focus. 
Clutter and a messy workspace can overwhelm the mind. 
A messy workspace can be distracting, making studying more difficult. 
Clutter and mess, in some ways, are linked to negative emotions (like confusion, tension, and irritability). 
A study by Princeton University researchers confirms that clutter can make it difficult to focus on a particular task. "More specifically, they discovered that a person's visual cortex can be overwhelmed by objects not related to a particular task, making it harder to focus and complete projects efficiently," explains VeryWell Mind. 
Decreasing clutter can be achieved in a number of ways, particularly when it comes to how you arrange the learning environment. Making use of organizational tools such as bins, a desk with drawers, and even over-the-door storage can all be handy in keeping items out of the way when not in use. Hidden storage (such as ottomans and other functional furniture pieces) can further work to keep distractions and extra learning supplies out of sight. As a result, your child can enjoy a calm and clean learning environment that sets the stage for inspiration and engagement.
Driving inspiration through decor
The finishing touches can hold as much weight as any other fixture in the space when aiming to promote an environment that is geared towards learning, inspiration, and positive engagement. Thankfully, this can be done in multiple different ways, including:
Adding indoor plants. Indoor plants can increase productivity by up to 47%, and can also bring a 20% boost in memory. Furthermore, the color green (as well as natural colors found in flower petals) in addition to the effects of aromatherapy can promote feelings of calm and relaxation, thus acting to minimize stress. 
Implement a station that caters to minimizing distraction and maximizing focus. A decorative drawer system that blends in with surrounding decor can be the perfect place for silent fidget toys or noise canceling headphones.
Hanging artwork on the wall. "Various studies have shown that viewing art can heighten our mood, reduce anxiety and stress, and increase our overall sense of wellness and contentment," says art therapist and licensed clinical social worker Sarah Vollmann.  
Creating a homeschool environment that promotes effective learning, engagement, and inspiration can seem like a major feat, especially for parents who don't know where to start. By prioritizing comfort, personalization, and organization while making room for creativity and effective surroundings (such as houseplants and artwork), you can effectively set the stage for success through design.