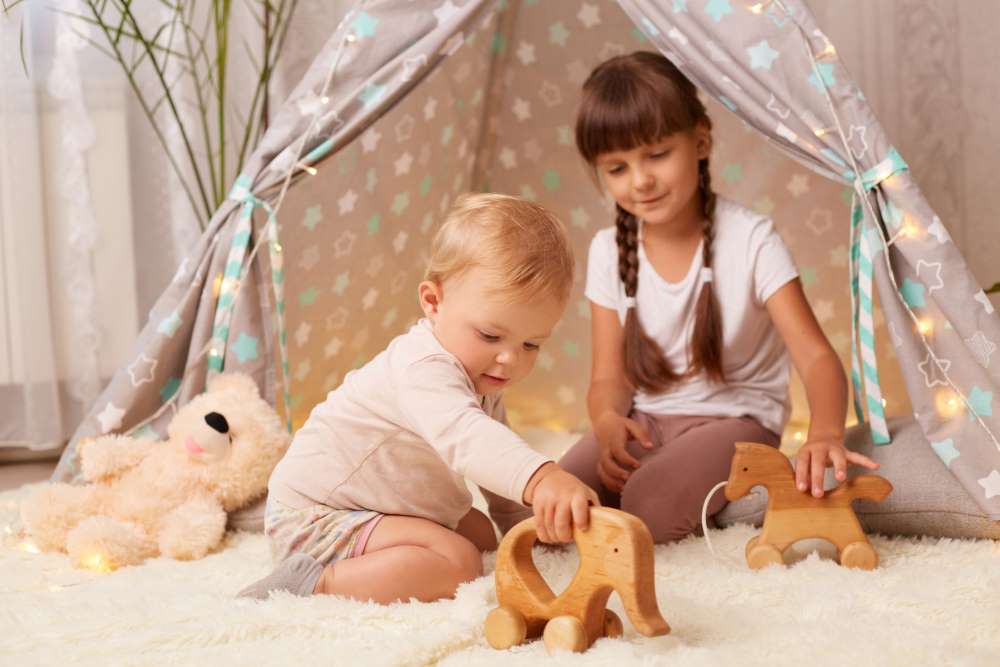 Every child loves to play, but playing games for small kids isn't just a way to kill time. It is an important part of their development process, which is why it is essential to provide your little ones with a safe playroom. Even if you do not live in a big home, do not worry. Their playroom doesn't have to be big, it just needs to be functional and safe. With the right choice of materials, furniture, and accessories among other things, you can turn any space into their adventureland. Here's what you should pay attention to.
Pick the right materials
Before you start bringing the toys in, you need to prepare the space. That means painting the walls. When it comes to the paint, make sure you opt for paint with a low volatile organic compound, which is completely safe to touch and very easy to clean. If you are using store-bought furniture, you won't have any saying in which finishing is used, but if you are ordering custom-made furniture, make sure the finishing is made of safe and eco-friendly substances.
In case you are converting your old garage into a play space, consider insulating it before you move on to the paint job. With garage ceiling insulation you will drastically improve temperature control as well as the air quality in this space. Garages make convenient play spaces since they are usually spacious and will keep all that toddler-made mess out of your living area.
Pay attention to the size of the furniture
Your kids' playroom is an area designed just for them, so choose furniture pieces that suit their size. You will need plenty of storage area for all those toys, but remember that every box or shelf should be easily accessible. To ensure your children's safety, only get furniture that is completely sturdy and safe to step on. Small kids tend to climb everywhere and use everything as a ladder, so it is important to keep wobbly pieces out of this area. Furthermore, avoid placing any furniture with holes or gaps in this room. Toddlers are very curious and often do not anticipate the consequences of their actions. They can easily get their hands, fingers, or head stuck in random places, so keep that in mind when picking furniture for the playroom.
Accessorize wisely
Your kids will surely be spending a lot of time playing on the floor, so bring in a carpet that will keep them warm and comfy. When choosing it, keep your eyes open for the kind that doesn't shed easily, especially if your children have allergies. If you are placing planters or other accessories in this room, opt for those with round edges made of rust-free materials. In case you are going to install cabinets, choose the handles carefully. Those made of cotton rope are the safest. Kids tend to run around without actually paying a lot of attention to their surroundings, and they can easily bump their heads on the handles.
Leave them plenty of space
Your kids' playroom shouldn't feel like a maze. They should be able to move around this area freely, without any restrictions. Therefore, don't clutter the room with excess furniture. Stick to basics, and just get a table, a chair or two, and toy storage for all of their knick-knacks. Kids can easily trip, so remove any visible cables. Furthermore, cover all of the electric sockets.
Ensure there is enough storage room for all the toys
All of the toys should have their place, so when your kids are not using them, they can easily be put away. Otherwise, all those toys will remain in the middle of the room and become a tripping hazard. Plenty of boxes, cabinets, or even a cupboard will do the trick. Multifunctional storage is the best choice in case you are working with a smaller area. For instance, you can get a table with cabinets under it. Install a bookshelf where all of your kid's books can fit. Keep in mind that your kids should be able to easily reach every book, without using the shelf as a ladder.
Your kids' playroom should be a place where they will have a ton of fun, while you will remain at ease knowing they cannot get hurt. With these tips in mind, you will be able to create such a haven for them.