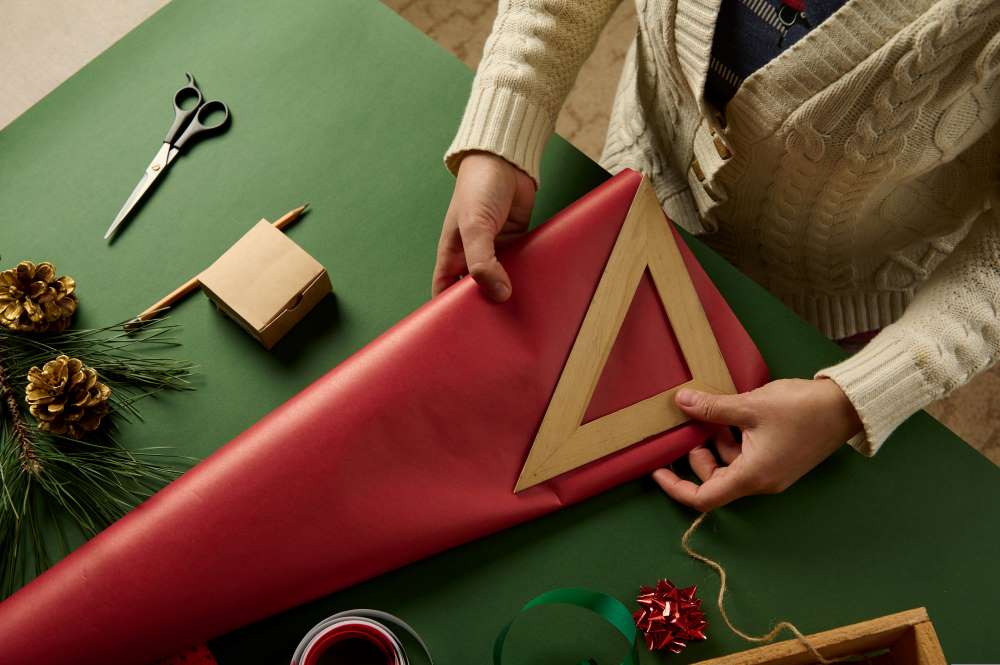 It's getting close to that time of year: the one where you're looking for activities to keep the kids busy while you finish up your Christmas shopping. The holidays can, unfortunately, mean a lot of unnecessary consumption. So this year, why not have the kids do something that reduces waste? Sustainable holiday crafts are a great way to spread the love not only to other people but to the whole planet. Check out these easy and eco-friendly projects that are fun for the whole fam!
1. Upcycled Jewelry
This one is a great way to recycle all those strings of beads you've collected over the years. Simply cut the strands, put all the beads in a big bowl, and give the kids some string. This craft project is wonderfully versatile when it comes to time investment too: it can short and sweet, or keep them busy for hours! Need more beads? Besides your closet, you can always find strands of pearls at thrift shops and jumble sales. Everyone from kids to grandparents can get in on the fun, and the jewelry makes a wonderful gift. For the more mature among your crafters, why not make a matching pearl bracelet and set of earrings?
2. Sock Snowmen
Sure, old socks make handy dust rags, but a cute sustainable holiday craft is a much better use for those pristine singletons. What's more, these adorable little decorations are easy to personalize, making them another excellent gift idea. All you need is a white sock for the body, a patterned sock for the hat and scarf, some fiberfill, and a few rubber bands. Cut the sock to the desired height, then stuff it. If you want your snowman to sit upright on a shelf, put a few small pebbles in the base before you add the fluff. Use a rubber band to divide the body into 2 'snowballs,' then close up the top with another rubber band. Cut the toe off a patterned sock for the hat and cut the remaining piece on the diagonal to make a scarf. Use markers to draw eyes and a nose, or use a couple of buttons and a snippet of orange pipe cleaner. Voilà! A unique and adorable way to brighten up anyone's home.
3. Birdseed Ornament
These are a great way to include our feathered friends in the holiday celebrations. All you need is birdseed, peanut butter and some stale bread. Cut the bread into shapes using cookie cutters, then spread on the peanut butter, and coat with seeds. Punch a hole for a loop of string, or place the ornament as is on a sturdy branch. If you use a bagel, you don't have to cut a thing!
4. Homemade Wrapping Paper
This one is fun for all ages too. All you need are some paper grocery bags, a few potatoes, and paint. Cut open the bags to lay flat. Cut potatoes in half and carve simple shapes like stars, trees, or go abstract with any shape you like. Dip in paint and get stamping! What a wonderful way to offer a personalized gift all while keeping it eco-friendly.
5. Pinecone Garlands
Kids and adults alike love to gather pinecones. Turn them into sustainable holiday decor with a simple length of twine. Glitter is always an option.
6. Jar Snow Globe
Here's a clever way to turn your kids old toys into treasured mementos. Select a clean jar with a lid that will fit your figurine. Attach the toy to the lid with water-resistant epoxy. While it's drying, cut up some tinsel to use as snow. Leaving room for the toy, fill the jar most of the way with distilled water. Next, add the tinsel. Screw the lid on tight and let your kid do the honor of giving it the first shake!
There you have it: six fun and easy ideas to brighten up your holiday and clean up the planet. Sustainable holiday crafts are a fabulous and memorable addition to everyone's Christmas!