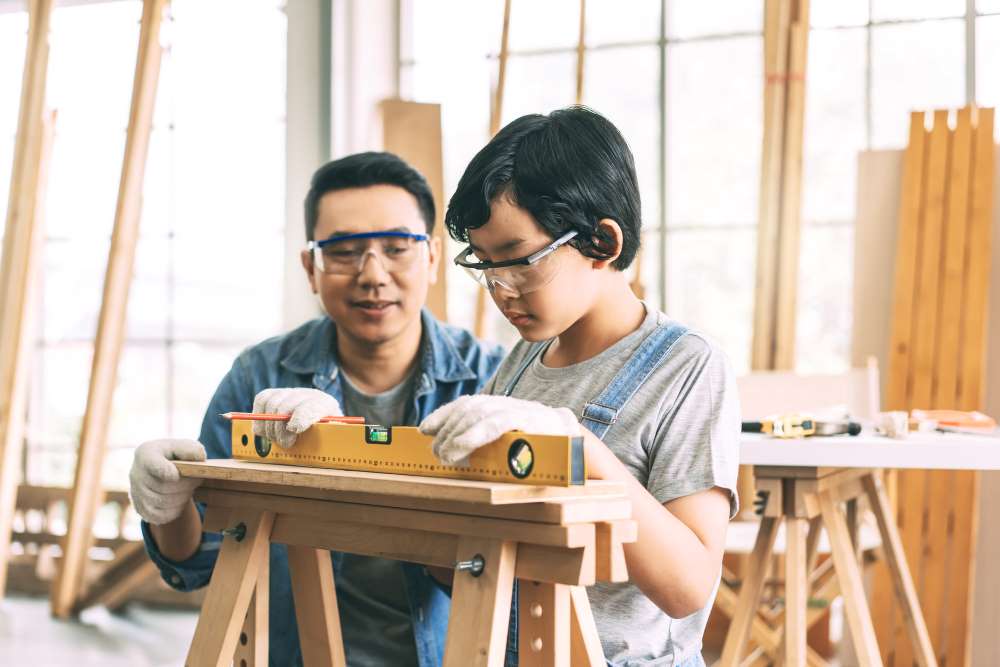 Spring is a time of rejuvenation. Once again, flowers bloom, trees bud and birdsong fills the air. Oh wait, nope, that's the sound of your kids at each other again — a whole season stuck indoors will do that.
If stir-craziness has its hold on your home, you need some new activities in your arsenal. These cute spring projects are a great way to keep your kids busy, bond as a family and welcome in a new season.
Apple Stamp Bugs
Live bugs returning to your home and yard may not be the best news, but your kids will love to make their own bug prints. Slice an apple in half, have your kids dip it in the paint color of their choice and press it gently onto construction paper. Then they can customize bugs with eyes, antennae and unique markings.
Create Edible Birds Nests
Wrap up a day of bird watching by making your own edible bird's nests. All you need is pretzels, chocolate chips and peanut butter. After heating and combining the ingredients, you can have your kids mold the final product into small nests. Top them with jellybeans or peeps and enjoy them as a snack or decoration.
Assemble a Rainmaker
Do your kids love to make music or enjoy the pitter-patter of rain on their window? A rainmaker or rainstick is a relatively easy craft they can create and customize to their heart's content. You probably even have all the materials you need.
Make a Kite
Skip the store-bought kites and make your own. With some elbow grease and creativity, your child can decorate one ideally suited to their taste, from butterflies to superheroes. You'll need thin dowels and material for the kite, like newspaper, cloth or butcher paper.
Plant a Garden
April showers bring May flowers and veggies and fruits. Take advantage of this ideal weather and plant a garden. A few window boxes filled with flowers or a flat garden bed in your backyard full of your favorite produce would do nicely. Putting all the work in now with your kids will let you reap the benefits all summer.
Decorate Flower Pots
If you aren't as trusting in your green thumb, turn your creative juices to the pots themselves. You can get basic clay pots at any hardware store or greenhouse. Set out the paints and let your kids go wild. After you finish, buy a ready-to-go storebought plant or an artificial one.
Have a Photo Shoot
Decorative photo books are making a comeback. Create a spring-themed one filled with pictures of wildlife and your precious family. Let your kids take turns with your phone or digital camera and see where their imagination takes them. You could also go "old school" and get them their own disposable cameras.
Assemble Floral Headbands
Any little girl would love this next cute spring project. Find unornamented headbands at a craft store like Hobby Lobby or a big box store like Walmart or Target. Once you have them home, you can use hot glue, felt, buttons, sequins, glitter and any other decorative touches to complete your new headband. For the best spring look, try cutting flowers out of felt and gluing buttons into the center.
Create Floral Arrangements
One final flower-related project is to put together flower arrangements. You can use real or artificial flowers depending on the look you want to achieve and how long you want the bouquet to last. Create a gorgeous end product with your kids by securing the right tools, like floral picks, floral foam and holders.
Make Suncatchers
Welcome the beautiful sunshine back into your home by hanging homemade suncatchers. You can create these lovely items from scratch by cutting the middle out of a paper plate and gluing or taping down decorated wax paper. Another option is to get premade suncatchers from a craft store and have your kids paint them at home.
Hang Birdfeeders
You can make a birdfeeder out of just about anything — get creative with your kids and see what you have on hand. You can even go with a classic option, like the pinecone feeder. Find a few good-sized pinecones and slather them with peanut butter. Work with your kids to dip them into birdseed or sprinkle it on them. Tie a string around all your little feeders and hang them around your property.
Whip Up a Delicious Batch of Dirt
After all this hard work, you need to remember to feed yourselves. What could be better than a fresh batch of dirt? A pudding dirt cup. Share this time-honored treat with your kids on a fine spring afternoon. The bottom layer is chocolate pudding, topped with crushed Oreos, followed by a few gummy worms to complete the look — simple, yet satisfying.
Spring Into the Season With These Cute Projects
Jump into spring in style with these adorable projects ranging from arts and crafts to baked goods to outdoor DIYs. Your kids and inner child will appreciate everything these ideas have to offer. Better yet, you can finally shut down the sibling fights and get them working on something better for their minds than sitting in front of the TV.