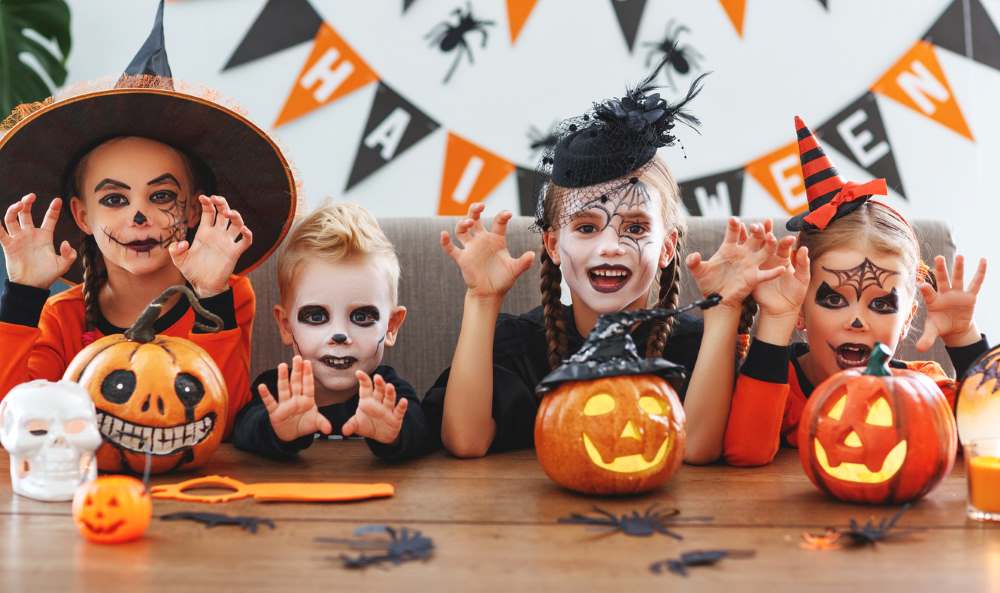 Are you looking for ways to keep your toddler busy this Halloween? Try fun activities that go beyond trick or treating! Discover unique and age-appropriate ideas for your little one. You'll have a festive time and keep your holiday stress-free.
Halloween Pajama Party 
A pajama party is a creative way for toddlers to experience the magic of Halloween. They'll have fun celebrating while you get them ready for bed. All you need is a pair of cute Halloween PJs and a few festive details to set a mystical mood. 
Two-piece Halloween pajama sets and cozy one-piece zipper pajamas are perfect for active toddlers. After bath time, let them dance and groove to kids' Halloween tunes. Shop for soft bamboo viscose PJs in cute, costume-worthy styles. They'll love the look of adorable ghosts or friendly pumpkins. 
Decorate your kitchen or your family room with creepy decor. A tablecloth printed with black cats or smiling skeletons makes the perfect backdrop for an evening snack. Create freaky fruit skewers with blackberries and fresh mango chunks. Or peel clementines to look like pumpkins. Add a tiny piece of celery at the top for a stem! 
Before the party ends, read a not-so-spooky Halloween story together. When you finish the book, you can move the party to your toddler's bed. Fun activities and comfy pajamas will prepare them for a peaceful night's sleep. 
Spooky Scavenger Hunt 
Scavenger hunts are super engaging for toddlers. They'll love an on-the-go Halloween activity. All you need is a few festive items and a little help from your smartphone or computer. Gather objects for your toddler to hunt, like a pumpkin plush or a basket of apples. Choose five to seven festive Halloween items to discover.
Now it's time to make your key. Type a list of your scavenger hunt items on your computer or smartphone. Include photos or clip art with the words to make things easier to find. Print the page and use it to keep track.
You can do your family scavenger hunt inside the home or outdoors in the backyard. You can hold it at a playground or park if you feel extra inspired. Dress your kiddos in a cute Halloween-themed tee or one of the many festive seasonal girls' dresses for adorable pics.
Give your toddler a treat for finding all the items. Peeled bananas and chocolate chips make cute and healthy ghosts. Use mini-size and regular chips to make eyes and a mouth. Other reward ideas include snack-size boxes of raisins or apple slices with caramel dip. 
Spirited Sensory Bins 
A Halloween-themed sensory bin stimulates little fingers and sparks the imagination. To make your own at home, grab a small-to-medium-sized plastic storage bin.
Make a foundation for toys using black beans or colored sand. 
There are many creative and downright ghoulish ways to theme your bin. Is your kiddo into fantastic creatures? Rubbery worms and spiders are super colorful and fun to squish between little hands. Mini pumpkins and ghosts are a perfect choice for a game of Halloween make-believe. 
Use Halloween party favors like wind-up skeletons or black cat erasers. Faux spiderwebs can make for a spooky sensory experience, and tiny tools will make it more fun to explore the bin. Use handheld shovels and rakes to scoop beans or make designs in the sand.
Pumpkin Painting 
Pumpkin painting is a classic Halloween activity! You and your toddler can make a day of it when you choose the perfect pumpkin and then decorate it with colorful paint. Visit a pumpkin patch for a natural gourd. You can also shop for a faux pumpkin at a craft store. 
How do you know which pumpkins are best? Mini pumpkins are perfect for children because they're easy to hold and paint. White gourds make an excellent canvas, but parents will also love a smooth orange pumpkin for themselves. 
Pick acrylic paints in any color in the rainbow. Various-sized paintbrushes will let you cover the entire pumpkin or create spooky details. Let your little one explore different hues and try fun designs. They can even finger paint if you want! You can get creative with a Jack-O'-Lantern face or a Halloween theme. Best of all, you will have something fun to decorate with at home.
Mummy Masking Tape Craft 
If you're searching for a fun DIY craft that makes an adorable Halloween decoration, try this DIY mummy made with masking tape. You need nothing special, just a few arts and crafts supplies. Help your toddler start the craft. Then, they can finish decorating their mummy with masking tape.
First, use a white crayon to draw a mummy's body on black construction paper. Next, cut the figure out with scissors. Now comes the fun part for your child. Let them attach the googly eyes and use pieces of masking tape to cover the mummy's face and body. They'll love choosing the pieces and putting the sticky material on their creature. Create multiple mummies to make a cute garland or use a magnet to put your creations on the fridge!
Have a Spooky Fun Time with Your Toddler
Toddlers love the imagination and wonder of Halloween. The ideas on this activity list will help you find your family's Halloween style. Discover inspiration for a holiday that works for you and your little one. You'll have a stress-free time and create the cutest memories!