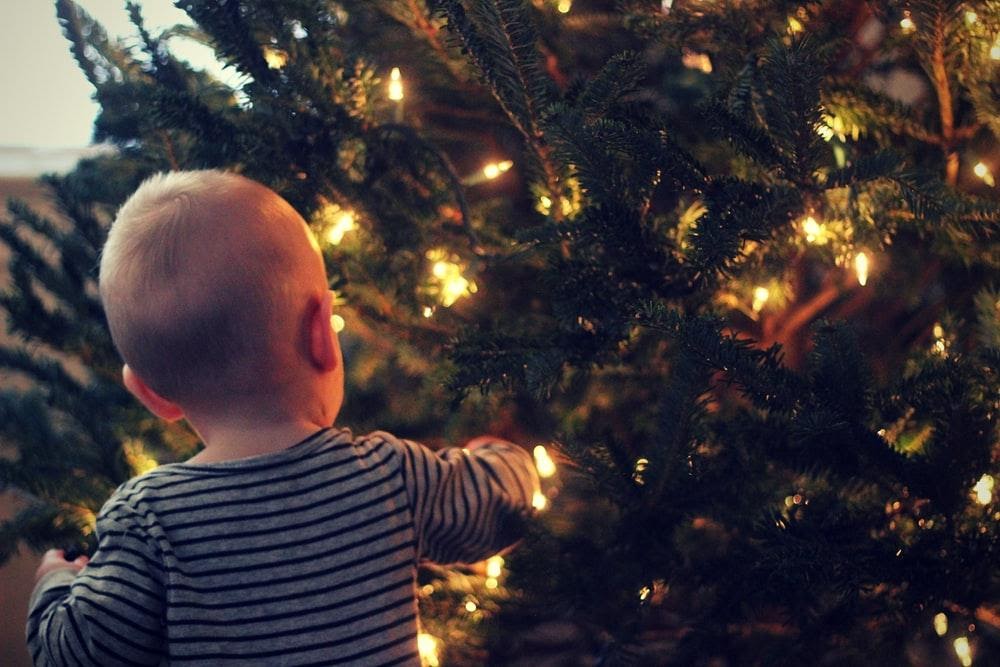 Your baby's first Christmas is a special occasion, and you want to celebrate it properly. Even if they're only a newborn and spend most of their time sleeping and eating, they definitely change the way you prepare for the winter holidays. It's no better feeling than to sit by the tree together with your little one and enjoy these moments of infinite joy. 
And for the baby, even if they are only a few months old, the atmosphere filled with love, the enchanting music, the shining lights, and the presents are fascinating. If they can crawl, imagine only what an adventure it's for them to walk around the house and discover the decorations and Christmas tree. However, make sure you always supervise them because they may try to chew on them. 
If you love Christmas, this is the perfect opportunity to grow your new traditions as a family. Get ready for the winter holiday season by doing some early shopping and preparing for the first Christmas with the newest family member. 
Here are some guidelines to help you plan for this magic time of the year. 
Discuss with your partner about the traditions you want to implement
Not all families have traditions they respect annually. But now that you have a baby, you may want to implement some you stick with, as they grow. Think about something you can do with the little one now, but also in 15 years when they'll be a teenager and may feel a bit embarrassed to pose naked under the Christmas tree. It's fun to establish some traditions now that you have your own family. Make a list so you won't forget things from a year to another. 
You can establish traditions for the entire holiday season. The Christmas Eve may be the most magical day of the year, but it doesn't mean the other ones are less important. 
Order special clothing at least 2 months before
You want to pick a special outfit for your baby, but so do millions of other parents, and this is how Christmas outfits for babies go out of stock, starting November. There's a little prep you should do to make sure your baby wears the perfect outfit on the Christmas day. 
Online retailers like Amazon, eBay, and Etsy are always overwhelmed with the tons of orders they receive for Christmas items. If you don't like the clothing you find online, you can pick a model and ask a local tailor to craft some special outfits for your baby. 
Keep your expectations low
Determine what your expectations are and lower them a bit because babies are unpredictable in behaviour and they may not spend the entire Christmas day jiggling and enjoying the festive atmosphere. If you are aware of your expectations but keep them at a reasonable level, you can have an enjoyable winter season. 
Suppose you have a holiday bucket list for this time of the year. In that case, you may want to put it on hold because young children aren't patient enough to get involved in all activities you usually do during Christmas and they may start crying in the middle of the celebration. 
You and your partner should write down separate lists of activities you want to do as a family for Christmas and compare the notes to decide which ones are the most meaningful. Pick one or two activities, and any other you get to do is a bonus. Don't fill your bucket list with activities that keep you away from your family. Enjoy these moments and chill with your partner and newborn. The new season brought a new baby, and you won't ever have this experience again. 
Get your baby their first Christmas ornament
It's not something mandatory, but it would be nice to get an ornament for their first Christmas. As they grow, they can pick their own decorations, but for now, you can choose something with a special meaning and tell them about it when they grow older. It's a dear memory you can hold onto with your partner and child. Check online stores for different ornaments to find a suitable one. If you want something unique, check a store like Etsy. 
Each year you add a new ornament to the tree and keep them in a special box. 
Shorten the gift list
It's fun to buy presents for your baby, but the thing is they don't need much and don't really understand the idea of presents at this age, so for this year you're off the hook. For a baby younger than 12 months, you should put more effort into wrapping the gift than buying something because they adore ripping things off. You can wrap even an older toy, and they would love the experience as much as if they would receive something new. Also, babies have a limited attention span, so don't expect for them to unwrap more than one gift because they'll get bored. 
Make sure to film the moment they unwrap their first Christmas gift, dressed in a cute themed outfit. Play some Christmas music on the background to create a festive atmosphere and be patient with your baby, they may not be in the mood to open your present at the first hour in the morning.        
Ask your friends and family to limit the gifts they bring for the little one because people tend to buy things compulsively for newborn children for a special celebration. 
This may not be the year for cooking meals from scratch
When you think about holidays, you picture a grand meal in the dining room next to the Christmas tree, but your ability to buy ingredients, cook, and arrange a table is limited. An option is to drive to your parents and enjoy a delicious meal cooked by your mother and then go back home and spend time with your newborn and partner. 
Freezer cooking is another solution if you don't live close to your extended family. Retailers tend to prepare festive dishes and pack them so that busy families can enjoy delicious meals even when they don't have the time to cook.