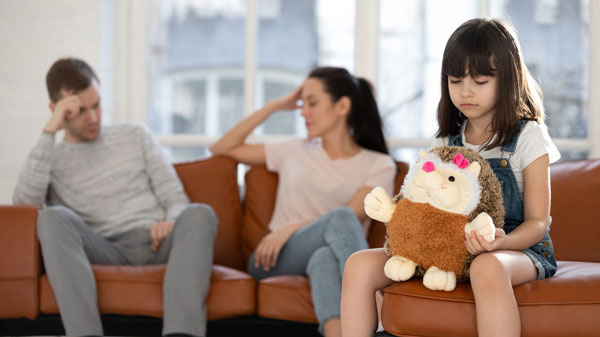 The mere thought of divorce raises hundreds of questions. How to deal with it emotionally? How to file divorce documents? How to solve all the legal nuances? Agree, these are only initial questions, and with each passing minute, there will be more and more of them.
But what about divorce when there are joint children? You need not only to solve many issues related to children but also provide them with a healthy emotional state and moral support. But in practice, everything looks like a tug of war, and unfortunately, this affects kids. Is it possible to somehow fix it and make it less emotional for parents and safe for the child? Yes, and you will learn more about this later.
How Can You Solve Questions Regarding Child-Custody Peacefully?
If parents, even when married, could not mutually agree on everyday issues of raising a child, then after a divorce, everything can only get worse. Most likely, the child could have felt for a long time as an object of dispute between parents, but after a divorce, he will be able to suffer even more painfully.
That is why parents need to seriously think about how they can decide in the future who and when will spend time with the child. And when none of you wants to compromise, there is a risk that you will not only complicate the life of your child but even harm his emotional state.
According to many children who have suffered a divorce of their parents, this process is noted as the most tragic in life. Even after years, they remember well how his father came, and his mother did not allow him to meet because it was not his day. Or vice versa. Missed basketball games, competitions, and even graduations are not the best thing you can give your child.
One of the ways to solve this problem can be specialized applications that allow you to create a parenting schedule. Moreover, they may be ordered by the court. And if the judge has not assigned you the mandatory use of such applications, then you certainly need to choose one of them. If you need extra help with legal divorce forms, then you may freely ask for help form divorce preparation services like OnlineDivorcer, and learn more about how can you cope with the divorce easily and without harming your kids.
Key Benefits of Such Apps
If you make a decision with your spouse about using a co-parenting application, then you can save yourself and your child from unnecessary emotions. It is important to understand that both parents should have this application and many of them offer a free account for the child.
Applications can allow you to track conversations. Moreover, they can smooth communication. That is, your text will be scanned for tonality and if your SMS is written emotionally or contains offensive content, you will not be able to send it. You will have to format it in such a way that it does not have high tonality and does not offend the ex. In the same way, you will not receive offensive texts. Agree, sometimes this is exactly what you need in the relationship between the former spouse.
Tracking your location and conversations ensures that spouses fulfill their schedules and established conditions. Also, applications will be able to provide access to important information and documentation regarding divorce and parenting.
Well, another important advantage is that spouses can solve many issues within the application, and not in the courtroom. This will make it possible not to arrange the trial for various trifles.
And of course, it will be easier for your child when both parents will follow the schedule and he will not have to feel upset when one of the parents did not attend an important event or forgot about the birthday.
Do you still doubt that this can help you? Most likely you have no doubt that this software can help you and even keep your peace of mind.
What are Popular Applications?
If the court did not offer you the use of a specific application, then you can choose the most suitable one. Here is a list of the most popular ones.
2Houses: The application has everything you need to schedule an upbringing, share important information, photos and take notes. The application can be tested for free for two weeks. The subsequent cost will be $ 9.99 per month. By the way, this is the price for a family and not for each parent. The application has the ability to access the mediator.
Coparently: Like the previous application, it is equipped with all the necessary functions. If you suddenly want to update the details, then this is not a problem. The cost of the application is $ 9.99 per parent.
Our Family Wizard: Both children and mediators besides parents can take part here. This application will allow you to make communication more welcoming. The cost of services for the year will be $ 99, and the extension that will regulate the tone of your communication will cost $ 10 per year. But believe, it's worth it.
In fact, this is not the whole list of available applications that can help in this matter. Here are the most common and effective. But no one is stopping you from choosing the one that is not on this list. It all depends on your preferences and financial capabilities.
Conclusion
Should you use similar applications? Absolutely yes. The experience of many couples who went through a divorce with these applications proves that this way it was easier for them to organize a parenting schedule. Additionally, it greatly facilitates the emotional burden of parents and children.
Moreover, there are affordable prices for apps. Therefore, you should not think that these are extra costs that will greatly affect your financial situation. When it comes to your peace of mind, it is not worth saving. So choose the most suitable application and make joint custody of the child easier.