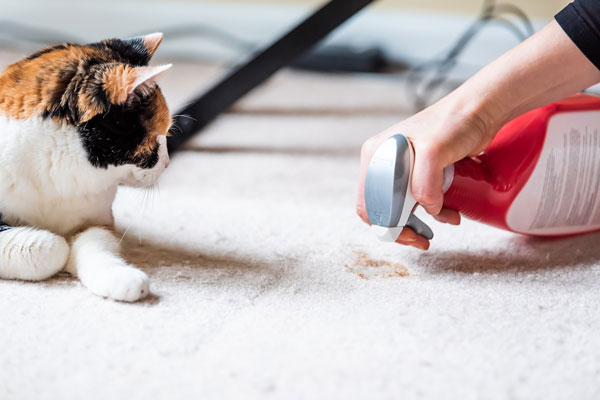 Pets are a part of our daily life. They support us emotionally and reduce our stress and a feeling of loneliness. But in return, owners ensure their good health, fitness and provide nutritious food, love, care, and affection. Apart from this, pets can pose a little risk for your prized possessions like carpets and rugs. Let's see how pet's owners keep their carpets clean along with their pets:
Get Cleaning Services
If you are living a busy life and can't clean your carpets regularly, then you can get services from a cleaning company to get your carpet clean. They have professional staff who work according to your demands. Still, you should understand how they clean the carpets and the whether the process is suitable for your type of carpet. In places with dusty atmosphere for instance how the carpet are cleaned in Dubai is entirely different to carpet cleaning in a cold place like Denver.
Vacuum Carpet Daily
Cleaning room and carpet is the key to avoiding dirt and hair from sticking to the carpet. Having a pet means one needs to vacuum carpet daily. 
Home Remedies
Baking soda is one of the home remedies that keep doormats and carpets clean as well as free from bad odor. Baking soda is also used as a stain remover, but it doesn't mean that baking soda alone can keep carpets clean.
Use Doormats
Doormats can be installed near the pet entryways or doorways.This way, pet's dirt and grass can be prevented from entering into the house. It's easier to wash doormats once a week compared to a room carpet.
Clean Pet Urine
Dogs are known to urinate at home from time to time, despite their training. Even well trained dogs can pee on carpets. Therefore, to clean it up, a small absorbing towel is used over that particular patch of carpet. Once urine is absorbed, rinse it in warm water with a washing liquid to clean stains.
Train Your Dogs
Did you ever feel like your carpet is smelling like a dirty dog, and your guests have also noticed that bad smell? Train your pets to give you a sign when they want to pee so you know when to take them outside. 
Take Care Of Them
Bathing your pet daily means keeping your carpets and rugs odor-free. Take care of their cleanliness like trim their nails and wash their hair because, with long nails, they can shread your carpet into fibers that spread all over. Brush your dog outside of your house because it will keep your carpet fresh and long-lasting.
Use Carpet Cleaning Agents
Naturally, when pets spill or drop something on your carpet that needs to be cleaned right away, because it may leave stains on the carpet if not cleaned promptly. But keep one thing in mind that cleaning agents should not be harmful and allergic to pets.
Restrain Them To A Place
If you're fond of keeping pets in your home as well as you also don't want your pets to mess up with your rug, confine them to a place in your room or a separate room where there is no carpet. It's not necessary to keep them at that place all the time but only when you're not at home and also can't take the risk of your carpet. Restrain them at that area in your absence; otherwise, keep them in your carpeted room with a keen observational eye.
See What Your Pets Eat
The world has progressed too much that we find most of the food filled with artificial ingredients and coloring agents. These types of food can disturb your pet's stomach as well as cause them to pee man times a day that may leave stain over your carpet. Therefore, take extra care while purchasing food for your pets.
Wiped Off Their Paws
A lot of dirt can come into your house through a pet's paws. You can prevent pets by wiping off their paws. Use a towel near to your door to clean their paws, and it will prove the best practice. Because in this way, dogs will eventually get a lesson that they have to wipe off their paws before entering into the house.