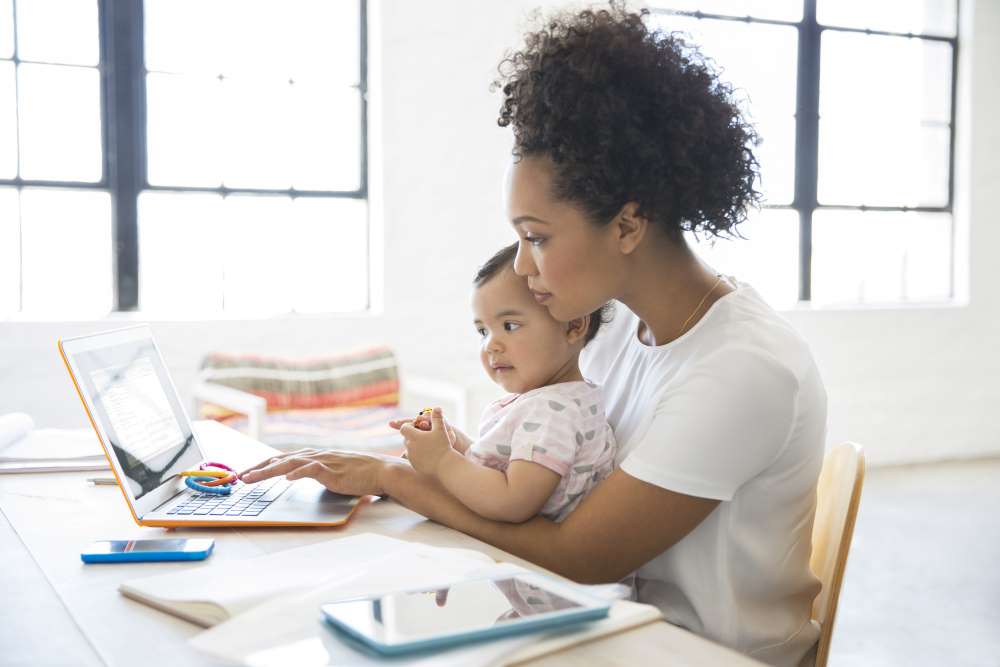 Being a full-time mom is a fulfilling role because you see your children grow and you're with them in each stage of their development. However, there might be times you'd think about the other options available to you. With the evolving work arrangements today, companies are now more accommodating with remote setups and working with employees who are also stay-at-home parents. 
Being Mother And Career Woman
Deciding to pursue your career amidst managing an entire household may have its set of challenges, but it's still doable. To help you, here are ways to pursue a career while raising kids:
1. Explore Your Options
There are now a lot of options for parents who'd like to follow their aspirations. Work arrangements such as remote setup or part-time jobs are now available for mothers who want to return to the workforce. For instance, if you're a single mom who has big demands and responsibilities at home, you may look for businesses willing to work and accommodate your available schedule.  
Nowadays, MotherWorks and other similar third-party job websites help moms connect and look for potential employers online. This can be a great choice, especially if you opt to try various careers for some years.  
Nonetheless, if you're an ambitious mom who wants to experience career advancement and work full-time, this trajectory is still possible. Make sure to prepare and revamp your resume and other important documents as you meet with potential employers. 
With various roles and accessible opportunities, explore your options and see what types of jobs will best suit you and your parenting situation.
2. Communicate With Your Employer
As an employee, it'd be excellent to be transparent with your employer regarding your situation. Although every employer is different, you still ought to communicate with them about your household responsibilities, so you could both collaborate and come up with alternatives to meet both ends. 
If you need to request a remote work arrangement, assure your employer this setup won't decline your performance, compromise the quality of your deliverables, or restrict your productivity at work.   
Alternatively, you may also request family-friendly arrangements such as leaving the office exactly by 5:00 PM to be on time for family dinner. You may also request not to work during the weekends or certain family events to make time for the kids. 
3. Look For Childcare Providers
Before you leave your children at home, ask your close family and friends for references about babysitters. They may be able to recommend childcare providers whom they've worked with before. It'd be excellent to look for a babysitter or nanny with commendable, extensive records for certain families in a long time. This may assure your children are in good hands despite being away from them.  
Nonetheless, if you prefer to enroll your toddlers in daycare learning and play centers, make sure the place has qualified and competent professionals who can handle varying age groups. Preferably, the facility should have an equal or low teacher-to-child ratio to make sure your kids will be provided much attention and assistance.  
With kids entering grade school, check safety measures and classroom ergonomics to ensure they're comfortable and secure in their school.
4. Let Go Of The Guilt
There might be times you'd feel guilty for not being able to be there physically for your kids. However, instead of dwelling on these thoughts, remember how your job will help provide them educational opportunities to support their dreams. Rather than feeling guilty, make sure to find time and create ways to bond with them. 
5. Make Time For Your Kids
Despite your rigorous work routine, make sure to schedule time with your kids. For instance, during the weekends, you can cook their favorite meals, help them with homework, bond over board games, have nighttime activities outdoors, and the like.  
Moreover, you could have a digital calendar where you plot in parent-teacher meetings and other school events to prepare and expect them ahead. Notably, it'd be great to make time to attend and participate in those activities. Your presence allows them to feel loved and supported despite the fact you're away from them most days of the week.  
Furthermore, making time for your kids is a way of nurturing your relationships and building dynamics. You wouldn't want to have a distant relationship with them because of your hectic workload. 
Final Thoughts
Juggling both family and work commitments may be quite challenging, but you don't need to compromise or give up any of them as long as you make the effort to strike the balance between both responsibilities. With the right strategies and support, pursuing your career while raising your kids will become manageable.