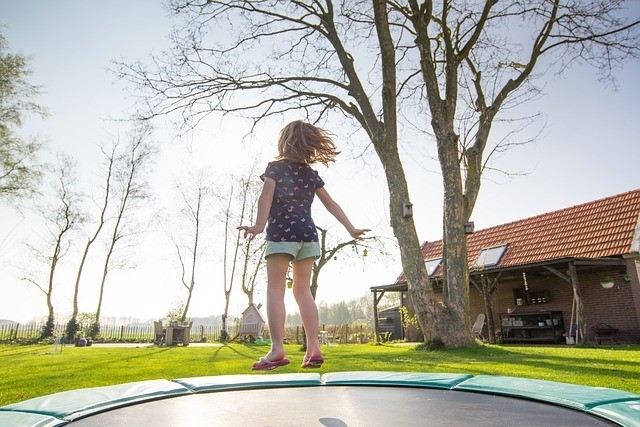 One of the best ways to help children with special needs and their ongoing difficulties is by utilizing play equipment. Often used by occupational therapists to support kids suffering from a physical, sensory or cognitive disability, play equipment offers a range of advantages.
Play is also considered one of the important platforms for future well-being, helping develop social skills, imagination, physical strength and balance.
Below we outline some of the best outdoor play equipment and their benefits in how they assist a child's development.
Trampolines
Purchasing a trampoline can be one of the best decisions to aid in your child's home occupational therapy. They provide multiple ranges to help children and their growth.
Some of these include:
Motor Skills – The jumping motion on a trampoline does wonder to improve overall balance and motor skills. It further enhances muscle development by working on core strength, and allows kids to further expand their kinesthetic awareness
Sensory Skills – Trampoline bouncing can seriously burn off some energy in a short period of time – perfect for kids with pent up energy. It also can also stimulate children giving them a chance to concentrate on the motion of moving up and down. This can be hugely beneficial in calming down kids with sensory needs.
Self Esteem – Practicing on a trampoline can offer a way to build confidence. Becoming better at doing different tricks and increasing balance is a sure-fire way to breed better self-esteem.
Social Skills – There are many games that can be played on a trampoline involving multiple participants. Not only do these games provide hours of entertainment, it teaches kids how to bond with each other. In addition, certain games can help build coordination and patience.
Physical Exercise – We all know how important physical exercise is to a child's overall development. Getting kids away from screens and monitors and outdoors to play can be a challenge but see how easier it is when you introduce the fun of a trampoline. See what makes a trampoline perfect for physical exercise.
Hand Eye Coordination – Using a ball while bouncing can assist greatly in hand eye coordination. Many trampolines also offer a basketball hoop attachment accessory, further enhancing opportunities to practice ball and coordination skills.
Swing Sets
Buying a swing set is also a great option providing many of the same benefits as other play equipment. Certain swing sets also allow for a variety of different swing configurations that expand ways children can play and interact with them.
This includes:
Motor Skills – Similar to trampolines in that swinging helps with core muscle strength. It also conditions joints and builds endurance as kids continue to build swinging momentum.
Sensory Skills – Because swings allow kids to move in different vertical plains (with some swing allowing horizontal as well), they significantly aid by providing a calming effect. The motion of swinging through the air back and forth also helps with sensory skills as the child gets to view their surroundings from a different perspective.
Social Skills – Swings often have a volunteer who will push someone on the swing. This active engagement of sharing the play equipment teaches children to determine whose turn it is, wait their turn, and balance how much time they get before they swap.
Imagination – Kids can let their imagination run wild while swinging. Whether they pretend to be an astronaut pilot, or a bird soaring in the sky, swings allow them to live out some of their imaginative ideas.
Playsets
Coming in a range of different designs and styles, buying a playset allows you to mix and match different benefits to the needs of your child. Whether is a jungle gym, sandpit or cubby house, different kids' playsets can be extremely desirable in aiding ongoing occupational therapy.
Sensory Skills – Cubby houses in particularly can be very useful, as they provide a quiet space for sensory children to go to when they are feeling overwhelmed. Sand pits offer play through touch, allowing kids to manipulate objects while molding the sand.
Social Skills – Playsets are often large enough that multiple children can safely play on any given part at one time. This allows for interaction and further bonding opportunities.
Physical Exercise – Running, jumping, climbing … A playset is an ideal way to promote outdoor exercise. But more importantly they let kids explore multiple ways to play. This is important, as options give more flexible to your children and how they can get the most out of their playtime.