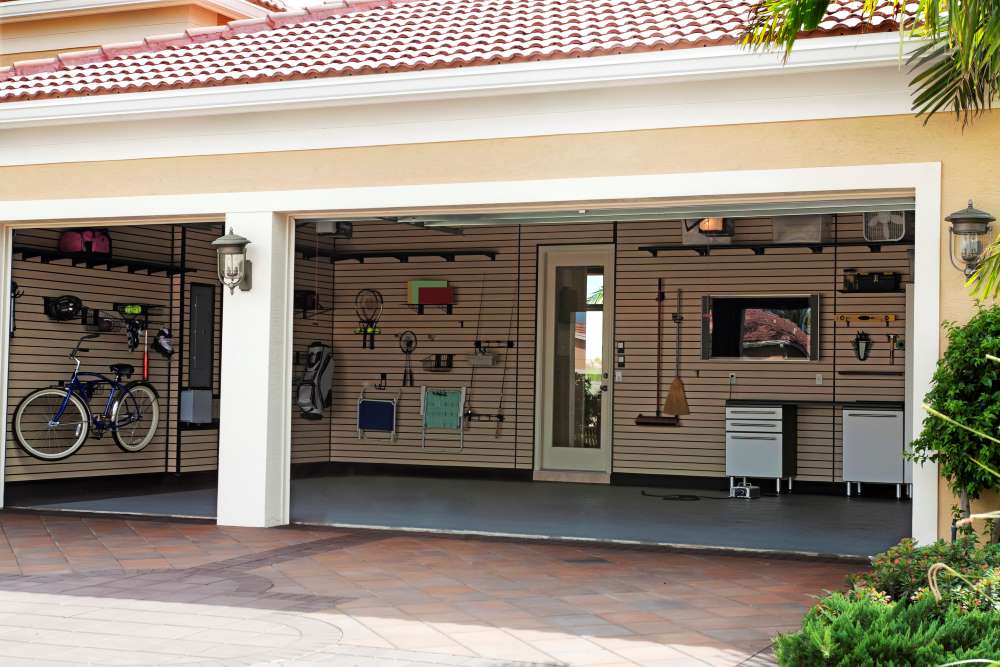 A cluttered garage can be a huge headache. Not only is it difficult to find anything in there, but it also takes up a lot of space. If you're looking to transform your garage into a functional and organized space, we've got you covered! In this blog post, we will discuss some simple makeover ideas that will help you get your garage under control.
Simple makeover ideas to make your garage look great
Whether you want to organize your garage space, or you just want to make it look nicer, there are some easy things you can do to achieve your goals. Now, garages usually serve a primary function as a place to park your car. But they also serve as part storage that can often become cluttered and crammed full of unnecessary items. If this sounds like your garage, don't worry! Whether you are looking for garage cabinets to make more room for your items, or you want to install some new garage flooring to give it a fresh look, we have some ideas that can help. Of course, the first step is to declutter your garage and get rid of any items that you no longer need or use. Once you have done this, you can begin to implement some of the following makeover ideas:
Install new garage flooring
One of the quickest and easiest ways to transform your garage is to install new flooring. There are a variety of different options available, so you can choose something that fits your budget and needs. For example, epoxy flooring is a popular choice for garages because it is durable and easy to clean. Additionally, it can resist stains and scratches, which is ideal if you are using your garage as a workspace. Another option to consider is interlocking floor tiles, which can be installed quickly and easily. Plus, they are also easy to clean and come in a variety of colors and designs.
Paint the walls and ceiling
Another simple way to transform your garage is to paint the walls and ceiling. This will brighten up the space and make it feel more open and airy. When choosing a paint color, opt for something light and neutral so that it doesn't overwhelm the space. Additionally, be sure to use high-quality paint that can withstand the wear and tear of a garage. Good paint ideas for garages include white, light gray, or beige.
Install new lighting fixtures
If your garage is dark and dreary, one of the best ways to transform it is by installing new lighting fixtures. This will not only make the space more inviting, but it will also make it easier to see when you are working on projects or looking for items. There are a variety of different lighting options available, so be sure to choose something that fits your needs and budget. For example, LED lights are a popular choice because they are energy-efficient and long-lasting. You could also install track lighting or hanging pendant lights to brighten up the space.
Hang shelves or cabinets to organize the space
If you are looking for ways to organize your garage, one of the best things you can do is install shelves or cabinets. This will give you a place to store your belongings and keep them off the ground. Plus, it will also help to free up space so that your garage feels more open and spacious. There are a variety of different storage options available, so be sure to choose something that fits your needs and budget. For example, you could install wall-mounted shelves or cabinets with doors to keep your belongings out of sight. You could also consider using wire shelving, which is easy to install and can be adjusted to fit your space.
Organize the space
Generally speaking, you do not want to enter clutter every time you open your garage door. This means that you should spend some time organizing the space so that it is more functional. One way to do this is to use wall-mounted racks and hooks to store items such as bikes, ladders, and garden tools. You could also use bins and baskets to organize smaller items such as sports equipment, power tools, and gardening supplies. By taking the time to organize your garage, you will be able to find what you need more easily and make better use of the space.
In conclusion, these are just a few simple makeover ideas that can help to transform your garage. By decluttering the space, installing new flooring, and painting the walls, you can easily make your garage more inviting and functional. Additionally, by adding new lighting fixtures and storage solutions, you can further improve the space and make it more organized. So, if you are looking for ways to improve your garage, be sure to consider these simple makeover ideas.