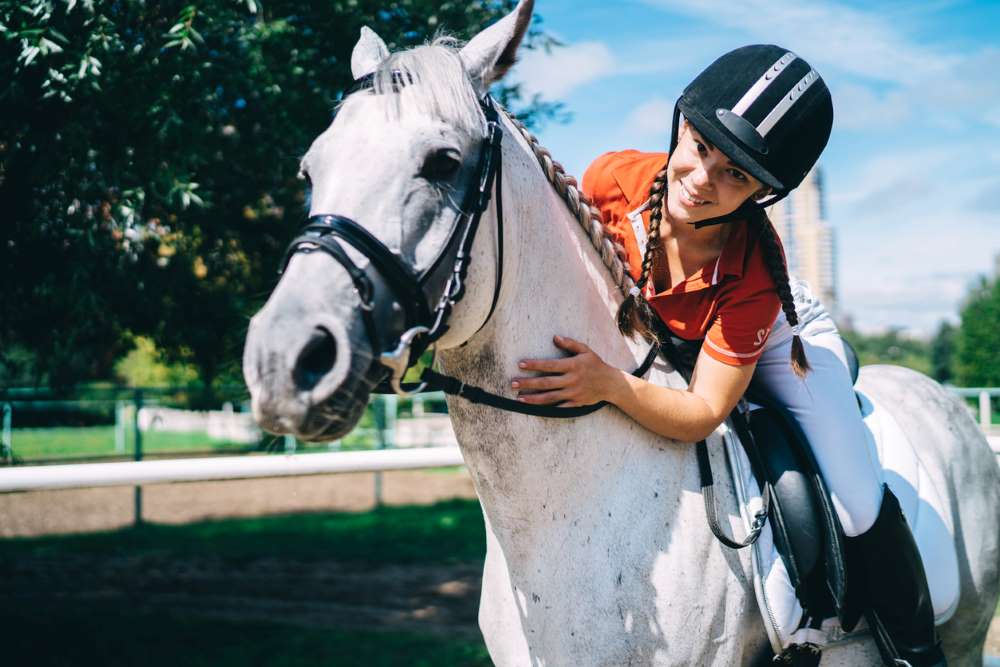 Are you thinking of embarking on your first horse riding lesson? If you are, then we share in your happiness too, because horse riding is a very amazing one!
Of course, It is no doubt that horse riding is an amazing and exciting sport that you would enjoy and love to practice every day once you get the hang of it. But before you hop on the horse to commence your first lesson, there are a few things that you should know concerning how you should dress for your first riding lesson.
First of all, you need to know that while you are in search of the perfect wears for your first horse-riding class; the paramount thing to note is that convenience and comfort are what you are going for, because a horse-riding event, most especially a first time thing, is not an occasion to get all fashionable and all.
Hence, you need to go after looking comfortable first rather than looking like you just want to star on the first page of GQ magazine!
In the same vein, it is not a crime to look fabulous for your first horse riding lesson, and this is why we have put together a list of wears that you can rock and create a balance between comfort, modesty, and fashionable.
How to Dress for Your First Horse Riding Class
1. Helmet
Starting from the top, the first wear you should put on during your first horse riding is headwear, most especially a helmet. Of course, you might have seen some horse riders wear hats while riding, but for you as a first-time horse rider, you can't afford to wear a hat.
For your first day, a helmet, and not just a helmet, but a new and rightly fitted helmet is necessary, as this will help safeguard your head and your life in case of a fall. Stick with helmets as your headwear for now, and when you have mastered your horse riding skills, you can then do away with the helmets and rock some riding hats!
Kindly note that if you are sporting long hair on your head, you should ensure that you pull your hair backward in a bun or ponytail with a hairband to avoid discomfort when you put on your helmet, and also to prevent hair from blowing into your face while you are riding.
2. Shirts
We all know that you need to wear some shirts or tops whenever you are going riding; you obviously can't ride a horse in your birthday suit. While you are preparing to dress for your first horse riding expedition, kindly note that baggy and ill-fitting upper wears are a no-no.
As we have mentioned comfort and convenience earlier in the article, so you should ensure that your upper wear has to be a shirt that is fitting and comfortable. Examples of the kinds of shirts that you can wear for your first horse riding lesson are Golf/Polo shirts, Vests, Compression long-sleeve Shirts, Snow Shirts, and Sleeveless Shirts.
Asides from the shirts, other upper body wears that you can wear are jackets and body protectors. Body protectors help to enhance safety for the rider during riding, and a suitable type of body protector for first-time riders is an air jacket.
3. Riding Pants
Apart from upper body wears, a first-time rider also needs to wear suitable lower body wear that will enhance a smooth horse riding activity. In choosing suitable lower bodywear, you can either wear riding pants, breeches, jodhpur, jegging, or jeans; just wear something that would not bunch or wrinkle along with your knees when you are riding.
4. Footwear
 Next to shirts and pants, the other thing that you need to wear is footwear. For your first horse riding lesson, you need to wear suitable riding footwear. 
Suitable riding Ariat footwear for a first-timer is one that supports your ankles well, is of medium tread, is long enough to reach your knees, is comfortable, and has a heel size of between 1 and 1 ½ inch heel.
Paddock boots, Jodhpur boots, and cowboy boots are examples of suitable boots that you can wear for your first horse riding lesson.
5. Gloves
Although a lot of people perceive that horse riders wear gloves for fancy and fashion, the truth of it is that a pair of riding gloves is an important item for horse riding too.
Gloves help riders have a firm grip on the reins, and also help to prevent your palms from chafing while you ride.
6. Spurs
Although wearing a pair of spurs when you are riding a horse for the first time is not advisable as you are just learning for the first time, and speed should be the least of your worries for now. But as you continue to get better with your lessons, you can wear spurs for lessons to help you direct the horse to move fast when you want it to go faster.
Hopefully, we believe that you now have an idea of what to wear for that exciting first horse riding experience. Before you go, kindly note that regarding the wears, you don't have to go all in to purchasing expensive wears, your comfort and convenience are all that are paramount for now.
In addition to your clothes, there are a few things that you can take along on your first horse ride, such as a camera to take photographs, snacks, and of course a bottle of water; and then you are good to go!!!