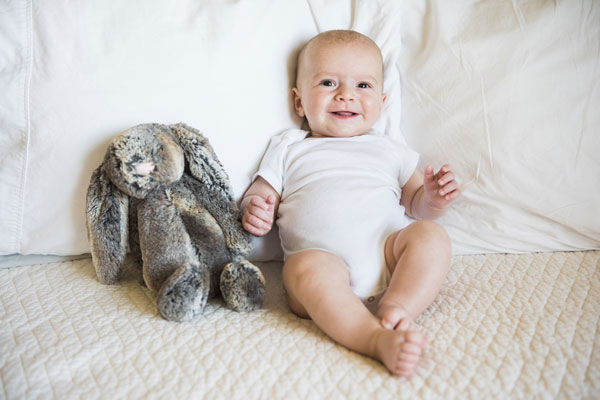 A newborn baby is so fragile, and the same goes with their skin. If you're a first-time parent, you'd always do your best to protect your child from anything. Hence, you'd like to start by keeping their clothing safe and comfortable. For instance, cotton-made baby onesies are becoming popular these days. Some parents recommend them as the best cotton clothing for babies.
So, continue reading this article to learn why infant onesies should be 100% cotton.
Cotton Fabric For Babies
Since babies have sensitive skin, cotton-made onesies have become the best clothing for your newborn's skin. Cotton is a shrub fiber that's highly absorbent and soft. It's twisted to come up with yarn and create a soft fabric.
For babies, the perfect choice is the organic cotton fabric because they're free from chemicals and fertilizers. Using a cotton fabric for infant onesies can be a great way to protect your baby's skin from skin issues which can be triggered by rough or synthetic fibers.
Below are the common characteristics of cotton-made clothing for babies:
1. Less Toxic – As a natural fiber, cotton, when used for baby clothing, is less toxic. Unlike
synthetic fiber, it doesn't contain chemicals like ammonia and petroleum, which are dangerous for your baby.
2. Hypo-allergenic – Cotton doesn't often cause allergic reactions. Meaning, it doesn't cause irritation to your newborn's skin, which makes it a perfect fabric for sensitive skin.
3. Moisture Control – Cotton can absorb any liquid from your baby's body. It helps remove moisture buildup, keeping them dry for a more extended period.
4. All-Weather Textile – Cotton can withstand various types of temperature, which is why it's known for being an all-seasons textile. Also, cotton materials can provide sufficient insulation to your body since it doesn't stick into your skin.
5. Durability – Cotton is one of the most reliable varieties of fabrics. It can sustain frequent hand washing and strong washing machine power. The cotton fibers don't become fuzzy as well as break down quickly. That said, purchasing cotton-made baby clothing like these wholesale onesies from Soft Bebe can be a worthwhile investment due to their durability.
Benefits Of Using 100% Cotton-Made Infant Onesies
Again, cotton baby clothes like onesies are becoming more popular for a variety of reasons. For most parents, investing in quality and safe baby clothing can be a significant decision. Thus, if you're a first-time parent, below are the reasons why your infant onesies should be 100% made in cotton:
1. It's Healthy
As mentioned, cotton baby onesies are typically made from 100% organic cotton. This means the fabric used is free from pesticides, fertilizers, and other toxic chemicals. Since they don't go through some chemical processes like dying and bleaching, you can get the most out of natural clothes for your baby. Plus, you won't bring your child's skin into contact with harmful chemicals which is great for their health.
2. It's Good For Asthmatic Babies
No question that 100% cotton-made baby onesies come with great health benefits. However, its advantage doesn't stop there because they can also be a perfect match for babies who are struggling with an asthma attack. Compared to other varying types of baby clothing, onesies made from cotton don't discharge small particulate matter that may cause an attack. Therefore, it's one of the many reasons why your baby's onesies should be made from natural materials like cotton.
3. It's Easier To Clean
Caring for a newborn baby requires a lot of time and attention. Sometimes, you may have to give up some of your personal activities just to attend to their needs. With so many things to be done, you need to maximize every minute you have to do some things like washing their clothes. Fortunately, letting your baby use a cotton onesie can make your life less stressful. It can also mean a lesser time to clean and even wash their clothes.
That's why choosing 100% cotton-made onesies for your baby's clothing is the right decision. It's much easier to clean than other kinds of fabrics. There's no need to use harsh chemicals or soap to remove dirt and stains quickly. In fact, some warm water, along with a mild baby detergent soap is enough for washing your baby's clothes in the fastest time possible.
4. It Gives Comfort
Another reason why your infant onesies should be 100% cotton is the kind of comfort they provide. Cotton fabrics, for instance, allow better aeration, which is why they can keep your newborn cool and comfortable during their sleep. Since cotton is highly absorbent, a cotton-made onesie can eliminate the moisture on your baby's skin easily.
5. It Looks Good
The way your baby looks is also important, and this is what cotton-made infant onesies can offer you. Using 100% cotton baby clothing doesn't necessarily mean you have to sacrifice the appearance of the clothes themselves. Besides, cotton-made onesies for newborns are more durable, natural, and non-allergic. So, they also look good on your baby without compromising their health and overall well-being.
6. It's Environment-Friendly
In addition to their health, dressing your newborn with cotton-made onesies can have a significant environmental impact. Aside from preventing toxic chemicals from coming into contact with your infant's skin, they can also reduce the pollution taking place as a result of production. Moreover, cotton is 100% natural, which is why it's also biodegradable.
Final Thoughts
As a parent, there can be no easy way to choose the right clothes for your baby. Aside from comfort, safety, and practicality, you also have to consider a lot of things before you make a final decision. These factors may include the ease of use, washing advantage, and even the price. Thus, it's a good idea to shop around and expand your options to find the ideal onesies for your little one.
With the information presented in this article, you may have an idea by now of why baby onesies should be 100% cotton. Therefore, if you want your newborn to be happy, safe, and comfortable, don't hesitate to invest in natural baby clothing.