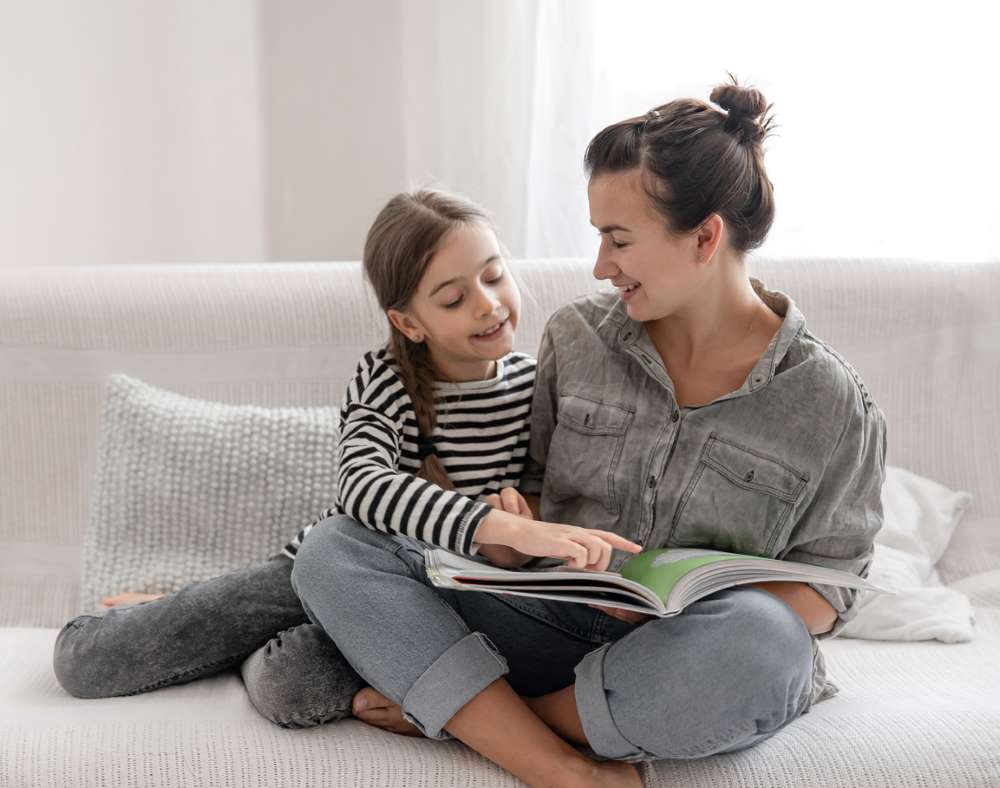 Picture books may appear simple-minded and even one-dimensional to some people. However, for anyone looking to improve their children's literacy and development skills, reading picture books to your children is easily the best thing that you can do. Picture books contain illustrations, fewer text passages than any typical book or novel would have, perfectly designed to catch your child's attention and keep it.
While picture books can seem simple and uncomplicated, there are surprisingly beneficial to children. You may look at a simple picture book as nothing more than a series of whimsical characters and make-believe scenarios. But all these components play a crucial role in teaching your kids learning basics all while developing their self-awareness.
The interaction that is experienced when children of all ages read picture books is perhaps the most beneficial to their well-being. Open up any book that contains eye-catching illustrations and you will immediately notice your child swelling up with enthusiasm. So if you have always wanted to raise readers, you cannot go wrong with picture books.
What are some of the other reasons why picture books are so important for children?
Picture books help to build comprehension in children
The best picture books are designed to introduce children to reading. Children, especially preschoolers and toddlers, may not be able to sound out the words written in a book. However, when you introduce them to picture books, they analyze the images just like they would a video nursery rhyme on YouTube or an animated movie.
When they analyze the different scenes, it helps them build comprehension that that further nudges them along to tell you how the story plays out. And when you read each of the passages out loud, they begin to associate the words that you are saying with the illustrations on the pages, building their comprehension and analytical skills even further.
Picture books encourage dialogue
The images and the words contained in picture books are one of the most straightforward ways for parents to encourage conversation with their children. As parents chat with their children along with the story, it helps to create engagement between the participants, which goes a long way in helping to considerably boost their communication skills.
When you read out loud and your kid is following along intently, it will teach them not only how to talk but also to listen. The pauses in between, your punctuation, how you express yourself and certain words will all go into making your kids better conversationalists. And because they will learn that each story has a plot, as well as a beginning and end, they will become much more efficient storytellers as a result.
Picture books strengthen your kids' analytical skills
The right picture book will promote not only imagination, but it also increased participation. The best books teach children to question why things are done the way they are done, which an important analytical skill for anyone. Long before they learn how to speak or read, children respond to environments and scenarios around them.
As such, when you make reading a regular habit, it helps to build their analytical skills. the more you keep reading to your children, the easier it will be for them to reason with what they are exposed to.
Kids love art
Picture books work for children because kids, no matter their age, will always be excited by art or art project of any kind.  That is why children are such big fans of activities such as finger painting, drawing, and coloring. Picture books allow children to develop a more heightened appreciation for art.
One key benefit of reading picture books to your children is that it sparks joy and creates a fun and engaging reading experience for both the parents and children. Picture books can do a much better job of keeping your kids' attention than reading books without any pictures. So why wouldn't you want to give them a try?
It's the best way to introduce them to reading
Ultimately, all the excitement surrounding the picture books that you pick for your reading sessions is what will cause them to develop an interest in books. As the children fixate on the various illustrations and graphic elements contained in the pages of a book, it inspires them to make the association between words and the pictures themselves.
Plus, reading to your children is one of the most straightforward ways for parents and guardians to introduce children to complex real-world scenarios. The right picture book can make it easy to explain difficult to understand concepts such as race and equality. But when the story is accompanied by fun and relatable visuals, it becomes so much easier to make it relatable and understandable.
How to pick the right picture book for your child?
Choose books that are right for your child's reading level. You may think that exposing your child to text-heavy books is the best for their comprehension, but this will only overwhelm them. Young readers enjoy books with lots of rhyming and repetition; just as long as it is suited to the child's reading level.
Select a wide array of books
Try as much as you can to expose your child to a wide array of picture books. Sure, your kid may only want to look at fairy tales or books with dinosaurs. However, it is your responsibility to guide them and open up new genres and passages for exploration.
Choose topics that your child finds interesting
Trucks and cars may be all the rage for you, but that may not be the case for your child. The last thing you want to do is force your interests on your child. The best books for kids are those that mimic the events that are already happening in their lives? About to bring a new baby to the family? Pick a book that explores that.
Just remember to make an effort to find books with stories and characters that your child will be drawn to. If you can, you should even solicit the assistance of your child when picking the books to avoid disappointments later on.