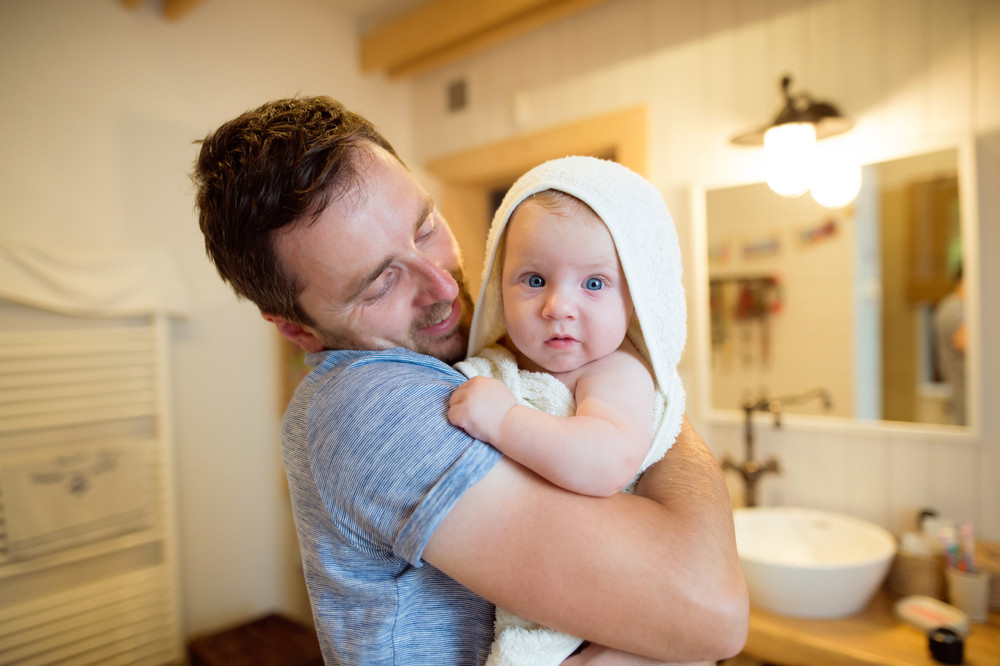 When you're remodeling or adding a kids' bathroom to your home, you will want a design that is accessible and safe. Kids are messy, and you will want to use kid-friendly, durable materials and fixtures that are easy to clean and look attractive. You should invest in adult fixtures when remodeling and make sure that they are safe and easy for everyone in your family to use.
Tubs and Showers for Kids
A standard built-in tub that is not too deep with a rim around it to put shampoo bottles and washcloths on will be easy for kids to get in and out of. These are called alcove bathtubs and usually come in assorted colors and designs. They are similar to standard tubs but not as deep as some freestanding or soaking tubs.
kid-friendly tubs are easy to get into with a stool or without one, depending on the age of the child. This makes them ideal for the whole family. If you have toddlers, you can bathe them in this style of tub, and it's easy to supervise and play with them. Soaking tubs may not be a desirable choice because they are harder to get into and deeper.
Adding a kid-friendly shower to your built-in tub is another excellent choice. Use an adult showerhead that is simple and easy to use. Many showerheads have four or more flow settings, a pet attachment, and a wand. Rainfall showers are popular because they resemble rainfall, and many children and adults alike find them enjoyable and relaxing. According to Home Guide, most companies offer a three-to-ten-year warranty on bathroom fixtures, and investing in good quality will make them last longer.
What About Bathroom Ventilation?
Keeping the air smelling fresh and clean creates a welcoming bathroom. Instead of using the typical fan system, you can choose a ceiling-mounted fan with a DC brushless motor that uses less energy. The systems have humidity and light options. Inline fan systems are comparable to commercial-grade products that deliver high airflow and no noise.
These systems regulate odors and moisture. The fan cools down the air and keeps mold and bacteria from building up in the bathroom. Since less than half of homeowners get help from professional heating, ventilation, and air conditioning services to maintain their products, you may be able to install it yourself. However, working with a professional to install the ventilation system in the bathroom is suggested.
Sinks, Toilets, and Step Stools
A large sink with a built-in step stool will accommodate children of all ages. Step stools help children reach sinks or get into bathtubs. Try to buy stools that work for a wide range of ages. When you have a vanity with a sink, choose quartz as a countertop because it is scratch and stain resistant and resembles excellent quality stone. Experts often recommend a one-piece toilet because it is easier to use and clean and it does not have a gap between the tank and base. These standard fixtures can be used by everyone in the family.
Porcelain or Ceramic Tile and Vinyl Flooring
Kids are hard on bathrooms, and choosing durable materials for your walls and floor has many benefits. Porcelain and ceramic tiles are water resistant and attractive, and they come in many different colors and patterns. They are easy to clean and some are coated to be less slippery.
Sheet vinyl is exceptionally durable and stands up to heavy use in bathrooms. It has a wide array of colors and designs. Kids tend to waste water and splash it on the floor in the bathroom and these moisture-resistant materials are a good choice. According to the Environmental Protection Agency, homeowners that fix water leaks will save about 10% on their water bills. Fixing leaks will also protect all kinds of bathroom flooring.
More Tips for Kid-Friendly Bathrooms
Many homeowners use open shelving to store towels, face cloths, and bathroom toiletries. Open shelves make it easier for kids to get what they need and are easy to organize. Bathroom towels and hand clothes should be colored if possible. Colored fabrics are easier to clean and do not show dirt and grime. Towel hooks, instead of towel bars, work well with several children using the bathroom.
These are some tips for designing a kid-friendly bathroom for your family. It is recommended to use standard fixtures in a kid's bathroom as they may be sharing it with adults. And when you want to sell your home, standard fixtures will be more desirable to potential buyers.