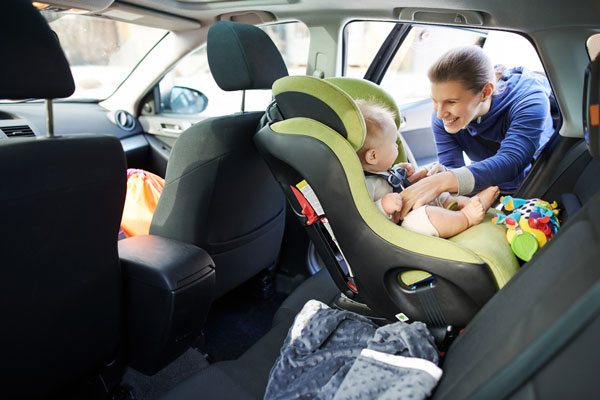 New York City has some of the busiest and most congested roads in the country. In fact, it's the third most congested city in the world. The average New Yorker will spend 91 hours stuck in traffic every year, more than twice the average American.
Unfortunately, being stuck in traffic contributes to a lot of road rage. Drivers engage in a lot of dangerous behaviors, ranging from speeding, racing through intersections, cutting off other vehicles, and making unsafe turns. As a result, car accidents happen all the time. There's an average of 24 crashes every hour across the five boroughs.
Unfortunately, adults tend to forget that their careless and reckless behaviors behind the wheel might have consequences for other people. Adults aren't the only ones commuting in and through New York. Many cars are also transporting small children, who are susceptible to severe, debilitating injuries in the event of a crash.
As a parent, these statistics can be frightening. They may cause you to think twice before putting your kids in the car and driving through the city. However, there are ways to keep your kids safe in the event that you're involved in a car accident. Studies show that keeping your child in a rear-facing car seat for as long as you can is one of the most important things you can do.
Here's why.
New York Requires Young Children to Use a Child Restraint System
Cars are designed to transport adults from one place to another. Seat belts are designed to restrain the average adult in the event of a collision. Cars and seatbelts were not designed to protect small children. In order to drive a child, parents and caretakers will have to invest in a child restraint system. In fact, a child restraint system - i.e., car seat, booster, vest - is required by law in New York.
New York law states that all children under the age of four must ride in a child safety seat that is certified according to Federal Motor Vehicles Safety Standard 213. Children have to remain in a child restraint system until they're eight years old. Then, and only then, may a child who meets minimum height and weight requirements ride in a vehicle using only a standard seatbelt.
New York Requires Children Under the Age of Two to Rear Face
Beginning February 1, 2019, New York requires all children to remain in a rear-facing car seat until they are at least two years old. New York's new legislation is a huge step forward. The American Academy of Pediatrics recommends that children remain extended rear-facing (ERF) until at least the age of two. In fact, the AAP urges parents to keep their kids ERF "as long as possible."
This could pose a problem for parents who opt to use infant car seats, which a child may outgrow in terms of length and weight before their second birthday. New York parents are encouraged to purchase convertible car seats that can allow infants and toddlers to remain rear-facing until they turn two, if not longer. In recent years, car seat manufacturers have developed seats that accommodate rear-facing children for much longer, some up to 50 pounds.
Studies Show Rear-Facing Is the Safest Way to Travel With a Child
Putting a child in a car seat - regardless of positioning - will significantly reduce the likelihood of injuries or death in the event of a crash. However, studies have shown that rear-facing seats are 70 percent safer than forward-facing seats. One study even found that kids "up to the age of 23 months are about 75 percent less likely to die or sustain serious injury" if they're rear-facing.
Why? Physics. Between 60 and 80 percent of fatal car accidents involve impact with the front or side of a vehicle. Upon impact, the vehicle stops, but momentum continues to move passengers forward, toward the front of the vehicle. Adults are restrained by their seatbelt, keeping them safely in place.
If a child is forward-facing, the five-point harness has to do all of the work to keep the child in place. When a child is rear-facing, the impact of the crash will send the child into the shell of the car seat. The child will fall into the cushion of the seat, which will absorb the impact and spread it across the child's body, reducing the risk of injury.
Rear-facing car seats provide more protection for young children traveling in vehicles. Many countries require kids to remain rear-facing for several years. Those countries tend to have very low rates of crash fatalities for young children. America is still lagging behind, but states are making strides to make travel much safer for kids.