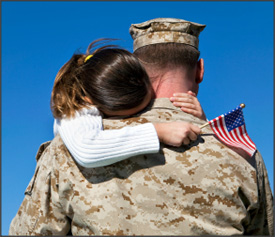 Getting a divorce is not an easy process for anyone, but for a military couple it may be even more complicated. There are often formalities, procedures and divorce rules that only apply to military families and can be confusing. Not only does the military have their own procedures, but the California Family Courts have their own set of complicated laws. Our mediators can help you navigate through both these systems in the most expeditious and stress-free way.
One of the military laws to be aware of when seeking a military divorce is the Uniformed Services Former Spousal Protection Act (USFSPA). A couple came in to our office recently who had been married for three years. They were counting on both continuing to receive the same military benefits they'd received for the past three years. They were not aware that under this act to be eligible to continue to receive benefits—full medical, commissary and exchange privileges—required them to be married for at least ten years with the service member being on active duty for twenty. Our team helped the couple weigh all their options and successfully worked out a resolution that satisfied both of them.
Why Choose Mediation? There are many more rules and regulations affecting areas such as division of property and child custody and support, spousal support, debts and deployments that can be encountered during military divorces. Mediation provides an excellent alternative to a traditional divorce with separate lawyers which can be long, costly and emotionally draining for all involved. And, more often than not, a court-fought divorce leaves one of the spouses feeling like the loser. Mediation provides personal problem solving in a non-confrontational and caring environment. With the gentle guidance of an experienced professional mediator, couples make their own decisions on issues such as property division, child and spousal support, and more. Through mediation you will keep your expenses down and your emotional strength up so everyone wins.
Please call me, Rich Gordon, Principal Mediator at A FAIR WAY MEDIATION CENTER 619-702-9174. The initial phone consultation is free of charge.
You can also connect with us at; Rich@afairway.com. Or view our web site www.afairway.com